The old school NFL people who didn't think a college guy could come in here and succeed his first year, do you take any satisfaction from the season you've had?
COACH KELLY: None whatsoever, and I think the reception I got especially from the coaches in the league was awesome. Tom Coughlin, guys like that that I have great respect for that have been around the league for a long time, they were great with me. I am really appreciative to the other coaches in this league, to get a chance to talk to them before the game and some of their thoughts and insights. I know it's an honor to coach in this league. It's very difficult to get one of these jobs, and I have great respect for the guys. I got a chance to meet a lot of them at the league meetings that I hadn't met before, and I think every one of them, just in our division, Jason [Garrett] was outstanding, Mike [Shanahan] was outstanding, Tom Coughlin was great, and there was a lot of guys, some of them were new, Mike McCoy was great, visiting with him, and then when we played them Marc Trestman was fantastic, but I never got that at all.
Why were you so confident that your programs and schemes would work at this level having never coached at this level?
COACH KELLY: I wasn't confident. I had a system and a plan that we were going to go in, but I didn't know what the outcome was going to be until it was all finished. But I think we played sound fundamental football, and I think that's what we preach on a daily basis to our players, and I think it's still a game of 11 on 11, and I think a lot of things we do schematically match up 11 on 11 and it's a fundamental game and I think that's what our coaches teach. I thought we brought in a bunch of really good teachers that could implement the plan that we had in place and we felt this would be the best plan for us this year going forward.
When people asked you before you took this job, people asked you a lot do you think your offense can work in the NFL and you'd always say I don't know. After when did you realize that first game?
COACH KELLY: I'm going to qualify this, and I think there was so much misconception of that. It's not my offense, it's the Philadelphia Eagles' offense, and it was put together by a bunch of guys on our staff that are really smart that played to our players' strengths, and that's what it's all about. If we have a different set of players, then the offense would look different, and this offense didn't look like it looked when it was at Oregon, but I'm not at Oregon, but our offense at Oregon looked different every year depending on the personnel we had.
I've said it since day one: It's a personnel driven sport, and I think the coaches that adapt, and I'll give credit to one of the guys that I think did a tremendous job, if you look at what John Fox did and how he took a team led by Tim Tebow, at quarterback, to the playoffs and then that offense is totally different than what Peyton Manning runs. Still the same coach. That's a credit to Foxy in terms of what he did. But that's what football is all about is finding out what your players are and then maximizing your abilities.
How much of your offense would you say changed from Michael Vick in the beginning to Nick Foles at the end?
COACH KELLY: Let's just start with, it's not my offense.
How much did the offense change?
COACH KELLY: It changed slightly. I think a lot of things we did, depending on who the players are. But a lot of that, it's not just the quarterback, it's everybody. What are their strengths and how do we maximize that. James Casey played more towards the end of the year. There was a lot of things James really could do that added some input to what we were doing on the offensive side of the ball. The emergence of we didn't know, we lost Mac [Jeremy Maclin] in camp so now where are we from another receiver standpoint and how did Riley Cooper step up and do an outstanding job. Now you're starting to say how are we getting Riley involved in the offense. There's a lot of different things. I think the job Jason Avant did down the stretch from an a real underrated I don't think people understand how important Jason was to what we were doing, not only in the passing game but what we were doing in the running game. There was a lot of that that went on during the season.
When you came in obviously you weren't familiar with the players and the personnel here. Now with this off season do you approach it differently now that you've got a feel for what you have and what you want?
COACH KELLY: Oh, yeah, definitely. We're at a different level now. Literally last year at this time I wasn't here. I wasn't an employee of the Philadelphia Eagles. When I did get the job on January 16th, got to put a staff together, and we spent a lot of time, and that was extremely important to me, finding the right fit and putting all those guys in place, and then we've got to at the same time we're looking at free agency put in offensive and defensive and special teams systems once we got our staff completed, and then preparing for our first off season with our players, and what are we going to teach them on day one when we get here on April 1st.
Everything was a first time thing for us. It was our first mini camp, our first OTA, our first phase 1, our first free agency, our fifth draft. All those things are different. Now that we've got at least a year of experience it'll be a little bit different here in the off season. We're all not living in a hotel and spending basically 20 hours a day here because we've got nowhere else to go. There's a lot of differences to it.
I think for a first year standpoint I think we have laid a foundation, but we've got a whole lot of work to do. When you start the process of looking at what you have, how much more weight do you put on Saturday night's game or do you evaluate everything together?
COACH KELLY: I think that's a mistake. I think you have to look at everything, and obviously that's the freshest in our mind, and we all understand that. I've always done it that way, it has to be the totality of the season, every opportunity that we have, and we'll spend the one thing we do have is time, so we're not going to rush to any judgments. It's January 6 today and we've got a lot of time between now our players aren't back here until April 21st. We understand the schedule, we understand and we have a schedule for the coaches that's mapped out until the 19th of June already. We know exactly where we're going to be on every single day and when our OTAs are, when our mini camp is, when all this stuff goes, when free agency hits, when all that stuff is. We've got a lot of time, and I don't think you can put much stock into one than the other. We've got to look at the entire season and how this thing in terms of our evaluations of our players, of our scheme, of everything that we're going to do.
How much input will you have with Howie Roseman as far as getting some other players in here, positioning and things like that?
COACH KELLY: I think a ton. I think Howie and his personnel department do a great job. We have to still continue to outline what we're looking for in players because there are certain players that are great fits, there are other players that are tremendous football players but they may not fit scheme wise into what we're doing. That's not what we're looking for.
There's a great collaboration in terms of what we're bringing in here.
As you build the roster this off season, are you planning to have Foles as the starting quarterback?
Why do you think people question whether you're explain to all of us, I guess, the abilities of Nick Foles and why people may question, and it comes up all the time that he's your quarterback?
COACH KELLY: I don't know.
COACH KELLY: He's a great decision maker. I think he's extremely accurate where he puts the ball. I think he's very young, and I think people still sometimes forget about that. He didn't become our starter until after Mike went down in the Giants game, and he's still in the short body of work he did, I think he did an outstanding job.
Did he exceed your expectations? He obviously didn't win the job in the summer. At some point there must have been some attribute about him that you said, wow, that's more than I thought was there.
COACH KELLY: No, and I don't look that way. I don't have expectations of this has to be this. Our evaluations are based upon demonstrated abilities, and he demonstrated in the time that he was in there that he deserved to be the starting quarterback.
From a coaching aspect, if any, how much of this whole season was a learning process for you, or is coaching coaching?
COACH KELLY: How much? Every day. And if it wasn't that way then what I preach to my players isn't right. Every day we can learn. Every day is a new experience for us, and every day it's up to us to make sure that we realize what just happened, and if it wasn't right, do we let it happen again, or if it was right do we continue to do that. But I think you've got to have an open mind in terms of it the one thing I know and I preach this all the time to our players, and it's the same for us, what I talk to them about, and it's the same for us, is you've never arrived. You're always trying to get better every single day and you're always trying to see how we can do it better than we did it the last time, and that's fun. That's kind of the passion of what this whole process is all about. But if you can wake up in the morning and you're excited about going to work and trying to make things better, then that's what we're looking for, and I think we've got a bunch of players that understand that and do that, and I know we have a coaching staff that feels the same way.
What excites you the most about the future of this team?
COACH KELLY: I think the chemistry of this team. I think how our staff and our players interact and how receptive these guys are. That was a big unknown for me not knowing what it was going to be like in the National Football League, and if you listen to some people, it's drudgery, it's not the only thing that's disappointing is we're still not playing right now because it's an exciting group to be around. There's an energy around this group of guys, and that's hopefully in year one if this is what we can do, we can learn to build upon this.
What areas does the coaching staff need to improve on going into next year?
COACH KELLY: Everything. Scheme, what are we doing, and you can break it down specifically, what was our 3rd down percentage, it wasn't as good as it needs to be. There's so many different things, and I think when you're doing it the right way, there's not one thing just like I said you never arrive, there's not one thing, we're good at that, let's not worry about that. We'll sit down and detail everything from a situational standpoint to games of four minute offense, two minute offense, 3rd down, what are we doing there, coming out, going in, red zone, high red zone, kicking game. All those things I think are things there will be no stone left unturned and we'll continue to grow as a group.
What needs do you think you guys have defensively moving forward, like what you guys need to address?
COACH KELLY: Like I said, it's January 6th, so we haven't sat down and done a full evaluation, nor is there any time to do that. We were in yesterday and watched the film of the game, and now we've got time to make sure we can really look at how do we improve and how do we improve in every facet, how do we improve scheme wise, how do we improve personnel wise. Those are all things that these next couple of months that because of the schedule and how it does fall, and us not being with these guys again until April 21st, there's a lot of time there, but for me to stand here and say it's this, this, this and this, then I haven't spent enough time as a group, nor have we as a staff or a personnel department to look at all those things and say we've got an answer on January 6 of what direction we're going to head in.
Do you want all of your coaching staff back next year?
And do you plan that they will all be back?
What happens when teams come calling for some of the guys, Billy Lazor, Pat Shurmur potentially could be candidates for offensive coordinator or head coach. How would you handle it? Would you allow them to go do that?
COACH KELLY: Everything is done on an individual basis, and I'll talk to those guys, but we haven't had any requests put in for them yet. But when they do come in, I'd sit down and visit with them and what do they want to do and how to they want to go about it.
Do you imagine with the success this team has had offensively that they would have requests?
COACH KELLY: I have no idea. It's my first year.
At Oregon, the staff continuity, why was that? Why were you able to keep that whole staff in place when you had so much success?
COACH KELLY: We had a lot of fun working together, and it was part of the difficult thing for me leaving was them. Sometimes the grass isn't always greener, and I think we had a bunch of guys it's a unique situation at that school. A lot of guys that were there when I got there, too, and when I was named the head coach I was the youngest guy on staff and I think in the least amount of time there. There's been guys that have been there for a long, long time, and that's a rarity, whether it's in the professional or the college ranks. I think we had an environment that we were excited about going to work every day, and I feel like we have that here. But I'm never going to stand in the way of someone bettering themselves.
It seems like this team respected you from day one. A lot of college guys have been tripped up by dealing with college kids and then dealing with grown men at the next level. What do you think is your biggest strength in making that transition so easy?
COACH KELLY: I can't speak to what other situations were like, but part of that is how receptive is the audience that you're speaking to the first time, and that was the one thing that was evident to me on April 1st when I met with this I talked to some guys before that, but it was, hey, how you doing. With collective bargaining you can't spend any real time with the guys in the off season. But I think we have a bunch of guys that were on the same page in terms of what they want to get accomplished, and I always felt our job as a coaching staff is to create an environment where players have an opportunity to be successful and then get out of their way and let them go do it, and that's what we tried to create here and that's what we will continue to try to create here. But you also have to have a bunch of willing guys that want to do that.
I think the makeup of the group of people we had here, I think that didn't go unnoticed to us as coaches that it was a bunch of guys that really wanted to be coached and that really wanted to be better and were very receptive to everything that we were doing as a staff.
They also knew that we would listen to them because there's a lot of things that I know personally myself that I didn't know because I had never been here before, so that I think when you can sit down and talk to DeMeco Ryans and ask him how he's feeling and what does he think, then that's extremely important to me to get an input and try to see it through DeMeco's eyes.
Ultimately, and it's always been this way, it's a players' league, and it's always going to be a players' league, and it should be a players' league. They're the ones that are out there playing. Our job simply is to create an environment where they have an opportunity to be successful and then get out of the way and let them go play.
You signed a big nose tackle in the offseason and eventually traded him and ended up with Bennie Logan primarily playing at that spot. But he's versatile. You can move him all around. Do you have a preference of what you want at that spot? Do you want a strict nose tackle or do you want someone who's versatile?
COACH KELLY: I don't get into specifics. You would wish everybody could be versatile. I wish we had a 6'7", 350 pound guy that ran 4.2. But does it exist? You have to work with what you have. One of the things that allowed us in that situation was Bennie's versatility, and what you saw [from] him every single day in practice, but also [Damion] Square and also Clifton [Geathers], is that we felt confident in our young guys at that position that we could make that move. You don't always get the ideal at any position what you're looking for.
You talked a lot about chemistry and how good it was, but you also want to bring in new players and upgrade. How do you balance keeping together what you have and the special chemistry but also bringing guys who can compete and upgrade at different spots?
COACH KELLY: I think you have to be thorough in your evaluations, and it's not just height, weight, speed, this guy can do this from a physical standpoint. There's so many different factors that ultimately impact why a person is successful and not successful. There's a lot of really good athletes out there that don't maximize their abilities because of maybe an intangible quality; What's their passion for the game, how much are they willing to learn, how much are they willing to sacrifice, not what are they willing to give, sometimes what are they willing to give up. So there's a lot involved in that process, and I just feel because we're not putting together a staff, we're not putting in new systems, we're not we can spend a little bit more time on the personnel aspect of things, and our personnel department has done a great job of us articulating what we're really, truly looking for and then those guys going out and finding it.
When you look at your rookie class, all the rookies that were making contributions, pretty rare when you go around the league. Are you about as happy as you could have been with this class and pleasantly surprised?
COACH KELLY: It's my favorite draft class for the Philadelphia Eagles.
I know you didn't know this is your first year and you don't know what the percentages always of rookie success, but --
COACH KELLY: I mean, I was really happy. I'm really, really happy with our young guys. I think they've all got really bright futures here.
But is that going to happen every year? It's a catch-22 because if it's happened every year, then the top of your roster is not what it's supposed to be. So if each year we're bringing in 10 or 12 brand new guys and there's only 46 guys active, they're taking 10 or 12 guys that were on the team last year. So at some point in time, you hope you're at a point in time when we're not having anybody make the team as a young player because the older players we've got in place are doing a great job and we're winning a ton of football games and we're competing for championships. There's that catch-22.
But I think there was a lot of turnover early. I think that's understandable. It's a new coaching staff and new systems in every aspect of the game, so that part is a little bit different.
But if we're bringing in 10, 12 new faces every year, then that means we're not where we need to be right now.
What was your experience like coaching Michael Vick?
COACH KELLY: I love Michael Vick. I mean, that guy is awesome, and I think how he handled a very difficult situation, because of Nick's success, I don't think that that's not any indication of Michael's non success, and I think from what we've asked him to do since I got here, he's done everything. Unfortunately he got hurt, and that gave an opportunity to another guy, and I think sometimes for a lot of people, you put yourself in those shoes, that's hard to wrap your arms around because it's not like Michael was wrong and that Michael got benched. It was just a unique situation, and I think how he handled it, how he helped Nick through the process, it just tells you the type of person he is and the type of teammate he is, and I think that didn't go unnoticed by me, and I appreciate everything he did my first year here.
How much time will you allow yourself to mentally unwind before you get right back at it?
COACH KELLY: I had yesterday. That was about it. I mean, it's a tough process, and I think you can beat yourself up, and yesterday wasn't a lot of fun. There was a lot of us, we weren't supposed to be in as coaches but there was a lot of us in as coaches, and you're kind of what do we do now. But we've got to move forward. We have got to get going, and there's a lot of things to do.
But that's not that's an exciting thing for us. That's not like we don't look at what we do as drudgery. It's an exciting time for us to take the next step and what's the next challenge. I think we've laid a foundation, but you've got to build something upon that foundation. You just can't rest on your laurels. I've never been that way. The exciting part is what's the next step for us, and that started this morning.
We met on both sides of the ball, watched the game again as a staff and made the corrections just like we normally do on Monday mornings, and now we've got some exit things with our players and I have a team meeting, and then what's the next step. We'll have evaluations of our players, what's our schedule, and I have our schedule mapped out from now until the last day of mini camp, which is June 19th and go over that with our coaches in terms of what we're going to do between now and June 19th to make this team a better team.
Going forward with Nick as your starter, and I'm sure Mike still wants to start in this league, do you find it's going to be very hard to bring him back with free agency?
COACH KELLY: Today's January 6th. I said it before we started this thing. There's no evaluations made on anything.
You talked last spring about having specific measurables for players at specific positions. Have those changed at all now that you've got --
COACH KELLY: The measurables never change, but you still have to get a guy. You just can't say we want a 6'3", 220 pound safety. Well, there are none. Well, we're not going to play with 10. This is what we ultimately will continue to look for and continue to strive for, but you still have to make concessions.
But I think you just can't drop your guard everywhere and just say, well, we're going to be a little bit short here, a little bit short here, a little bit short here, then all of a sudden your team is going to get run over. I have said big people beat up little people. We believe that. But it's a different league. This isn't recruiting where you can go out and offer and try to get them to come. There's a selection in the draft process and we're not going to pick until the 22nd. There's 21 other guys that we may covet but we don't have an opportunity to get them.
You have ideals and you have parameters in terms of what we're looking for, but sometimes it may not be exactly what you're looking for, but you make do with it.
You had quarterback competitions at Oregon, you had obviously one the first year here. With Nick having established himself, is that process no longer needed?
COACH KELLY: No, there's always competition, and I think you can ask Nick that, too. I don't think Nick is going to think that I can go out and throw 12 interceptions in a row, which he'll never do, but that I'm your guy. I think everybody kind of feeds off of that, and they understand that. And then if you also have a guy that's not competing to be the starter with Nick, then what if Nick gets hurt and then all of a sudden the other guy goes, 'Oh, my God, I'm not ready to play because I thought Nick was going to be the guy.' It's a cliché, but you are a chin strap away from playing in this league and when your opportunity comes, you have to take advantage of that.
One of the things we do here is we compete and we have a bunch of guys that compete. Obviously you've got to have one guy. Right now, Nick is that one guy, but I don't think Nick has ever been afraid of competition. He showed me that the first time we had that.
We're always going to try to continue to upgrade at every position, and I think all of our players know that, and I think the guys that are true competitors really embrace that.
How did Matt Barkley handle he got some playing time there, wasn't great for him, and then he went until the end of the season without another snap. How did he handle it inside the walls here?
COACH KELLY: Matt was awesome, and that's the other guy, I think, I'm excited to get a full offseason with Matt in here to really get a chance to work with him because I think he's got a skill set that's exciting when you see him, how the ball comes out of his hands, the decisions that he makes, and that's part of this whole deal.
I think you can never have enough quarterbacks. I've said that no matter where I was. In this league, we were fortunate that we had two this year, and that was a huge benefit to us that we had two, and we'll continue to always look at quarterbacks, and I think anybody that's any good in this league always does that.
How involved will you be in the contract end of the business? DeSean Jackson, for instance, said today that he wants an extension, a restructured deal. Do you get involved in any of those discussions?
COACH KELLY: No, I'm not a contract guy.
How would you evaluate your first year on the job?
COACH KELLY: I give myself 58.8 percent.
How do you arrive at that number?
COACH KELLY: That's winning 10 games out of 17.
DeSean Jackson, do you think he deserves more guaranteed money?
COACH KELLY: I don't talk about contracts. I'm never going to have a discussion over it. I do think everybody in this room should be paid more, though.
The term "franchise quarterback" is used by the network announcers, it's in the paper. What is that supposed to mean in relationship to Nick Foles? What is a "franchise quarterback"?
COACH KELLY: I have no idea.
You don't even pay attention?
COACH KELLY: I don't pay attention to that. I said it before, if the Eagles are a franchise, which we are, then Nick is our quarterback. There's no tags to it. That doesn't make sense to me, and I don't pay attention to it.
When you watch the film of Saturday night, was there anything that jumped out at you that was particularly frustrating, any specific aspect of that game?
COACH KELLY: Yeah, there was a lot. You were there.
Was there any one thing that
COACH KELLY: No, there's not one thing. There were some plays that we talk about offensively, we left the meat on the bone a little bit. We could have been a little bit better. There were some things defensively. We missed some tackles at times. We did some there were a lot of positives, but they made more plays than us. The Saints did a really good job of executing, and we came up short. But there were some issues offensively, defensively and special teams that when you look at it, you wish we could have that one back.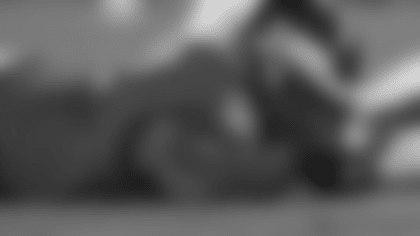 news
Eagles vs. Cowboys Injury Report
Fletcher Cox and Dallas Goedert were full participants in Thursday's practice.