The Giants were able to stop Adrian Peterson last week and LeSean McCoy the first time around.  What have you seen from them that they were able to do it successfully?
COACH KELLY:  I think our scheme and Minnesota's scheme is different, but in our first game with them, their front did a really good job.  They've got a couple really big defensive tackles, and they rotate.  They get a couple guys in there that can play, [Shaun] Rogers, and now you add [Linval] Joseph to the mix, [Mike] Patterson had a really good game against us, Cullen Jenkins, another really good player inside.  Two defensive ends that kind of post and play in JPP [Jason Pierre-Paul] and [Justin] Tuck, and then their linebackers are very active.  They get off of blocks very well, can shed blocks, and then run to the ball carrier.
There's a group of guys that play in the box for them, [Spencer] Paysinger at linebacker and those defensive linemen that I mentioned that are good football players.  It's a matter of ‑‑ it's not really a scheme deal.  I think it's a matter of who executes better, whether it be our guys matched up specifically on guys and who can win that one‑on‑one battle, and that's what this is going to come down to, one‑on‑one battles across the front in the run game.
Talk about Nick Foles and where he's at.
COACH KELLY:  Yeah, Nick was here today, worked out with the trainers.  He will not practice today.  We'll see if ‑‑ he's got to go through a protocol in terms of that, but he's back, was at our morning session today, and then did some conditioning stuff with our trainers.  Until he can get fully cleared, we can't get him out on the practice field.
Has he taken the ImPACT test yet?
COACH KELLY:  Not that I know of.
There's only four corners on the roster.  Are you confident Bradley Fletcher is going to play, and what's the contingencies at that spot?
COACH KELLY: Yeah, I feel pretty good about Fletch's situation.  He should practice today.  We feel like we're in good shape there.
Four corners, is that a comfortable ‑‑
COACH KELLY:  That's what we have up on game day anyway.
With Michael Vick and the way he's progressing, is he on track to be able to go?
COACH KELLY:  He's on track to practice on Thursday.
Do you anticipate knowing today whether he will be ‑‑
COACH KELLY:  Good on Sunday?
Yeah, do you anticipate knowing that after today?
COACH KELLY:  No, I don't anticipate that.
Mike said I think that he's going to sprint on Friday.  Are you going to do it early in the day or after ‑‑
COACH KELLY:  We haven't talked about that yet.  Just putting a game plan in, getting ‑‑ right now it's Mike and Matt [Barkley], getting them comfortable with what we're doing, and then we'll see where Mike is.  Mike had a good day yesterday running around, but again, it's how do you respond the next day.  We lifted this morning, so I'll check with our strength and conditioning coaches, what was he like in the lifting session, do we have any pain, where are we from that standpoint.
Do you feel that today and going forward you might get Matt Barkley some extra reps or are you going to keep the way you've done it?
COACH KELLY:  We even it up the same way.  Our first and second guys get the same amount of reps every week.
Has Brent Celek's role in the receiving game changed at all in recent weeks?
COACH KELLY:  No, I've said before, I think Brent has been probably one of the most consistent performers.  He's done an outstanding job for us blocking.  Really I think he's an underrated player for us, made some big tough catches for us in traffic.  So I think Brent is one of our more consistent and probably one of the better players that we've had on the offensive side of the ball.
Is Brent still able to catch the ball as much at a high level?
COACH KELLY:  It just depends on where the quarterback is distributing the football, but it's not like we're calling plays and saying don't throw it to the tight end.  He had a couple big catches the last time we played the Giants, had a touchdown catch against them, had a big 3rd down catch against them on a crossing route, or actually a 2nd down catch on them on a crossing route.  We expect him to be a ‑‑ he can be a match‑up problem I think at times if you're going to consistently play man because he is such a big target.
DeMeco Ryans, how do you see things with him this year?
COACH KELLY:  I think he's obviously the signal caller on the defensive side of the ball, so the calls go through from Billy [Davis] down the field to DeMeco, and then he sets the front and sets where we're going and kind of makes ‑‑ sometimes there's some decisions that have to be made, which way are we going with this, are we going from the right, where is the passing strength, are we going from the tight end side and all those things.  It's DeMeco's job to get us into the right blitz or the right coverage and the right front depending on how the offense deploy themselves.  He's done a great job.  He's a student of the game.  He very rarely makes any mistakes from a mental standpoint.  He's been fantastic, and he really has been the leader for us on the defensive side of the ball.
As far as attributes for a good quarterback, where do you rank confidence?
COACH KELLY:  How many attributes do I have?
COACH KELLY:  Out of 100, I would rate it seventh.  (Laughter.)  I mean, confidence is up there with any athlete.  I think it's a big deal.  And I think that's one of the things, as you see ‑‑ I think our defense is a prime example.  I think they're playing more confidently now than they did earlier in the year, and that's what shows.  I think part of it is just an understanding, and your preparation is what leads to confidence, it's not false confidence, it's really confidence based on demonstrated ability that you have proven to yourself that you can do this over and over and over again, and therefore you're confident that you can go out there.
I've met some guys that are extremely confident, but that doesn't mean that they're very productive players, either.  I think there's a fine line, and I think it is an attribute, but I think there's a lot of other attributes.  I mean, you could be the most confident guy in the world but you're not going to go out there and throw a football in front of 70,000 people.  That's a different deal.  I mean, I think it's really based on, I think, for those guys, having a real good understanding of what your ability is and what you can do and what you can't do.
What's your concern that this is not going to be a week-to-week issue and that Vick will be durable?
COACH KELLY: I think so far it's a muscle pull, so I think ‑‑ that's all I've had since I've been around him.  I'm hoping that if we can clean up and our guys in the strength room are doing some different things with him from that standpoint so that this thing doesn't occur again. So as we move forward, that's what we try to do is we identify the problem and then we try to fix the problem.
So his past injury history is not something you would go off of then?
COACH KELLY:  I don't know what I would go off of.  Am I going to say, Mike, I don't think you should play this week because three years ago you got hurt?  I go based on how he is today and how he's performing today.
As far as Eli Manning, three weeks ago you guys had a lot of success against him.  He's such a good quarterback, though.  Do you expect him to make a lot of adjustments here?  I know you guys will probably do the same, but do you expect him ‑‑
COACH KELLY:  Yeah, you expect the best.  Eli is one of the top quarterbacks in this league.  Every time you have a chance to face him, it's a challenge, just because he's so smart, he's so intelligent, he's going to get the ball out to the right people.  But playing quarterback, playing any position, a lot of it is what's around him, and I know a lot of times he's had some guys up front [that have] been banged up, and sometimes he hasn't had a chance to get to the top of his drop and throw the ball.  They protected him a lot better in the Vikings game.  I thought he played really well in the Bears game.  But we expect a huge challenge whenever you face Eli.
Defensively, you did a solid job on Victor Cruz, but is it a pick your poison because Hakeem Nicks had a good game and Reuben Randle had a good game?
COACH KELLY:  Yeah, and I don't think we're picking our poison.  I don't think when Billy [Davis] calls the defense, it's we're going to shut down Cruz and it's okay to throw to him.  I think it's a game, when you play talented players, guys are going to make plays.  It may be the other way.  Cruz may have more catches this week, and then the other guys are down.  That's what you hope.  You hope that they're all not hot on the same day because then it's a bad day for you.  I think our defense last week did a really good job on [Dallas TE Jason] Witten, but [Dallas WR] Dez [Bryant] still had I think it was nine catches.
It's very difficult when you have a lot of weapons, and that's what I think when you face good football teams on the offensive side of the ball; the more weapons they have, the harder it is to say, hey, we're going to take this guy away.  If there's only one receiver over there that really warrants attention, you say, hey, we're going to double that guy and then you can shut him down and then we feel like we're going to be okay in one‑on‑one coverage on those other guys.  But I think when you have a couple different weapons, which they do in those three receivers, what you have to do is you have to kind of mix it up.
You've only had offensive line, the starters miss 15 snaps this season.  How important is it to have that continuity at that position?
COACH KELLY:  I think it's important for anybody to have some consistency at all your positions.  I felt like we've been like that since we kind of settled on where we were at receiver.  I mean, after we lost [WR Jeremy Maclin] Mac and settled down, I think Jason [Avant] and DeSean [Jackson] and Riley [Cooper]  and those guys, same thing.  I think the same thing we've gotten out of the tight end position, we've been fortunate at the running back position.  It's the same thing.  We're a little bit unstable at quarterback.  So I think it's any position group you have when you're not losing guys to injuries, and more important than injuries is their practice time. That's the one thing that most of these guys, their ability to go out there and practice on a consistent basis.  So the more time you get to work with people and the more time you get a better understanding, you develop that confidence in terms of knowing ‑‑ kind of knowing what they're going to do and where they're going to be and when we make this call, this is what's going to happen, just because they've had so much time together.
Is it the responsibility of the assistant coaches to decide when players rotate in and out?
COACH KELLY:  Yeah, we talk about it as a staff way before the game, so we kind of know as a group what it is.  But it's the individual position coaches that are doing the rotating on game day.  I'm not turning around and saying, hey, put this guy in, put that guy in.  But I think we as a group have discussed it every week; what are we doing here and how are we distributing the snaps and the reps.  But [defensive line coach/assistant head coach Jerry Azzinaro] Azz is going to handle the d‑line, [wide receivers coach] Bobby Bicknell is going to handle the wide receivers.  That stuff is all done beforehand. It's not a seat of the pants, hey, let's get this guy in.  It's pretty thought out in terms of how we're going to rotate those guys.
And a lot of it is still a feel, too.  You may think, hey, we're going to get six straight snaps out of them, but if it's a receiver and six of them were ‑‑ we call three or four long passes in a row, then Bobby knows he's got to get him out for a snap or two to give him a breather.  But it's also, you've got to ‑‑ each individual is different.  Some guys can run a little bit better or a little bit longer, I think, than some other guys, so you just try to monitor from that standpoint.
When you look at what the Giants do well, do they still get the ball down the field through the air effectively?
COACH KELLY: Yeah, that's the one thing, and they took some shots against us when we played them, and I think that's what they do.  I think breaking down the Cowboys, the longest play against the Cowboys was a Cruz pass for a touchdown in that first game.  I think that's the one thing we try to pride ourselves on is we're not getting the ball thrown over our head.  But this team more than any team we've played, and we expect it again on Sunday, is going to challenge us from that standpoint. They're going to try to take some shots over the top, and we've got to be in position to make plays.  I know Bradley [Fletcher] got tested and I thought he did a really nice job, but they still completed a couple deep ones that you've got to be really ready for.
It's one of the things about Eli; he's such an accurate deep ball passer.  I think that's something that I think he enjoys it, and I expect him to take a couple more shots on Sunday.
Who has been your best pass rusher so far?
COACH KELLY: Ced [Thornton] I would say.  There's a lot of them, but if you had me pick one, I would say consistently through seven games, I would say Cedric.
For Trent Cole, have you seen a learning curve at linebacker?  Have you seen him improve as ‑‑
COACH KELLY: I mean, I thought he had scoliosis or something (laughter).  Yeah, I've seen Trent do a lot of really good things.  I just look at a couple just specific things from a linebacker standpoint is we were in a particular defense against the Cowboys and they ran Witten on a vertical route down the middle of the field trying to go deep and Trent matched him stride for stride and ran with him.  He did a couple little nuance things.  They tried to throw a quick flare pass towards our boundary on one play, and he was in a peel blitz and ran with the running back stride for stride and [Tony] Romo had to throw the ball away.  I've seen Trent really improving in terms of what we're asking him to do, and I think ‑‑ maybe his numbers aren't what people think his numbers should be, but I think his contributions in terms of how he's creating a lot of havoc in there, I think we've been really, really happy with him.
Is there a time frame for Nick Foles to take the ImPACT test, and why hasn't he taken it?
COACH KELLY:  He has to do a certain amount from a physical standpoint, and then they determine that the next step after you do a physical, where he is, what his symptoms are, and then the next step is the ImPACT testing from my understanding.  He hasn't taken the test yet.  I know he did some physical stuff with our trainers today, and I know he's not going to practice today.  That's as close as I am today.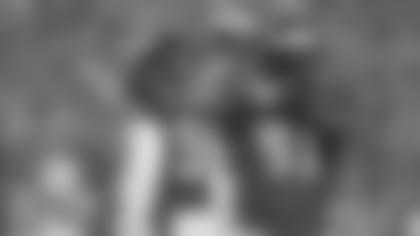 news
Spadaro: 6 takeaways from Sunday's loss to 49ers
The Eagles remain in the driver's seat in both the NFC East and the conference with a golden chance to bounce back in Dallas.