On linebacker Mychal Kendricks: "He's day to day.  I have a plan for either one, and without him practicing today, and we'll see where that is, we'll have the other guys get the reps.  Toward the end of the week, we'll have a better feel."
On who would replace Kendricks, linebacker Casey Matthews or linebacker Emmanuel Acho: "Both of them are up and competing for it.  We'll see who by the end of the week has a better week.  We have complete confidence in both of them.  We'll see how the week plays out, but it could be Casey or Acho or a mix of both."
On the difference between Matthews and Acho as linebackers: "You know, there is not a whole lot of difference.  They're both very intelligent guys that can set our front.  They can line us up.  They understand the defense thoroughly.  They're very instinctive between the box.  They're good tacklers.  So very similar skill sets.  Not a lot of differences between to them."
On what he's seen from Washington running back Alfred Morris: "Alfred Morris is a great runner.  They really live and die with that stretch run game, and he does it very well.  The offensive line is suited for that stretch run game.  They're very athletic, and they really set the tempo with their offense through that run game.  So we know Alfred Morris is going to be a huge challenge for us to stop, and we have to make sure that's intact.  The run defense for the first two games, obviously, the first game was better than the last one.  Couple big runs took that stat and made it get to 170, which you never want.  You always want to stop the run.  But it's a give and take as you go.  Would you take 170 yards passing from [Colts QB Andrew] Luck?  Yeah, you would have.  You just wouldn't have given up that much run.  So at the end of the day, it's the scoreboard that counts the most not the rush yards or the pass yards.  It's turnovers, it's points allowed.  We were happy to come out of there with a win against a really good Indianapolis team."
On whether Washington will adjust its offense to suit quarterback Kirk Cousins: "I think it will change a little bit.  But not a whole lot.  I think the body of work that you'll see with Cousins in there is very similar to what they do with [Washington QB Robert Griffin III] RGIII.  I think elements of it may change.  They have to protect him pretty good, because you're down a quarterback and you're more conservative with the quarterbacks you have left.  So they both have a very similar skill set standing in the pocket and throwing.  They still have a big boot element to their offensive attack.  I don't think it will change a whole lot.  But I think they'll put him in positions that they think he will do the best."
On how well Kendricks has played compared to last year: "I think Mychal has just been a continuation of last year's improvement. I think you saw Mychal get better and better.  We talk about it often with his understanding of the defense.  He's been highly productive in the first two games that we've had.  So I think he was on an ascent and still is. He's ascending."
On defending wide receiver DeSean Jackson: "We know him well.  He's got great speed, great ability to catch the ball and adjust.  We know he'll be amped up to play us like all guys are when they go back to play their old team.  One of the good things is our defensive backs have covered him every day.  It helps when you go against him in practice every day and have a feel for him as opposed to playing a talent like DeSean that you haven't gone up against and haven't felt his speed and what he does well and what he doesn't."
On defensive tackle Bennie Logan: "Yeah, he's coming on. Bennie had a real nice game Monday night.  So we were happy with him.  He's improving also.  You have a young guy that's second year in the system, and we like in the first two games the steps he's taken."
On whether he's happy with his defense's starts: "Oh, absolutely not.  None of us are.  17 points at halftime both times, it's like, come on, guys. We don't want to dig that hole.  Now we're doing a great job of digging out of that hole, but getting into that hole is what you've got to stop."
On why the defense looks so different from the first to second half: "Early on everybody in the NFL faces the same thing.  You look at an offense that you've got preseason snaps and just a little body of work of who they are and how they're going to attack you.  For instance, the tackle-over.  We knew we had it in there a handful of it, but we got a belly full of it.  So we had to adjust on the fly with a unique game plan concept.  The guys did a great job adjusting.  Everybody talks about halftime adjustments.  The adjustments are made defensively when our offense is on the field.  We're adjusting on the sideline.  Halftime is to say everybody clear on the adjustments?  As we move on and what they gave us, we adjust to. We go in the first half of both of these games.  We saw new wrinkles we had to tweak.  The guys did a great job of adjusting and playing better in the second half."
On what makes running back Darren Sproles such a tough defensive matchup: "His quickness.  His quickness and his speed.  He has great bursts.  His stop and start ability is what most linebackers and safeties, that's what's tough to stay with.  When he comes out of the back field, you've got to have either two on him or have the right leverage on him and give him a one way go because he's so quick out of those cuts."
On linebacker Marcus Smith II being inactive: "It's just a team decision that we go.  We have the total picture looking at it.  Right now, [LB] Brandon Graham is the third outside linebacker.  So Marcus is a guy on the team that's scrapping to break into the starting lineup.  Just the total number of who we were going to have active that day, he didn't fit in."
On whether Smith will be active this weekend: "Every week is a different week.  We prepare always that he will be. We prepare for all of the guys that are on the 53.  We prep them to play.  As the week goes on and injuries happen or whatever else may happen, then we adjust it.  Really the actives are late in the week.  The Saturdays, the Sundays, but we prep them all every week and go into every week thinking we'll have them."
On what Smith needs to improve: "I think he has to steadily improve.  You look at Brandon Graham and what he did going forward, and you have [LB] Trent [Cole] and [LB] Connor [Barwin] in there, and they're entrenched and solid.  He's got a good group ahead of him that he's trying to breakthrough.  He'll continue to grow.  He'll be okay."
On whether it's a challenge for Smith, not playing, to get up to game speed if he's called on: "It's always a challenge to grow when you're not getting game reps.  It's harder to do that.  But in practice, that's part of the NFL.  That's the hard part of taking somebody's job that already has one.  You have to be great in practice, and you have to show that you really are making progress.  Then you're fighting for game day reps.  When you get game day reps, you have to make the most of them."
On the Colts' red zone touchdown passes: "We should have had those.  I'll take those.  We had breakdowns in responsibility, and nobody, obviously.  The guy running wide open in the end zone is not the defensive plan.  So we fix those things, and I don't see it happening again.  It was a bad red zone night for us.  You fix the third down part of it.  We're getting off the field on third down much better than we were a year ago and the red zone kind of snuck away from us a little bit.  We'll put our focus back on that and clean up what went wrong in the red zone because there are no way those touchdowns should happen.  They should be field goals if they get down there."
On whether he was disappointed with the pass rush against the Colts: "No, I wasn't. I felt like we had good pressure on them. They ran a lot more than when they threw.  When they threw, he did not have a clean throwing lane very often.  He made some great throws when he was being smothered by guys.  The sack number wasn't there.  But people put way too much emphasis on the sack number as opposed to moving them off his spot, putting them under duress, all those things.  I wasn't disappointed at all in the pass rush.  I thought we had good pressure the other night."
On linebacker Brandon Graham: "I think his understanding of his job and his ability to play both sides now.  He's not only the predator that moves forward, but both of them are growing into where they're getting closer as they understand the drop better.  But he's done a nice job of wrapping his mind around the scheme and his responsibility.  Really making a difference out there.  He's a load in the run game.  You know, he's a load with his bull pass rush.  So we're excited about him getting his 20, 25 snaps a game."
On how the coaches score good pass rushing: "How many times a certain player moves at quarterback off his spot.  I said this last year a couple times.  You can be a guy that has an awful pass rush going.  The guy opposite you has a great one, moves the quarterback off the spot, you were stalemated and you fall into the sack, and everybody says, 'Wow, you got a sack.  Great job.'  As coaches, we don't buy into that.  Or you have a guy that gets an unblocked sack, he ran through the hole and tackled the quarterback.  That's not a wow sack.  The sacks that beat a tackle or beat a guard or beat a center, those are the ones that have higher point value for us.  Again, if you move somebody off the spot and one of your teammates get it, because they are rushing the passer together.  It's four or five of them that keep them contained.  Squeeze the pocket.  Get in the throwing lanes, and that's how you have a productive pass rush."
On what he remembers about facing Cousins in Cleveland: "About 15 boots.  He was out of the pocket constantly.  He had a great game.  The stretch run was really stretching our defense there, so we were overplaying the run, and then the boot game got us.  We couldn't get it contained.  And he had a great game.  He was calm, heady, had a week of practice, it was the week he got hurt.  So he came into us.  I'm very impressed with Cousins and have a history of him playing well."
On whether previous knowledge of DeSean Jackson will help his corners: "I think that helps a lot.  When you go in and you have practice and put your hands on a receiver, you've felt his speed, you know when he can run by you, you've felt him run by you.  You know the nuances that you've got to work with, I think that helps.  The speed is still speed.  It's tough.  You either have it or you don't, and he definitely has it.  So we're looking forward to the challenge.  But you have a lot of other challenges they present.  The running back, [WR] Pierre Garcon is a great runner.  [WR Andre] Roberts is very nifty in the slot.  I was with him in Arizona so I'm familiar with him.  The tight end position is pretty strong, especially if [TE Jordan] Reed is healthy.  So there are a lot of weapons coming at us that we have to keep our attention on."
On the team's A-gap success this year: "I think we're moving it around depending on what protections they give us.  The last couple weeks the A gap seems to be an opening for us, so we took it.  If they close it down, we have other pressures that we'll come with.  It's a chess match going back and forth where the protections are presenting, what structures are we giving them.  The first two weeks has been inside pressure has been kind of what they've allowed us to take."
On the big holes in the defensive line for the Colts' run game Monday: "The big run of the night was the short yardage, and we lost force.  When you lose force, big runs happen.  The primary element to any run defense is setting the edges and keeping it inside where you can get to it.  That was the one extra yardage play, the plus-20 play that we had in the game because we lost force.  So it was more of that than anything.  Then they had a solid downhill running attack where those running backs broke some tackles.  They come downhill and get a couple yards.  But we were happy it didn't get way out.  The quarterback had a plus 15 or 19, I believe.  Couple of big runs happen when you lose force."
On how the defensive line loses force: "On that particular one? We were cut.  We cut the blocker on the edge.  Put us on the ground, and it bounced.  That's how it got outside of us."
On what it's like defending a screen pass:"As a defensive coordinator, how to defend the screen pass?  It's difficult in you never know when it's coming.  Some people will tell it, some people don't.  Some people have a tendency, they did not.  There are wide receiver screens and running back screens and they're two different animals.  The running back screen is a lot more about the d lineman's ability to recognize.  I think our guys do a great job of feeling that this offensive alignment is blocking me different.  It's softer.  It's not as intense.  Now here comes the screen and they find it.  So you work on it, you talk about it, but it is your d-linemen that have the field."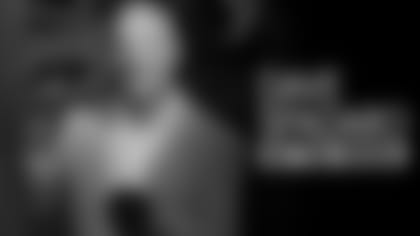 news
6 thoughts from Nick Sirianni about the State of the Eagles
The head coach shares his findings about a mini-bye weekend spent studying the Eagles' performance in the first 6 games.