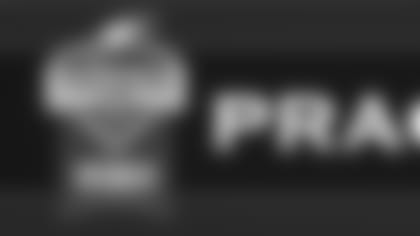 Nine players did not practice for the Eagles on Friday, leaving 80 players to take part in the action on the field. In addition to Riley Cooper, the following eight players did not participate because of injuries: cornerback Bradley Fletcher (groin), wide receiver Arrelious Benn (knee), tight end Derek Carrier (shoulder), defensive tackle Antonio Dixon (hamstring), cornerback Brandon Hughes (hamstring), tackle Jason Peters (hamstring), tackle Dennis Kelly (back) and tackle Ed Wang (knee). Wide receiver Dave Ball also did not finish practice with a left quad contusion.
As for those who took part in the action, here's what we saw …
What You Missed On The Field
Wide receiver Jason Avant started off drills with two really nice catches. The first was on a corner route, which quarterback Michael Vick delivered right on the money. The second was a diving, over the shoulder grab deep down the seam on a perfect touch pass from quarterback Matt Barkley.
Inside linebacker Casey Matthews was able to get his hands up and rip the ball away from fullback/tight end Emil Igwenagu just as he was making a catch in the middle of the field.
Wide receiver Ifeanyi Momah had perhaps his best day of practice in Training Camp thus far. "I'm just getting better overall as time goes on, I think," he said following the session.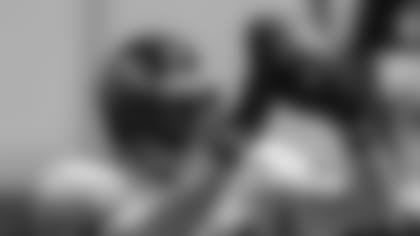 One of the more unheralded defensive backs had his turn in the spotlight Friday as Eddie Whitley worked with the first-team defense. Whitley has experience as both a cornerback and safety and he spent the afternoon lined up primarily at left cornerback, where he more than held his own, even when he was beaten once deep by DeSean Jackson (no shame in that). He was joined in the secondary by Cary Williams, Earl Wolff and Nate Allen. Patrick Chung worked occasionally with the first-team defense as a third safety, often covering the slot receiver one-on-one.
Momah ran a crisp out route and high-pointed the ball on a pass from Barkley, which was lofted over outside linebacker Everette Brown. Momah's best moment of the day came near the end on a deep touchdown pass from quarterback Nick Foles, in which he located the ball in the air, stopped and turned his body to make the catch before the cornerback (Trevard Lindley) was able to react. The play drew a rousing applause from the fans in attendance.
"That was the fourth play or fifth play, and I was really tired," Momah said. "But I just dug down and thought to myself, let me push myself, and I just went and got the ball."
During a one-on-one blocking drill with tight ends working against linebackers, the rushers, as expected, won nearly every battle. Newcomer Travis Long was particularly eye-opening in shoving aside Emil Igwenagu on multiple occasions. Brent Celek remains the best blocking tight end on the roster.
Running back Chris Polk's hands continue to impress. Polk played wide receiver his first three years in high school, and it shows with the way he extends away from his body and plucks the ball. Polk also shed 15 pounds from the end of last season and currently weighs 216. He's noticeably quicker to and through the hole and is making a strong case to be part of the regular offense.
Running back Matthew Tucker ran hard while also showing some sneaky quickness between the tackles.
Cornerback Cary Williams made a nice interception on a slant route in which he reached behind his body and snagged the ball.
Wide receiver Greg Salas continued his strong Training Camp performance. His most notable play came during one-on-one drills, when he made a double move and ran a beautiful corner route to create separation, before catching the ball inside the 5-yard line and scampering in for a touchdown.
Inside linebacker Mychal Kendricks continues to show off his coverage ability. This time he dove to knock a pass away from Brent Celek on a quick out in the flat. Speaking of Celek, he later made a tough catch over the middle in traffic.
Cornerback Curtis Marsh dove in front of wide receiver Russell Shepard on a slant to knock away a Vick pass.
The defense as a whole looked really good in coverage today, sticking with receivers and forcing the quarterbacks to go through every read before pulling the ball down and roaming outside the pocket.
Defensive lineman Isaac Remington was able to get his hands up and bat a Matt Barkley pass high into the hair. Emil Igwenagu made a heads-up play and dove to make the catch.
Matt Barkley had a strong day of practice, showing anticipation, touch and tremendous ball placement on a lot of throws, particularly down the sideline. He appears to be getting more comfortable in the offense as time goes on, and that's being manifested on the field.
Nick Foles, meanwhile, launched a throw deep down the left sideline that just barely eluded the outstretched fingertips of wide receiver Will Murphy. Foles also had an excellent play-fake that fooled the defense, before rolling out to his right and delivering a short pass to Igwenagu. He later made a nice throw on an out route to tight end Brent Celek along the sidelines. Foles also tucked the ball for a scramble on multiple occasions.
Michael Vick effortlessly unfurled a perfect pass deep down the right sideline that dropped right over DeSean Jackson's shoulder and into his hands inside the 5-yard line. The ball traveled 40 yards in the air. Later Vick fired a perfectly accurate bullet pass down the seam to Ifeanyi Momah, who was able to create separation and get inside position on cornerback Jordan Poyer. Lastly, Vick rifled a pass just beyond the outstretched fingertips of safety Colt Anderson and into the waiting hands of wide receiver Nick Miller over the middle.
Dan Klausner and Bo Wulf contributed to this report.