The Eagles returned to practice after a day off Friday as the team welcomed in 20,000 fans to Lincoln Financial Field for the fourth open practice of Training Camp. Four players returned from injury to practice for the Eagles, most notably left tackle Jason Peters, who said he will play in the third preseason game against the Jacksonville Jaguars. Also returning were running back Bryce Brown, offensive tackle Ed Wang and long snapper Jon Dorenbos.
Missing from practice were: cornerback Curtis Marsh (fracture in right hand), tight end Emil Igwenagu (concussion), guard Danny Watkins (concussions), running back Felix Jones (oblique strain), tackle Dennis Kelly (back), linebacker Casey Matthews (left knee), safety Kenny Phillips (right quad) and linebacker Phillip Hunt (torn ACL).
As for what took place on the practice field, here's our report …
What You Missed On The Field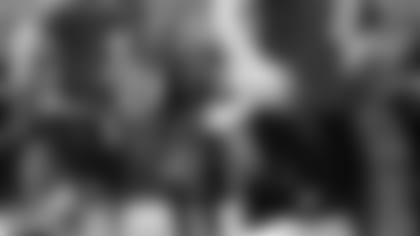 During the two-on-three's, linebacker Mychal Kendricks intercepted quarterback Matt Barkley on a pass to the flat by stepping in front of tight end James Casey.
Cornerback Brandon Boykin intercepted Foles in the corner of the end zone on a pass intended for wide receiver Will Murphy.
Quarterback Michael Vick lofted a beautiful touch pass to tight end (wide receiver?) Clay Harbor deep down the right sideline; Harbor made an over-the-shoulder catch with outstretched arms and was able to tap both feet in bounds. Harbor later made an adjustment to come back for a throw along the sidelines and dove to make the catch.
Wide receiver Jason Avant stopped on a dime in the middle of the field and, all in one motion, reached behind his body to make a difficult catch on a throw from Foles.
Wide receiver Jeff Maehl made perhaps the play of the session with a slick over-the-shoulder catch in the back left corner of the end zone, complete with toe-tap, on a deep throw from quarterback Dennis Dixon. Tough to tell in real time whether Maehl got both beet in bounds. Suffice it to say the play likely would have been reviewed.
Center Julian Vandervelde took snaps with the first-team offense, as Jason Kelce sat out team drills for rest purposes.
Wide receiver Russell Shepard made a great adjustment over the middle by leaping and turning his body 180 degrees in the air to snag a pass from Foles. Shepard made another tough catch during 7-on-7's by reaching up high behind his body and snagging a pass from Foles over the middle.
Cornerback Bradley Fletcher made a break on a pass and knocked the ball away just as it was arriving to wide receiver Riley Cooper.
Wide receiver Greg Salas was his usual dependable self and made clean catches all over the field. He displayed concentration on a pass that he bobbled at first but was able to secure as he was falling out of bounds. Salas ran a crisp post route during 7-on-7's to create separation down the middle and caught a pass from Foles for a 20-yard gain.
Cornerback Jordan Poyer stuck with the receiver over the middle and stepped in front to intercept Barkley's pass during one-on-one drills between the wide receivers and cornerbacks.
Wide receiver Damaris Johnson's quickness remains absurd. He executed a gorgeous triple move on safety Earl Wolff while running a post corner route and made an over-the-shoulder catch for a touchdown during one-on-one drills.
Wide receiver DeSean Jackson landed awkwardly after getting tangled up with cornerback Cary Williams and sat out a few practice sessions before returning.
Quarterback Michael Vick took all the first team reps during 11-on-11 drills, while Nick Foles took the first team reps during red zone drills.
Foles' most impressive throw during the red-zone session came on a long throw on a line down the middle of the field to DeSean Jackson, who snared the ball around the 3-yard-line.
While Vick took most of the day's reps with the first-team offense, the team appears no closer to a resolution in the ongoing quarterback battle. Vick, though, believes he's done everything he can do to assert his position through the first two preseason games.
Over those two games, Vick has completed 13-of-15 passes for 199 yards and a touchdown. If you discount his hail-mary interception at the end of the first half Thursday night, his quarterback rating would be 142.5 for the preseason.
"I don't think I could play any better than what I played," Vick said. "I'm trying to think about all the things that I did and trying to keep that going. I know not every game is going to be perfect. It's not going to be the way they were. But if I can stay in my routine, then I think it'll be very similar. It's moreso a credit to the offense, the plays that are coming in, how they're being called and what we do. I'm just thankful that I'm a part of this."
Later, though, Vick explained that there's still room for the offense to grow.
"I think our offense, even though you guys may not have seen it, we still made a good share of mistakes that definitely need to be corrected by the time we start the regular season," said Vick. "The good thing is we have time. We have a big game this week against Jacksonville and we haven't gotten that far. We're taking these next few days of Training Camp seriously and trying to get better, some things that we're just putting into the offense."
Dan Klausner and Bo Wulf contributed to this report.