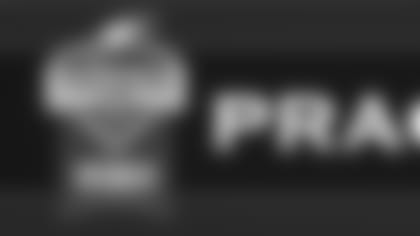 The Eagles welcomed 28,000 fans to Lincoln Financial Field on Sunday for the third open practice which was also the LeSean McCoy Mini-Bobblehead Day.
Here's a look at the injury report. McCoy's mini-bobblehead was given away to fans, but the real McCoy was in action on the field as well. The Eagles also made a roster move signing long snapper James Winchester, who will handle the duties as Jon Dorenbos recovers from a concussion.
A Look At The Depth Chart In Practice
First-team offensive line: LT - Allen Barbre, LG - Evan Mathis, C - Jason Kelce, RG - Danny Watkins and RT - Todd Herremans
Second-team offensive line: LT - Matt Tobin, LG - Matt Tennant, C Julian Vandervelde, RG - Nate Menkin and RT - Matt Kopa
First-team defensive line: DE - Cedric Thornton, NT - Isaac Sopoaga, DE - Fletcher Cox. Rookie Bennie Logan also saw first-team reps at NT.
Second-team defensive line: DE Clifton Geathers, NT - Damion Square, DE Vinny Curry.
First-team linebackers: LB - Connor Barwin, LB - DeMeco Ryans, LB - Mychal Kendricks, LB - Trent Cole
Second-team linebackers: LB - Brandon Graham, LB - Jamar Chaney, LB - Emmanuel Acho, LB - Chris McCoy
First-team defensive backs: CB - Bradley Fletcher, FS - Nate Allen, SS - Patrick Chung, CB - Cary Williams
Second-team defensive backs: CB - Curtis Marsh, FS - Kenny Phillips, SS - David Sims, CB - Brandon Boykin
What You Missed On The Field
A drill early in practice had a trio of wide receivers running the "weave" (like in basketball) with a football.
Wide receiver Greg Salas carried over his strong performance from Friday night's preseason game against the New England Patriots and looked excellent during Sunday's practice. He started off with a slick catch-plus-toe tap along the sidelines and later made an utterly spectacular catch off a double-tip. Salas ran a deep slant over the middle, but cornerback Eddie Whitley had tight coverage and was able to get his hand on quarterback Michael Vick's pass to deflect the ball up in the air. Safety David Sims, who was providing help over the top, reached slightly behind his body in an attempt to catch the ball, but it bounced off his hands. Salas showed extraordinary awareness and reaction skills to then dive and pluck the ball just before it hit the ground.
Cornerback Curtis Marsh made a few nice pass breakups. The first was a result of breaking on a curl route by tight end Clay Harbor, and the second by challenging wide receiver Ifeanyi Momah at the catch point and getting his hand in to knock the ball away.
Wide receiver DeSean Jackson had another phenomenal day overall, burning multiple defensive backs for long catches. Jackson made a pretty catch over the middle where he had to jump, simultaneously turn 180 degrees in the air to reach behind his body and bring in the ball on a throw from quarterback Nick Foles.
It was Foles' turn in the rotation, and he took most of the first-team snaps at practice. He started with a nice throw down the seam to tight end Zach Ertz and followed it up with a beautiful touch pass to fullback Emil Igwenagu on a post-corner route, placing the ball just beyond the outstretched fingertips of the leaping linebacker. During red zone drills, Foles made a tough throw to his right to Ertz in between two defenders. Ertz had the ball in his grasp, but cornerback Brandon Boykin was able to meet him at the catch point and wrestle it away as the two went to the ground. Foles later made a nice play to step up in the pocket to avoid pressure at the 5-yard line and toss a pass to running back Chris Polk, who dropped (an exceedingly rare occurrence for him) a sure touchdown.
Quarterback Michael Vick launched a few of his trademark beautiful deep passes during practice. He connected with Jackson for an over-the-shoulder touchdown catch after the wide receiver had beat safety Colt Anderson. On his first snap in red zone drills, Vick was able to dump a screen pass off to running back LeSean McCoy by skillfully getting the ball around the rushing defender. Later in the drill, Vick lofted a pass to the back of the end zone to wide receiver Jason Avant, who made a leaping, diving catch and was able to get both feet inbounds. It was a really nice throw from Vick, who had to get enough air under the ball to get it over the linebacker and an equally impressive effort by Avant to catch the ball and get both feet down.
Quarterback Matt Barkley began by making a stick throw to Igwenagu over the middle with a linebacker trailing close behind. He later lofted a deep pass into the end zone for an easy touchdown to Jackson, who ran right by safety Kurt Coleman.
Wide receiver Nick Miller had two catches that really stood out. The first, he shot up his hands, full extension, with his body at a 45-degree angle off the ground, and snagged a bullet pass from Barkley. The second was an excellent one-handed grab down the sideline.
Tight end Derek Carrier made numerous athletic catches, jumping high in the air to snatch a pass in individual drills, then creating separation deep and making a difficult over-the-shoulder catch for a touchdown on a throw from quarterback Dennis Dixon.
Safety Patrick Chung is stepping up as a leader on defense and had a tremendous day of practice. He was active and involved all over the field. Chung's most noteworthy play came near the end of red zone drills. Cornerback Eddie Whitley blitzed from the slot and forced Vick to make the throw before he wanted. Chung had single coverage and stepped in front of Avant to intercept the pass at the goal line.
Speaking of safeties, Earl Wolff had an interception off a tipped ball by inside linebacker Emmanuel Acho.
Cornerback Brandon Hughes had sticky coverage on wide receiver Russell Shepard deep down the left sideline and broke up a pass near the goal line.
There was hitting at practice today, albeit not on purpose. Tight end James Casey made a nice catch on a deep out and was immediately popped by Coleman on a bang-bang play. Coleman put out his arms (palms up) to signal that it was accidental contact, while Casey held onto the ball, much to the delight of the crowd.
-- Dan Klausner and Chris McPherson contributed to this report.