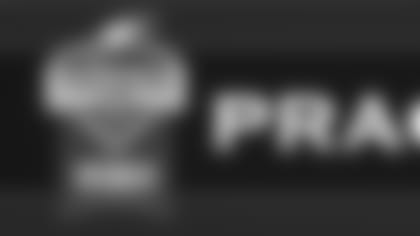 Rain forced Thursday's practice to be held inside, but head coach Chip Kelly still conducted a thorough workout. Here's a look at what happened on the field ...
Cornerback Brandon Boykin made a sticky hands interception early in practice in which he stepped in front of the receiver on a curl and snagged the ball while contorting his body, so as to not physically interfere, and reaching his arms out to the side. Deft body control, great play. No pushups needed after this rep.
Wide receiver Nick Miller very much looks like a guy who runs a legit sub-4.4 (average listed at 4.37, with a low of 4.27 per NFLDraftScout.com). His speed is notable, especially from ground level. Miller is lightning fast through the hole and instantaneously pulls away from pursuit on kick returns. He also made an impressive adjustment catch down the seam in which he slightly reached behind his body to snag a pass from quarterback Matt Barkley.
Quarterback Nick Foles improved throughout practice and came on particularly strong in the second half. He unleashed a few pretty deep passes that traveled 40-plus yards in the air and landed perfectly in the intended receiver's hands. Foles fired a strike down the seam to wide receiver Ifeanyi Momah, perfectly placing the ball out in front, where only his receiver could get it despite tight coverage. Foles had another nice touch pass to wide receiver Greg Salas, who created separation on a post route, along the left sideline. The play of practice, however, was a bucket throw of a rainbow pass from Foles that traveled 45-50 yards in the air and hit wide receiver Damaris Johnson, who had split the defense, in stride at the 5-yard line for an easy touchdown. Johnson is still uncoverable, by the way.
Quarterback Michael Vick made a nice anticipation throw to Salas on an out route. He followed that up with a bullet pass on a slant to wide receiver Russell Shepard, who cleanly snatched the ball out of the air. It was one of a few strong catches that Shepard had during practice.
Barkley was quick with his reads and showed tremendous anticipation. He had three plays that really stood out above the rest. The first was a touch pass over outside linebacker Everette Brown's outstretched fingertips to fullback/tight end Emil Igwenagu along the sidelines. The second came on a rollout to the right in which he saw Momah break free toward the sideline at the last moment and unleashed a 30-yard pass that was on the money for a completion. The third was on a slant to wide receiver Will Murphy that Barkley rifled right between the numbers.
Inside linebacker Mychal Kendricks is tailor-made for this defense and set up to excel. He will be given more opportunities to blitz (a strength during his college days at California) and use his sub-4.5 speed to cover tight ends all over the field. Keep in mind that Kendricks is faster than most tight ends in the league. On one play, he chased a receiver 40 yards down the seam and had such tight coverage that the pass fell incomplete. When the Eagles run three-deep looks, there's no reason Kendricks shouldn't be able to drop and cover the middle third. He has the speed, athleticism and coverage instincts to make it work.
Running back Chris Polk made a number of catches that required soft, strong hands. He has yet to body-catch a pass or drop a ball in any practice.
Wide receiver Jason Avant flashed his trademark hands, going low to pluck a ball before it hit the ground.
With left tackle Jason Peters sitting out with a mild right hamstring strain and Dennis Kelly sidelined with a low back injury, Lane Johnson filled in at left tackle, Todd Herremans slid out to right tackle and Danny Watkins played right guard. Jason Kelce and Evan Mathis remained at their regular positions of center and left guard, respectively.
Quarterback G.J. Kinne played the upback on two occasions and the returner on another on kickoff formations. That was fun.
Cornerback Curtis Marsh had tight coverage on Murphy down the right sideline and was able to deflect the ball enough to disrupt Murphy from making the catch (Barkley made the throw on a delayed offsides). Marsh continues to quietly have a solid Training Camp and looks primed to deliver on his promising talent.
The Eagles waived wide receiver B.J. Cunningham with an injury settlement on Thursday. Cunningham had been sidelined with a right foot injury.
Cornerbacks Cary Williams and Brandon Hughes returned to practice on Thursday.
In addition to Peters and Kelly, wide receiver Arrelious Benn (knee), tight end Derek Carrier (shoulder), defensive tackle Antonio Dixon (hamstring) and tackle Ed Wang (knee) missed practice.
Wide receiver DeSean Jackson (toe) and cornerback Brandon Hughes (groin) left practice early.
Dan Klausner and Chris McPherson contributed to this report.