After some time off, the Position Snapshot series returns and closes out the offensive with a look at the wide receivers on the Eagles roster. Twelve receivers are currently on the 90-man roster and it's a group that is likely to be whittled down to five or six players come the regular season. So how do they fit in with head coach Chip Kelly and the new-look offense where blocking is expected to be more of an emphasis at the position than in the past? Let's take a look ...
Jason Avant – You already know Avant's hands are the best on the team and rank near the top of the entire league. But how will Avant fit in an Eagles offense that is said to covet explosiveness and versatility? Better than you might think actually. In addition to his skills as an inside receiver, Avant is also the best run blocker among the current Eagles wide receivers, having led the unit in the category consistently over the last five seasons according to ProFootballFocus.
Arrelious Benn – Acquired from the Tampa Bay Buccaneers via trade earlier this offseason, Benn proclaimed upon arriving in Philadelphia that he had been anxious for a change of scenery. A second-round pick only three years ago, Benn is talented enough to make an impact for the Eagles. At 6-2, 220, he has the requisite athleticism to compete for a roster spot and he could also contribute as a kick returner, a role he filled last season for the Bucs. For more on what Benn brings to the table, check out this breakdown of his skills by Sheil Kapadia earlier this offseason.
Riley Cooper – The tallest receiver on the roster for the last couple seasons, Cooper, 6-3, 222, is now outpaced by the 6-foot-6 Ifeanyi Momah. Still, Cooper projects as a good fit under Kelly, considering his willingness to block and his ability to make plays on the ball in the air. He, Momah and Benn appear to be clumped together in a competition to stand out, though Cooper has the best track record of the three. Apropos of little, Cooper's measurable at the NFL Scouting Combine when he was a pre-draft prospect put him in some interesting company according to mockdraftable.com. Three of his top comparisons physically are Demaryius Thomas, Larry Fitzgerald and Plaxico Burress. Apropos of nothing, Cooper is one of three players on the roster to have won a National Championship in college along with punter Donnie Jones and undrafted rookie defensive lineman Damion Square.
B.J. Cunningham – For players like Cunningham, the change of coaching staff is nothing but good news. As Kelly has stated repeatedly, jobs will be won by performance on the practice field, not based on any preconceived notions. So Cunningham, 6-2, 215, will have every opportunity to make his impression felt. Cunningham spent his rookie season on the Eagles practice squad after the sixth-round pick was released during the Miami Dolphins' final roster cutdown. A standout at Michigan State where he became the school's all-time leader in receptions (218) and receiving yards (3,086), Cunningham actually didn't begin playing football until his junior season in high school.
DeSean Jackson – The dynamic Jackson sure seems well suited for Kelly's offense. First of all, he's as explosive a downfield threat as there is in the league. Over the last four seasons, Jackson has been the very best in the league in making plays downfield. Over that time, Jackson's 18.27 yards per catch are tops in the entire league (among wide receivers with at least 20 catches over that time), narrowly edging Vincent Jackson's 18.25 mark. It also wouldn't be a surprise to see Kelly utilize Jackson as an occasional ball-carrier out of the backfield. In fact, over that same time span (since 2009), Jackson has the fourth most carries for a receiver (behind only Dexter McCluster, Percy Harvin and Josh Cribbs). Jackson spoke earlier this week about learning both wide receiver positions for the first time. For more conjecture on just how Jackson might be utilized moving forward, read this.
Damaris Johnson –Johnson too seems like an interesting fit in Kelly's offense. His dynamism as a ball carrier was evident last season when Johnson, the primary punt returner, took one return 98 yards for a touchdown. The diminutive Johnson was also used sporadically as a ball carrier for the Eagles. Undrafted last season out of Tulsa (where he played with quarterback G.J. Kinne), Johnson was a steal for the Eagles in rookie free agency. Only Rod Streater of the Oakland Raiders had more receptions and receiving yards than Johnson last season among undrafted rookies. But with a glut of receivers on the roster, Johnson will still have to earn his place.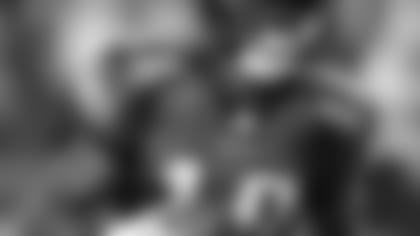 Jeremy Maclin – As integral as Maclin has been on offense for the Eagles over the last few years, it's easy to forget that he only just turned 25 years old. The 2009 first-round pick is entering his prime at just the right time to shine in Kelly's new offense. Maclin has always played beyond his years, emerging as a starter in his rookie season even though he came out of college early. In fact, Maclin has more receptions through his first four seasons (258) than any player in Eagles history. Those 258 receptions since 2009 rank 16th among all NFL players over that time. Maclin has also mastered some of the nuances of the game as he led the NFL last season in pass interferences drawn.
Meanwhile, Maclin took reps last week as a punt returner, a role in which he excelled in college. At Missouri, Maclin notched three punt return touchdowns and two kickoff return touchdowns during his career and was an All-American thanks in large part to his contributions on special teams. In the NFL though, Maclin has been used sparingly in the role. Maclin has 13 punt returns for only 76 yards (5.8 yards per return) in his Eagles career and eight kickoff returns for 146 yards (18.3 yards per return).
Nick Miller – Miller, 5-9, 180, was signed earlier this offseason to compete for a role at wide receiver and on special teams. The 26-year-old Southern Utah product has spent time in the NFL with the Oakland Raiders and St. Louis Rams primarily in a return specialist role. Miller has 45 career punt returns for 404 yards (9.0 yards per return), including an 88-yard touchdown return while with the Rams. He's also returned eight kickoffs for an average return of 17.6 yards. He was one of four players taking reps as a punt returner during practice earlier this week, joining Maclin, Desean Jackson and Damaris Johnson. Newly signed running back Felix Jones is also now among that mix.
Ifeanyi Momah – The towering Momah arrived with the Eagles earlier this offseason after an interesting journey following his Boston College career. At 6-6, 229, Momah brings an intriguing element of size to the wide receiver position that could be of use, especially in the red zone. Riley Cooper is the next tallest receiver on the roster at 6-3. After taking part in the rookie camp, Momah was given the day off from practice last Monday to recover. Rather than watch idly from the sidelines, Momah took to helping with the signals for the offensive play calling, a testament to his eagerness to pick up the offense as a rookie. With that wingspan, it was certainly easy for the offense to pick out Momah's signals.
Will Murphy – A walk-on at Oregon under Chip Kelly, Murphy is aiming to follow a similar path in his journey to the NFL. Signed as a tryout player for last weekend's rookie camp, Murphy earned a spot on the 90-man roster following his performance that weekend. Now, the 6-foot-2, 193-pound Murphy will have to stand out among seasoned veterans if he's to take the next step, though that's certainly a longshot. In three seasons at Oregon, Murphy totaled 240 receiving yards and one touchdown in 30 games. His biggest advantage right now is probably a base knowledge of what to expect at wide receiver under Kelly.
Greg Salas – Signed off the New England Patriots practice squad last season, Salas is another talented receiver in the mix for a roster spot. A fourth-round pick of the St. Louis Rams in 2011, Salas had a very solid rookie season in St. Louis, catching 27 passes for 264 yards. But with a new head coach at the helm in St. Louis the following season, Salas was traded to the Patriots where he eventually landed on the practice squad. Salas is Hawaii's all-time leader with 4,345 receiving yards and ranks third on the program's all-time list with 285 receptions. One note that could play in Salas' favor under Kelly comes from ProFootballFocus' analysis of his play with the Rams as a rookie. Despite playing only 197 snaps in 2011, Salas, 6-1, 209, stood out as a superior blocker, ranking 13th in the league according to ProFootballFocus despite playing significantly fewer snaps than the players listed above him. That is an attribute that is likely to serve him well with the Eagles.
Russell Shepard – A versatile undrafted rookie out of LSU, Shepard, 6-1, 195, played quarterback, running back and wide receiver while in college. He actually finished with more rushing yards (733) than receiving yards (565) and scored five touchdowns each as a rusher and receiver. That versatility certainly won't hurt him with Kelly and the Eagles, though he'll obviously be judged as a receiver. He too will be focused on simply trying to secure a coveted roster spot.
Previous Position Snapshots: