Here is a position-by-position look at the defense after the final roster cutdown …
Trent Cole established himself as one of the league's premier ends in 2007 as he racked up 12.5 sacks en route to his first Pro Bowl nomination. The Eagles made some of their biggest changes at defensive end in the offseason which will hopefully help out the 25-year-old sackmaster. Juqua Parker and Victor Abiamiri were mired in a battle for the starting left defensive end spot when Abiamiri dislocated his wrist during training camp. Abiamiri, a second-round pick in 2007, is a more complete end in the mold of Michael Strahan while Parker is a pass-rush specialist.
Abiamiri is ahead of schedule in his recovery, according to defensive coordinator Jim Johnson, so the Eagles decided to hold a roster spot for him.
The Eagles signed Chris Clemons, a free agent from Oakland, in the first weekend of free agency. Also a pass-rush specialist, Clemons racked up eight sacks last season which was tied for the team best. Although he didn't play in the final three preseason games, the Eagles know that he's another fastball for this defense when healthy and head coach Andy Reid always talks about the importance of being able to throw fastballs at the opposing quarterback.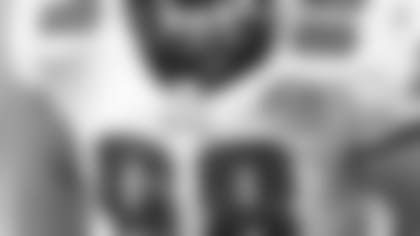 DT Mike Patterson
Bryan Smith, a third-round pick out of small McNeese State, is another lightning-quick asset in defensive coordinator Jim Johnson's arsenal. Smith is listed at 245 pounds, having gained about 10 since he was drafted. Smith is considered undersized, but Cole was the same size when he was drafted in 2005 and look where he is now. Smith overcame an early hamstring injury during training camp and had a monster game in the preseason finale. Amazingly enough, Reid said he's looked better against the run which is where he was expected to struggle.

Darren Howard slimmed down and had the best training camp as an Eagle. He is a valuable commodity with his ability to play both end and defensive tackle in nickel situations. Now that he's in the best shape he's been in since he signed with the Eagles in 2006, hopefully he'll be able to make the impact like he did earlier in his career as a New Orleans Saint.

Mike Patterson was named to USA Today's "All-Joe" team which honors players whose impact isn't just limited to statistics. However, he racked up career highs in tackles (114) and sacks (4.0) as he and Trent Cole became the first pair of Eagles defensive linemen to account for 100-or-more tackles in the same season since 1991.

Brodrick Bunkley rebounded from a disappointing rookie season and proved he could be a menace in the trenches. Bunkley racked up 75 tackles as the Eagles run defense improved from 26th to 7th in his first season as a starter.

The Eagles felt that they didn't get enough production from the backups at defensive tackle so they used their first draft pick on Trevor Laws from Notre Dame. Laws had the most tackles by a defensive lineman in the major college ranks last year and his high-motor style is similar to Patterson's.

Dan Klecko, who was originally signed by the Eagles in the offseason as a fullback, is back at his natural spot. While undersized for a defensive tackle at 275 pounds, Klecko's speed makes him difficult for opposing linemen to handle. The best part about Klecko is that he knows how to win – three Super Bowl titles in five NFL seasons.

"Young" and "athletic" are the buzzwords that best describe the Eagles linebackers. In a overhaul that began in 2006, Jim Johnson may have his best corps of linebackers during his tenure as the team's defensive coordinator which began in 1999. On the weak side is the most experienced of the three starters, Omar Gaither. As a rookie in 2006, Gaither earned a starting job at the end of the season on the weak side. He was moved to the middle last year where he had 170 tackles – the third-highest total in the Andy Reid era. Now, he moves back outside where he can be an effective blitzer and playmaker in coverage.

The Eagles saw what Stewart Bradley could do at the end of last season as a rookie and figured they had to get him on the field in 2008. Physically imposing at 255 pounds, Bradley takes over in the middle.

Chris Gocong is back on the strong side, where Johnson can utilize his pass-rush ability. Gocong had 42 career sacks in 41 college games as a defensive end. Gocong put his hand down for his first career sack against the Patriots last season. He had seven tackles for loss last season.

Akeem Jordan is a bullet as the backup weakside linebacker. Johnson has expressed that he would be confident if Jordan, a rookie free agent a year ago, had to start.

Rocky Boiman originally made the 53-man roster as a backup strongside linebacker and special teams player, but on Sunday the Eagles claimed Tank Daniels off waivers. Originally signed by the Eagles as a rookie free agent in 2006, Daniels brings good size (6-3, 248) and amazing speed. Last year, Daniels won a Super Bowl ring with the Giants primarily as a special teams player which is where he will make the biggest impact with the Eagles. Playing in New York, he was able to remain in the same defensive scheme as the Giants' Steve Spagnuolo is a pupil of Eagles defensive coordinator Jim Johnson.

Sixth-round draft pick Joe Mays is only 5-11, but hits like a Mack truck. He had 28 tackles in the preseason, the second-highest total in the NFL. There was no question about his downhill ability, but he showed that he could be more than competent in pass coverage and special teams.

Name a team with a better trio of cornerbacks in the NFL? Asante Samuel, the crown jewel of free agency, was signed by the Eagles after pulling up a seat at the table of elite cornerbacks with 16 picks over the past two years. Sheldon Brown is an imposing physical corner who has deserved Pro Bowl honors. Oh yeah, don't forger about two-time Pro Bowl honoree Lito Sheppard who has proved to be an upper-echelon corner as well. Jim Johnson will likely mix and match for different scenarios, but with the penchant for three-receiver sets in the NFL all three of the Eagles will be on the field at the same time quite a bit. One thing is for sure, the Eagles will improve upon their 11 interception total in 2007. Speedy Joselio Hanson, a more-than-capable nickel corner, is set as the fourth corner.

Brian Dawkins never got on track in 2007. Family issues kept him from training prior to the season. An Achilles injury limited his reps in the preseason. Finally, a stinger suffered in the second game sidelined him for the next five games. Dawkins has trained vigorously in this offseason, spending most of it in Philadelphia, to show that he is far from done. Note that he is in the final year of his contract.

For the first time in his career, Quintin Mikell enters is the starter at strong safety opposite Dawkins. A former special teams ace, Mikell played at a "Pro Bowl" level according to Andy Reid at the end of last season. He continued that performance into the preseason.

J.R. Reed's amazing comeback allowed him to earn a one-year deal and enjoy a full offseason at the team's training facility instead of working out or rehabbing on his own. Reed has added weight to add more pop to his bone-jarring hits (ask the Patriots' Randy Moss), but is also quicker to help him excel in coverage.

Sean Considine was the former starter at strong safety for his ability to cover. But after a shoulder injury, which originally occurred his rookie year, resurfaced his 2007 campaign was done. He proved that his shoulder is OK.

Quintin Demps, a fourth-round pick from UTEP, had 17 interceptions in college which led all draft-eligible players. He showed that ballhawk ability during the preseason and whetted the fans' appetite when he returned a kickoff 101 yards for a touchdown against the Patriots.