After Training Camp and four preseason games, the Philadelphia Eagles reached the league-mandated 53-player maximum on Saturday. Dave Spadaro and Chris McPherson offer a position-by-position look at the roster.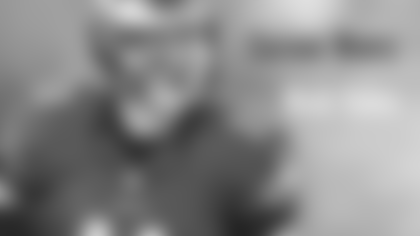 Quarterback (2): Starter: Carson Wentz; Backup: Nick Foles
Same as last season – two quarterbacks on the 53-man roster. On the eve of the anniversary of the mega-trade that sent Sam Bradford to the Vikings and promoted Carson Wentz to the starting job, the Eagles had a quiet quarterback day. Wentz and Nick Foles are the two quarterbacks on the active roster. If there is any intrigue, it is that Foles has not played in the preseason. Foles said on Thursday night following the preseason finale against the Jets that he was good to go for the regular season with an elbow injury that has sidelined him. Hopefully, Foles won't be needed. Wentz had a strong offseason and preseason and is ready to roll in his second year.
Running Back (5): Starter: LeGarrette Blount; Backups: Corey Clement, Donnel Pumphrey, Wendell Smallwood, and Darren Sproles
There are five on the roster – LeGarrette Blount, Wendell Smallwood, Darren Sproles, and rookies Donnel Pumphrey and Corey Clement. This is a much-different group than last season, so we will see how running backs coach Duce Staley divides the carries. Is Blount a three-down running back? How do the Eagles take advantage of Smallwood's burst and young legs? How creative will the coaching staff be moving Sproles around the formation and getting him the ball in space?
And then there are the rookies. Donnel Pumphrey learned roles at both running back and receiver. The Eagles showcased formations with both Pumphrey and Sproles on the field at the same time in an attempt to create mismatches in the pass game. The all-time leading rusher in FBS history will continue to learn from one of the greats in Sproles. Clement, who signed after the draft and had a terrific summer. He lost about a dozen pounds from the time of the February NFL Scouting Combine and it has served him well. Clement ran with power and he had some moves and some speed in the preseason.
Tight End (3): Starter: Zach Ertz; Backups: Trey Burton and Brent Celek
Zach Ertz, Brent Celek, and Trey Burton are three familiar faces who complement each other very well. The Eagles asked so much out of their tight ends to compensate for an underperforming wide receiver group last season and we saw just how effective, for example, Burton can be as a quasi-receiver. Ertz came on huge last year and is set up to be an impact player from the very start in 2017. Celek is the longest-tenured player on the roster and the best blocking tight end here.
Wide Receiver (6): Starters: Alshon Jeffery, Torrey Smith; Backups: Nelson Agholor, Shelton Gibson, Mack Hollins, and Marcus Johnson
A revamped wide receiver corps looks much-improved from 2016. Alshon Jeffery and Torrey Smith start on the outside. Nelson Agholor works the inside game from the slot. Rookie Mack Hollins looks like he made a smooth transition from college to the NFL with a good preseason of 13 receptions for 139 yards and a touchdown. Hollins will likely be active on gamedays and help in a big way on special teams. Marcus Johnson played his way onto the 53-man roster with an excellent Training Camp and preseason, during which he scored two touchdowns among his five receptions for 89 yards. Shelton Gibson has dynamic speed and is a work in progress. Another team would have picked him up off the waiver wire.
Offensive Line (8): Starters: Brandon Brooks, Lane Johnson, Jason Kelce, Jason Peters, and Isaac Seumalo; Backups: Halapoulivaati Vaitai, Chance Warmack, and Stefen Wisniewski
The starters have been well defined since the beginning of Training Camp – Jason Peters at left tackle, Isaac Seumalo at left guard, Jason Kelce at center, Brandon Brooks at right guard, and Lane Johnson at right tackle. Chance Warmack, who signed a one-year contract extension on Saturday, can back up at either guard position. Stefen Wisniewski gives the Eagles a versatile player who can line up at either guard spot as well as at center. Halapoulivaati Vaitai is a much-improved player from a year ago and is the primary backup at tackle.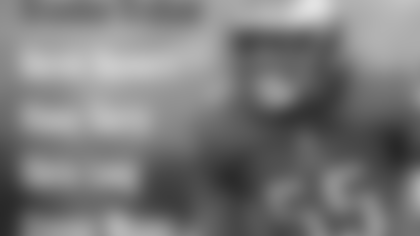 Defensive End (5): Starters: Vinny Curry, Brandon Graham; Backups: Derek Barnett, Chris Long, and Steven Means
Brandon Graham is coming off his best season as a pro and was relentless all summer long. He's going to be a nightmare for opposing tackles. Vinny Curry made big strides this offseason and looks more settled in as he's set to be a full-time starter for the first time in his career. Derek Barnett has been a revelation. The first-round pick will have a significant role on defense this season. He's flashed the talent that allowed him to accumulate 33 sacks in college, but has also worked hard at improving his craft. Chris Long still has plenty of juice off the edge and has been a nice addition to the locker room. Steven Means earned an extension for his non-stop motor as he dominated the end of preseason games.
Defensive Tackle (5): Starters: Fletcher Cox, Tim Jernigan; Backups: Beau Allen, Elijah Qualls, and Destiny Vaeao
One of the most interesting position battles to watch. Fletcher Cox is simply one of the best player in the entire league, regardless of position. Tim Jernigan will provide more of a pass-rush force as teams will have to decide who to double-team along the line. Beau Allen has not missed a game in his first three NFL seasons, and is healthy after tearing his pectoral muscle earlier in the offseason. Second-year tackle Destiny Vaeao was impressive all throughout Training Camp, earning praise from coaches time after time again. Elijah Qualls was a sixth-round pick in the NFL Draft. He missed the spring due to the NCAA graduation rule, but came on strong at the tail end of the preseason.
Linebacker (6): Starters: Nigel Bradham, Jordan Hicks, and Mychal Kendricks; Backups: Najee Goode, Kamu Grugier-Hill, and Joe Walker
There were no questions about the starters. Jordan Hicks is the leader in the middle of the defense. Nigel Bradham is an aggressive player who complements Hicks well. Those two are also on the field in the nickel subpackage. Mychal Kendricks was arguably the league's best defensive player in the preseason. He responded in a big way after not being on the field much in 2016.
Najee Goode is the veteran special teams stalwart who can fill in at all three linebacker positions. Joe Walker finally makes it to the active roster after suffering an ACL injury just over a year ago. He flew around the field Thursday against the Jets and can be the backup to Hicks in the middle. Kamu Grugier-Hill was a key special teams player a year ago and was very active on defense in the preseason.
Cornerback (5): Starters: Ronald Darby and Jalen Mills; Backups: Rasul Douglas, Dexter McDougle, and Patrick Robinson
Four of the five players at this position are new in 2016. Ronald Darby was acquired in a trade with the Buffalo Bills during the preseason and immediately showcased the ball skills and athleticism that he will bring to the cornerback group. He has the man coverage skills to help the Eagles match up against the talented pass catchers they will see in the division this season. Jalen Mills is the one returning player from last season, and was the best corner throughout camp. His route-recognition skills have vastly improved allowing him to be around the ball. He plays with an edge that serves him well in this defense.
Patrick Robinson was originally signed this offseason to be a starter on the outside, but has helped stabilize the slot position after Darby was added. Rasul Douglas was selected in the third round and showed plenty of promise throughout the course of the summer. The Eagles traded for Dexter McDougle last Sunday and signed him to a one-year extension through 2018 on Saturday. Injuries have slowed down his progress, but the 2014 third-round pick can play both inside and outside. He played well in his debut against his former team the other night.
Safety (5): Starters: Malcolm Jenkins and Rodney McLeod; Backups: Corey Graham, Chris Maragos, and Jaylen Watkins
Malcolm Jenkins and Rodney McLeod form one of the best safety duos in the entire league. Jenkins is a versatile chess piece with his range, ability to blitz off the edge, and cover receivers out of the slot. McLeod is a dynamic player who can lay a pop as well. These two should benefit from an improved pass rush which should force opposing quarterbacks into more poor throws this season.
If the Eagles want to utilize Jenkins in the slot again this season, Corey Graham was signed during Training Camp to provide a quality backup option after having started at safety for the past two seasons in Buffalo. Chris Maragos is one of the league's best special teams players. Jaylen Watkins is still listed as a safety, but moved to cornerback during the preseason which bolstered his cause. He had an interception in the win over Miami and a near pick-six the other night against the Jets.
Specialists (3): Donnie Jones, Rick Lovato, and Caleb Sturgis
Rick Lovato played the last three games of 2016 and then improved his game in the offseason and ultimately beat out Jon Dorenbos for the critical job of long snapper. Dorenbos, you remember, replaced Mike Bartrum at the position in 2006 and then went on to play the next 162 games as one of the game's best. Bartrum was a top player at the position from 2000 until he ended his career because of injury in 2006.
Lovato has some tough acts to follow ...
Donnie Jones, the franchise's all-time leader in net and gross punting averages, is back to handle that phase of the game, and Caleb Sturgis is here as the placekicker. Sproles will return punts. Smallwood is likely going to get the ball as the kickoff return man.
The special teams, which ranked No. 1 last season in the Dallas Morning News comprehensive rankings, should be outstanding again, even with some change.