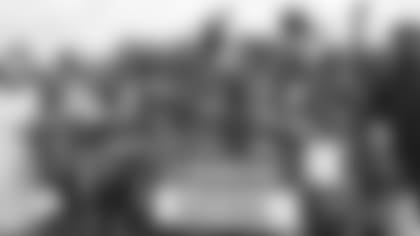 After a recent field session of Training Camp concluded, tackle Jason Peters hustled to the sidelines to join another huddle, filled with a dozen teammates and coaches from the Ivy Hill Saints. As the teammates, ranging from the ages of 6 to 15, gathered around to take a photo with the All-Pro, they had one word on their minds.
"One, two, three ... LOYALTY," the Ivy Hill Saints shouted as cameras flashed for the picture-perfect moment.
"Loyalty is everything," explained Tynisha Warrington, the North Philadelphia youth football team's treasurer and unofficial team mom. "As a team, you can't get anything done without relying on your brother beside you."
Coined by the Saints' Coach Selph, the chalkboard phrase-turned-team-mantra was integral in bringing the Ivy Hill Saints to the NovaCare Complex. Over the past two years, Warrington developed a strong relationship with the Philadelphia Eagles and USA Football to promote proper technique and development with youth football programs throughout the local community. The partnership reached its peak this past offseason when Peters, named to USA Football's 2014 All-Fundamentals Team, selected the Ivy Hill Saints to receive a $1,000 equipment grant to prepare the team for the 2015 season.
"When we found out who we were getting it from, it was like 'Wow,'" Warrington said of the organization's selection. "We appreciate players and those who give back to us. For somebody to make it that big and to still think about people like us, that's amazing."
In addition to the grant, Peters provides the Saints an example of a just another kid who made it to the National Football League, thanks to hard work and strong fundamentals. The opportunity to inspire these young athletes meant a lot to the 12-year veteran, who cited his family as his biggest inspiration to continuously better his game and play it the right way.
"Growing up, I had a cousin, Randy, who was older than me and I always looked up to him," Peters said. "And now, my mom (Teledeo) and dad (Ivory), my family, that's what keeps me going."
Peters' source of inspiration resonated deeply with the Ivy Hill Saints, where "a lot of these children may not have their whole family," Coach Selph said. "We've got them from all walks of life. The way I coach them is loyalty and brotherhood. If you don't have anyone else, you've got us."
For the Ivy Hill Saints' leader, 14-year-old quarterback Antonio Lambert, the experience with Jason Peters at Training Camp came back to one word: Loyalty.
"It means family," Lambert said of the mantra. "It teaches that character beats talent. And if you have character, you'll have a better, stronger future."