On Sunday, October 30th, I was given a wonderful opportunity by the Philadelphia Eagles to be their guest at their matchup against the Pittsburgh Steelers. This once-in-a-lifetime chance was born out of an article written about me in The Philadelphia Inquirer back in September, explaining how I play flag football in the Athena Athletic League while having retinitis pigmentosa, a degenerative eye disease. I never thought that article or having a serious vision issue would bring me so much happiness for a day.
When I first learned I was invited to attend the game along with my family, I thought, 'Cool, we get to go see the Eagles crush the Steelers,' but little did I know how the day was going to play out and how absolutely epic it would be! But before I tell you what my day was like, I want to tell you the one vital thing I learned from the experience – the Philadelphia Eagles organization isn't just about football; they are also about community. That goes for everyone from the community relations staff to the entertainment staff to the media staff to the on-field staff to the concession stand operators to the players and coaches. Everyone my family and I came in contact with made us feel welcome and part of something bigger than just football.
Meeting at the media entrance
It was honestly one of the most perfect weather days. It was sunny and warm, with a hint of a chill in the late October morning air. As we drove down to Philly for my 9:30 AM start, I was both excited and nervous. I didn't know what to expect, and really had no idea what my day would entail. All I knew was that I had to meet Taylor Wilson from community relations and Sage Hurley from the Eagles Entertainment team at the media entrance.
As I briskly walked from the parking lot to the media entrance, I could feel the excitement and electricity in the air. There was music blaring, people throwing footballs and playing cornhole, food being grilled, beers being chugged, and E-A-G-L-E-S being chanted! I could not wipe the smile off of my face. I felt like I was "home."
As we approached the media entrance, Taylor and Sage were waiting for me. They greeted me with warm smiles and noticed that I was wearing a Jason Kelce Super Bowl jersey. He is my favorite player on the Eagles, both on and off the field, but has been the most difficult Eagle to meet! Maybe someday. A girl can dream, right? Taylor said that she liked my jersey, but would I be interested in wearing a jersey with my last name on it? As she said this, she held up a jersey that the Eagles had custom-made for me. It had the number 22 on it for the year, and my last name on the back. It was one of the best surprises ever! Of course, I donned that one-of-a-kind jersey!!! And so, I slipped it on over my Kelce jersey and headed into the Linc with Taylor and Sage as my tour guides!
Am I really going to get to go through the tunnel?
As we walked through the media entrance to start my day, we had to go through security like everyone else does on gameday. After we passed through security, we walked down a long hallway that led up to another hallway that takes you to the tunnel where the Eagles run out of on gameday. This hallway had huge photographs of bands that have played in concerts at the Linc, like the Rolling Stones, One Direction, and Metallica. In this hallway, we waited for Eagles Insider Dave Spadaro, who was kind enough to allow me to shadow him that morning during his pregame preparations. I started to laugh when I saw him. Because it was the day before Halloween, Dave was dressed up as Justin Timberlake. He had on a blonde curly-haired wig and pink heart sunglasses. It was funny. He was very kind when I met him.
After meeting up with Dave, I got to do something that many people don't get to do. Something that has been on my bucket list for a long time. I got to run out of the tunnel and onto the field just like the players do. We spent at least thirty minutes on the field. After that, I had to sprint like 100 MPH (well not really, but you get the picture) from the field to the radio booth with Dave, which was one of the funniest moments of the day. Once we got to the booth, I got to see and learn what it is like to report on sports from the radio side of things. I found this to be very interesting. After this, Sage and I sprinted back down to the field and hung out for 20 minutes. It was fairly quiet down on the field, which I actually enjoyed. It was like the calm before the storm. I got to see what happens before a game and what needs to get done, including pregame interviews and photos.
After being on the field, Sage took me up to the press box, which I found fascinating. After this, Sage escorted me downstairs to meet up with my parents and brother. This time, I was the tour guide! I got to show them the long hallway that took us down to the field. They got to walk out of the tunnel with me. It was such a cool experience. They were in awe! Once we got onto the field, we got to watch warmups. During that time, I got to meet both Dallas Goedert and Brandon Graham. Let me just say both of them are the nicest people on the planet! They stopped and talked with me for a few minutes and took pictures with me, which was such a cool moment. They were so personable that my mom asked me if they knew who I was because my interaction with them was as if I had met old friends. I cannot say enough about their kindness, generosity, and overall coolness. These guys were about to play in a game, and they were generous with their time during warm-ups. I was left feeling 100 feet tall! Class acts right there! Thank you, Dallas and Brandon!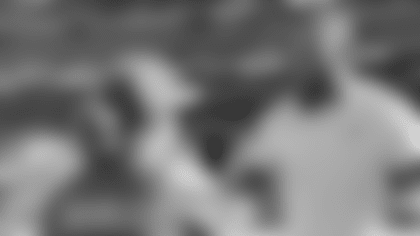 After this, we saw a bit more of warm-ups until it was time for us to go up to our seats. Let's just talk about our seats for a moment. These seats were awesome! They were near the end zone. The crowd around us was pumped! It was magical! At the end of the fourth quarter, Taylor asked us to meet her so that we could go down for the post-game press conference.
We were taken back down to where I started my day under the stadium. While waiting to get into the press conference, we saw the Steelers heading back into the locker room after losing the game to the Eagles 35-13. They were solemn.
Eventually, we made our way into the room where the press conference was being held. There were cameras set up, desks with chairs to sit in, and a stage with a table set up for Coach Nick Sirianni and select Eagles players to sit at and be questioned by the media. As we walked into the room, I was excited to see how the press conference would go. It was interesting to see the many journalists who were there to take notes and ask questions. The press conferences started with wide receiver A.J. Brown, talking first about what he thinks he did right in the game and what he could have done better in the game as well. After A.J was finished, Coach Sirianni entertained questions from the journalists. It was interesting to hear their questions and listen to Coach's answers.
Unbeknownst to me, the community relations team arranged for me to ask Coach Sirianni the final question before he left the press conference. I was a bit nervous since I didn't know what I was going to ask, but then a question popped into my head. I asked him, "With the quick turnaround with playing the Texans on Thursday, what is the one thing you will emphasize with the team the most?" Coach Sirianni didn't miss a beat; he gave me a well-thought-out answer in regard to recovery for players in both nutrition and keeping their bodies moving. They were on stationary bikes right after the game.
After the press conference was over, my parents were so shocked with the question I had asked since it sounded really professional. One of the journalists came up to me and said, "Nice question, don't ever do that again," since I had asked a really good journalistic question. We all laughed.
As we left the press conference and headed out, journalists from CBS3, NBC10, and other local news stations set up in the hallway, doing game recaps. As we walked down the hallway, we passed Jordan Mailata and, let me tell you what, he is larger than life and one of the sweetest guys! I ran up to him, told him he had a great game and that I loved watching him on The Masked Singer! He had a wide smile, took the time to take a photo with me, and patted me on the back. Once again, kindness abounds in this organization. Thank you, Jordan, for stopping and taking a picture with me during your off time!
All in all, I had a blast this past Sunday! I will never forget this experience. I made memories that will last for a lifetime!