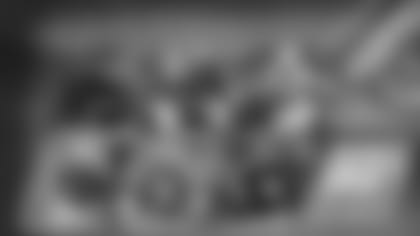 By now, you know what the Eagles did in last weekend's NFL Draft. Nelson Agholor and a hand's worth of defensive players are now with the Eagles as Chip Kelly and co. prepare for the beginning of Organized Team Activities. But what about the rest of the division? Let's take a look at how the three despicable NFC East teams fared on draft weekend.
Round 1 (27th overall) – CB Byron Jones
Round 2 (60th overall) – OLB Randy Gregory
Round 3 (91st overall) – OT Chaz Green
Round 4 (127th overall) – ILB Damien Wilson
Round 5 (163rd overall) – DE Ryan Russell
Round 7 (236th overall) – OLB Mark Nzeocha
Round 7 (243rd overall) – OT Laurence Gibson
Round 7 (246th overall) – TE Geoff Swaim
Byron Jones was one of the players most closely linked to the Eagles throughout the pre-draft process, but rather than end up in midnight green, Jones instead joins his grandfather Jerry* with the defending NFC East champions. Brandon Carr has been a relative disappointment since he signed as a free agent in 2012, as has former first-round pick Morris Claiborne, whose fifth-year option was declined by the Cowboys earlier this week. With the uninspiring Orlando Scandrick also in tow, the Cowboys needed help at cornerback after finishing 25th in the league in passing yards allowed per play. Jones, the 6-1, 199-pounder who impressed at the NFL Scouting Combine, should bring that needed help.
In the second round, Dallas picked a first-round talent in Nebraska pass rusher Randy Gregory. The risk was deemed worth the reward at pick no. 60, and if Gregory can stay on the field, he'll help a pass rush that finished 28th in the league with only 28 sacks in 2014. Later, Dallas did well to add depth to its already impressive offensive line with Florida's Chaz Green and Virginia Tech's Laurence Gibson. Minnesota linebacker Damien Wilson should be an immediate special teams contributor while fighting for time on defense.
The one major surprise of Dallas' draft was the absence of a running back selection. After losing the productive, talented, handsome and cool DeMarco Murray to the Eagles in free agency, Dallas entered the draft with only the perennially injured Darren McFadden, Joseph Randle and Lance Dunbar at running back. Credit to the Cowboys for not forcing a pick if a running back was not atop their draft board during any of their eight selections, but the lack of a dynamic back will put the onus of the run game squarely on the Cowboys' talented offensive line. Dallas stayed true to their bizarre insistence on neglecting the position in undrafted free agency, inking only Georgia Tech's Synjyn Davis at running back.
Byron Jones and Jerry Jones are, in fact, not related.
Round 1 (9th overall) – OL Ereck Flowers
Round 2 (33rd overall) – S Landon Collins *
*Round 3 (74th overall) – DE Owamagbe Odighizuwa
Round 5 (144th overall) – S Mykkele Thompson
Round 6 (186th overall) – WR Geremy Davis
Round 7 (226th overall) – OL Bobby Hart
The effort to best protect the Giants' anthropomorphic interception machine continued in round one with the selection of Flowers, considered the offensive lineman with perhaps the highest "ceiling" in the draft class. With the Giants offensive line, Flowers could bump Will Beatty from the left tackle spot long term, but he'll initially fight for a spot either at guard or right tackle, which would then bump Justin Pugh inside to guard. Flowers should help just as much in the run game, where the Giants finished 30th in the NFL with 3.57 yards per carry in 2014.
The Giants then made a splash at the outset of day two, trading a fourth- and seventh-round pick to Tennessee in order to move up seven spots to the top of the round. With that selection, 33rd overall, the Giants added Alabama safety Landon Collins. The addition made plenty of sense for a team that included only Josh Gordy, Cooper Taylor and Nat Berhe at safety entering the draft. That trio has combined for just two starts at safety in the NFL. So Collins will be expected to contribute right away in Steve Spagnuolo's defense. The book on Collins is well known by Eagles fans at this point – he should be ready to play in the box from day one, but questions about his ability in coverage will persist. Still, the feat of being picked 33rd overall is an impressive one, especially for an overgrown toddler.
In round three, the Giants added help to the defensive line with the selection of UCLA's Owamagbe Odighizuwa, who should force his way into a role on defense immediately. Odighizuwa is a force against the run and, if he can stay healthy, should grow into an effective pass rusher as well. Because of the aforementioned lack of depth at safety, fifth-round pick Mykkele Thompson could eventually be a player to watch as well. 
Round 1 (5th overall) – OL Brandon Scherff
Round 2 (38th overall) – OLB Preston Smith
Round 3 (95th overall) – RB Matt Jones
Round 4 (105th overall) – WR Jamison Crowder
Round 4 (112th overall) – OL Arie Kouandijo
Round 5 (141st overall) – OLB Martrell Spaight
Round 6 (181st overall) – S Kyshoen Jarrett
Round 6 (182nd overall) – CB Tevin Mitchel
Round 6 (187th overall) – WR Evan Spencer
Round 7 (222nd overall) – C Austin Reiter
It's too early to tell how successful this draft will be for any NFC East team, Scot McCloughan's first entry as the head man behind Washington's draft signaled a sea change to the rest of the division. No longer does it appear like the team's selections are made via dart board. In round one, Washington stayed put at No. 5 overall, adding the consensus top offensive lineman in the draft, Iowa's Brandon Scherff. Aside from left tackle Trent Williams, Washington had little in the way of competence up front, so whether he plays guard or right tackle, Scherff will start immediately.
Mississippi State linebacker Preston Smith should also compete to start right away opposite Ryan Kerrigan at outside linebacker. The 6-5, 271-pounder played defensive end in college, but he has the athleticism to stand up for Washington and he can't hurt a pass rush that had 36 sacks in the 2014 (tied for 21st in the league), especially with Brian Orakpo departed. Third-round pick Matt Jones is a bruising running back at 6-2, 231, and should fill in capably as Alfred Morris' understudy.
McCloughan added 10 players in total over the draft's seven rounds after adding four potential starters in free agency (cornerback Chris Culliver, safety Jeron Johnson and defensive linemen Terrance Knighton and Stephen Paea). Fourth-round pick Arie Kouandijo should compete for a starting spot early on.