During a roller-coaster second season in the NFL, Tony Hunt has learned to stay on his toes.
Common sense would dictate that the 2007 third-round pick would see more action and more touches in his sophomore campaign, after a year in the relatively complicated West Coast scheme.
But that wasn't exactly the case. When the Eagles brought in Lorenzo Booker on a draft-day swap, Hunt found himself, unenviably, fourth on a running back depth chart typically suited for three guys. His reps at training camp dramatically decreased. His chances of making the team were perceived as slim.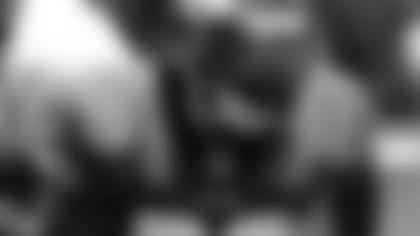 Tony Hunt learned of his move to fullback Friday after his performance vs. Carolina
"If they would have (cut me), nothing would have surprised me," Hunt said. "You can't let anything surprise you. Anything can happen."
Still, "surprise" might be the term best suited for Hunt's fourth-quarter explosion during the Eagles' comeback win against Carolina last Friday. It's why Hunt took reps with the first team in Monday's practice – as a fullback.
The idea hadn't been brewing for long, really. Hunt said he didn't hear a thing about playing fullback until Friday, after his breakout game. The point is, though, he knew he stood out.
His 51-yard touchdown run put the Eagles ahead for good, as he broke a tackle and demonstrated breakaway speed that was absent from his play a season ago. He snagged a pass, one-handed, out of the backfield. He made two special teams tackles.
So the youngster who general manager Tom Heckert said came to camp "a little out of shape" played himself onto the field.
"He's a player that came out and played very good football this past week," head coach Andy Reid said. "The thing he's improved on the most – we knew he could run the football – is his special teams play. So he deserves an opportunity. He's a big kid that wants to be on the field and he really doesn't care where he plays, he just wants to play."
Sure, Hunt has a grasp on reality; the Eagles simply don't use the fullback all that much. Not only that, but the extent of his experience at the position came at Penn State, though only when the Nittany Lions would run trick formations with wide receiver Derrick Williams in the backfield.
And, for a running back of his 227-pound frame, his blocking had been called into question. He's been working on it. After all, a failure to block from the fullback spot might slam the shutters on the window to make the team, which might now be wider than ever.
"It's something that he's going to have to work hard to be able to do," running back Brian Westbrook said. "It's just that being able to do it in a week's time, and be really good at it, is probably going to be tough."
One thing clear is that Hunt possesses a natural running ability with deceptive elusiveness, something he showcased against the Panthers. If Hunt were to make the roster, his presence at fullback on third-and-short, among other situations, might give the Eagles options from the position they've never had the luxury of in the recent past.
"When you play football, you got to be able to run, catch and block," Hunt said. "This will be my first day of practice, though, so I guess we'll see."
As Hunt said, though, nothing should be surprising. The experiment brought in to solidify the fullback spot in the offseason, Dan Klecko, is now back to defensive tackle. Should Hunt start at the position on Friday against New England, he'll be the third to do so in three preseason games. With no current indication of stability at the position, there could be a fourth next week.
Is it an endorsement of Hunt's performance, or simply a discomfort with what the three natural fullbacks on the roster have shown so far? Or perhaps the Eagles want to get another potential weapon onto the field as much as possible. Maybe it's a little bit of all three. No one, especially Hunt, is really sure.
"I don't know exactly what the reasoning and everything is behind it," Hunt said, "but it's just a chance to get on the field. Bottom line."