The stage is set for a prime-time showdown as the Philadelphia Eagles will host the Dallas Cowboys on Sunday night. With a win, the Eagles will head into the bye week sitting atop the NFC East with back-to-back wins over division rivals. The Eagles got to enjoy the weekend off following Thursday night's come-from-behind victory over the Giants. Get caught up on what happened with Dallas and so much more in our Morning Roundup presented by Microsoft.
Microsoft Teams Top Connection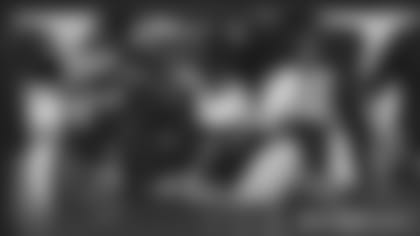 Rookie wide receiver John Hightower sparked the offense with this 59-yard reception in the fourth quarter of Thursday's win. Hightower has back-to-back games with a catch of at least 50 yards.
1. Who will play quarterback for Dallas?
The Dallas Cowboys lost to the Washington Football Team 25-3 on Sunday for their fourth loss in five games. The bigger question for the 2-5 Cowboys is who the starting quarterback on Sunday night will be. Starting for the injured Dak Prescott, Andy Dalton suffered a concussion on a dirty hit by Football Team linebacker Jon Bostic midway through the third quarter. Dalton was sliding at the end of a scramble and Bostic leveled the quarterback diving shoulder-first at his head. Bostic was ejected. Dalton was replaced by rookie seventh-round pick Ben DiNucci, who fumbled the snap on his first play of the afternoon. The Cowboys recovered the loose ball, but not on the scoreboard losing to Washington. DiNucci transferred from Pitt to James Madison following the 2017 season. Last year, he led the Dukes to the FCS National Championship Game, where they lost to Carson Wentz's alma mater North Dakota State.
2. Spadaro: Gunslinger Carson Wentz has Eagles on a roll atop NFC East
Eagles Insider Dave Spadaro looks at the comparison between quarterback Carson Wentz and Pro Football Hall of Famer Brett Favre. Head Coach Doug Pederson was a teammate of Favre's in Green Bay, so he certainly would understand the parallels between the two quarterbacks.
"That was always the thing with Brett, the reward was definitely greater. But you knew there was going to be some risk involved. Carson obviously has the ability to do that. He's got the arm strength, the mobility to extend plays with his legs," Pederson said. "I would think the one thing that we're seeing with Carson now, the same thing I saw with Brett, is that physical toughness, being able to stand in the pocket, take some hits, bounce up, and do it again. To me, that's kind of some of the similarities there. Carson is solid. He's getting better every week. Again, had a great comeback yesterday for us. That's some of the same things that obviously I saw in Brett when I played with him."
3. A quick look at the Eagles' injury situation
Here is a position-by-position look at what the Eagles must account for from an injury standpoint heading into Dallas week:
• Running back – Will Miles Sanders be able to play after a knee injury kept him out of the Giants game?
• Wide receiver – DeSean Jackson is out for an indefinite amount of time with a lower-body injury. Will Alshon Jeffery be able to go? The Eagles added a calf injury to Jeffery's foot injury on the injury report last week. Rookie Jalen Reagor remains on Injured Reserve with a thumb injury.
• Tight end – Starters Zach Ertz and Dallas Goedert are on Injured Reserve, but Goedert is eligible to come off when he is healthy. Goedert suffered an ankle injury against the Bengals in Week 3.
• Offensive line – Tackle Lane Johnson was unable to finish Thursday's game with a knee injury on top of the nagging ankle injury, so his status is one to watch. Rookie Jack Driscoll was out Thursday night with an ankle injury. Tackle Jason Peters and guard Isaac Seumalo are eligible to return from Injured Reserve when healthy.
• Defensive line – Malik Jackson missed Thursday night's game with a quadricep injury. Hassan Ridgeway suffered a season-ending bicep injury.
• Linebacker – T.J. Edwards is eligible to return from Injured Reserve when healthy.
• Cornerback – Craig James suffered a hamstring injury Thursday night against the Giants. Avonte Maddox was active for Thursday night's game, but only played a limited role.
• Safety – Rudy Ford is eligible to return from Injured Reserve when healthy. Rookie K'Von Wallace missed Thursday night's game with a shoulder injury.
4. An unsung hero from Thursday night's win
With Zach Ertz and Dallas Goedert sidelined, Richard Rodgers picked up the slack at tight end against the Giants by leading the team with six catches for 85 yards.
"I'll tell you what, he played tough, physical. He played fast. He made some really good catches. Not only some short, intermediate catches, but the deep throw in the fourth quarter to help us win that football game," Head Coach Doug Pederson said. "I'm really glad Richard is on the team. He's a good complementary piece when both Zach and Dallas are out there. He filled in really well. Expect more of that hopefully moving forward with him in that position."
A third-round pick of the Packers in 2014, Rodgers had more catches just twice in his career before Thursday night. His last game with at least six receptions was November 6, 2016. The 85 receiving yards were the second most of his career, only bested by a 146-yard outing on December 3, 2015.
5. A special source of motivation
Tackle Jordan Mailata apparently played a key role in Brandon Graham's strip-sack that sealed the win for the Eagles over the Giants.
"The first thing I talked about on the sideline with Jordan Mailata. He had said something to me that sparked me. He said, 'Act like Emerson is watching.' My baby girl. She would be excited for me. 'And give her something to be proud of.' It was just cool that I made that play but he said that to me before I went out there," Graham said.
"And so I'm telling you it's just something about the end of these games with the rotation that we have, you feel stronger, you just can't wait because you know you are in a pass situation and all you have to do is make a couple moves, get to the quarterback, hoping that he holds the ball. And he held the ball right there, went straight for the ball. Thank you, B-Dawk (Brian Dawkins). Because B-Dawk definitely went for the ball. Thinking about you. And instead of going just for the sack, went for the ball, and we changed the whole game and the end of the game with that."
Graham is tied for third in the NFL with six sacks. He's never had 10 in a single season in his career.