Welcome to Week 1 of the 2020 regular season. Following an offseason that was derailed by a global pandemic, the Eagles are six days away from taking on the Washington Football Team.
In today's Morning Roundup presented by Microsoft, we'll recap a busy weekend as the Eagles got to the 53-player limit and established a practice squad. There will be more moves on the horizon, but there's also an opponent to finally preview so let's get into it!
Microsoft Teams Top Connection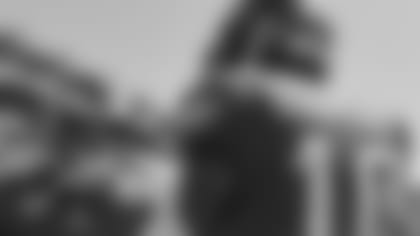 Eagles fans only got to see this top connection for one full game in 2019 when DeSean Jackson caught eight passes for 154 yards and two touchdowns against Washington, one of his former teams, in the season opener. Both of his touchdowns were over 50 yards (51 and 53). The Eagles have won six straight games against Washington.
1. The big unknown regarding the Eagles
The final question that Howie Roseman was asked on Saturday evening following the cutdown to 53 players was whether or not this Eagles team could contend for a championship. Roseman certainly knows what a championship team looks like from a talent standpoint. That's not an issue, he said. But the big question is the team's chemistry and that's something we won't learn about until adversity strikes over the next 17 weeks.
"I think what makes a team special is the team chemistry and the team coming together to become one and that doesn't happen overnight," Roseman said.
"And so we've got to see how that comes together over the course of the year. I think that we have enough talent to be a really good team, and we have really good people on our coaching staff to help that happen, and then we'll just have to see how the season goes and how we deal with adversity and what goes on in this unique year."
2. Josh McCown returns on the practice squad
The COVID-19 pandemic forced teams to approach building the roster differently this year. One of the questions that Head Coach Doug Pederson was asked several times was whether or not the Eagles would quarantine a quarterback in case of an outbreak. We learned on Sunday that the answer is yes. And that quarterback is Josh McCown, the 41-year-old who was the backup to Carson Wentz in 2019 and got to play in his first NFL playoff game in 17 seasons in January against Seattle. McCown was one of 16 players signed to the team's practice squad.
The NFL and NFLPA agreed to expand the practice squad to 16 players with six of those slots able to be filled by veterans with unlimited experience this year due to the pandemic. Roseman said on Saturday that it will be more difficult to use those practice squad spots on developmental players as in previous years, so it makes sense to keep a fourth quarterback who is socially distanced from the team.
3. Eagles claim RB Jason Huntley; release CB Cre'Von LeBlanc
The Eagles didn't take long to adjust the initial 53-man roster as the team claimed rookie running back Jason Huntley off waivers from the Detroit Lions. The speedy product from New Mexico State was the only 2020 draft-eligible running back with 1,000 career receiving yards. On the ground, Huntley had 1,090 yards in 2019 and averaged 7.1 yards per attempt, the fourth highest in the NCAA's FBS. The Eagles now have four running backs on the active roster.
Unfortunately, the team had to release someone and it was cornerback Cre'Von LeBlanc, which currently leaves the Eagles with only four cornerbacks. But as a vested veteran, LeBlanc doesn't go on waivers and can choose his next destination which could still be with the Eagles. Why?
4. Eagles have two open spots on their active roster
The Eagles placed safety Will Parks and wide receiver Quez Watkins on Injured Reserve on Sunday. Here's the deal. The NFL and the NFLPA are allowing for any player placed on Injured Reserve to return after missing just three games in 2020. The only catch was that the players had to be placed on IR after 4 PM on Sunday, otherwise they would not be eligible to return. While Parks and Watkins recover, the Eagles now have two open roster spots at their disposal. The Eagles also have a vacancy on their practice squad.
5. Could Cordy Glenn fill one of those roster spots?
Howie Roseman confirmed that veteran left tackle Cordy Glenn was visiting with the team. Because of COVID testing, it takes three days before the Eagles can conduct a workout. A former second-round pick of the Bills, Glenn has played in nearly 100 career regular-season games for the Bills and Bengals. He also played guard in college at the University of Georgia and cross-trained there in offseason workouts during his time with the Bengals. The Eagles currently only have eight offensive linemen and the three projected backups – Jack Driscoll, Nate Herbig, and Jordan Mailata – have played a combined three snaps on offense in the NFL.
6. An interesting indicator of talent
Jason Huntley was one of only 17 players claimed by NFL teams on Sunday, according to ESPN's Adam Schefter which is half of the amount claimed from 2019. Again, the pandemic certainly loomed large here with the cancellation of the preseason. Still, it should be noted that three of the Eagles' cuts were claimed by other teams: cornerback Rasul Douglas (Panthers), defensive end Shareef Miller (Panthers), and tight end Noah Togiai (Colts). It should be noted that former Eagles National Scout Patrick Stewart left this offseason to join Carolina's front office as the director of player personnel.
7. This offseason goal was successfully completed
Howie Roseman said that one of the team's objectives was to get younger this offseason. According to Jimmy Kempski of Philly Voice, the Eagles did just that by going from the second-oldest team at the time of the roster cutdown in 2019 to 19th, a jump of 12 spots. The average age was 26.6 years old in 2019 and now it's 26 years even. The Jaguars (24.9 years), Dolphins, and Rams are the youngest teams in the league, while the Falcons (26.9 years), Bears, and Saints are the oldest.
Love The Mandalorian. Excited for Season 2. Interesting choice of helmets above.
8. Dwayne Haskins named Washington's starter
No surprise here, but second-year quarterback Dwayne Haskins was officially named the starter by Head Coach Ron Rivera last week.
"You know exactly who our starter is, but more importantly, our players know who our starter is," Rivera told reporters, according to WashingtonFootball.com. "I've been very pleased with his efforts, his attitude and the way he approached everything."
Haskins was outstanding when these two teams met in Week 15 of last season, throwing for 261 yards and two touchdowns.
The more improbable story is that former starting quarterback Alex Smith, who nearly lost his right leg due to complications from a compound fracture in 2018, earned a spot on the 53-man roster.
9. Adrian Peterson out in Washington
The surprise cut from Landover, Maryland was the release of future Hall of Fame running back Adrian Peterson, who led Washington with 898 rushing yards at 34 years old in 2019. The Football Team turns to rookie Antonio Gibson, a 6-2, 220-pound back with receiver experience from his time at Memphis. Behind Gibson is Bryce Love, the former Heisman Trophy runner-up, from Stanford, who suffered a torn ACL in his final college season dropping his stock to the fourth round of the 2019 NFL Draft.
10. How will the Eagles slow down Terry McLaurin?
As a rookie, wide receiver Terry McLaurin posted two monster performances against the Eagles with 10 catches for 255 yards and two touchdowns. In his latest column, Eagles Insider Dave Spadaro ponders how the team will game plan for McLaurin, especially with an overhauled secondary.