It's Victory Monday! The Eagles enter the bye week in first place in the NFC East following Sunday night's 23-9 win over the Dallas Cowboys. All three of the Eagles' victories this season have come in prime time. Here are the five biggest stories from the victory in our Morning Roundup, presented by Microsoft.
Microsoft Teams Top Connection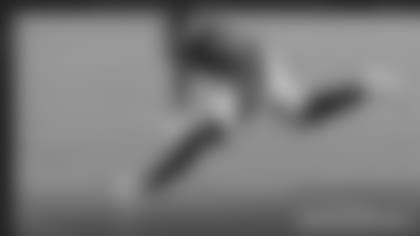 The first of many for rookie wide receiver Jalen Reagor. The first-round pick returned from injury and scored his first NFL touchdown on a 2-yard completion to get the Eagles on the board Sunday night. Read more about his performance below.
1. Carson Wentz: 'I can be better. I know I will be'
Quarterback Carson Wentz turned the ball over four times – two interceptions, two lost fumbles – in Sunday night's 23-9 win over the Dallas Cowboys.
"I'm not good enough. I'm pumped we got the win, but I'm going to have to watch the tape and I'm a little frustrated with how I played and how we've left some plays out there, left some points out there, and missed some big opportunities. I can be better. I know I will be," said Wentz, who was 15-of-2 for 123 yards with two touchdowns.
"I would say the same thing for this far in the season. I'm pumped that we're at the top of our division, that we're heading into this bye week, but halfway through the year I know I can play better and a lot of it's just coming down to taking care of the football. I feel like I'm still the same aggressive guy that's going to pull the trigger and I never want to change that. But (it's about) being smart and putting it in the right spot."
Here's a breakdown of the four turnovers:
• On the offense's opening drive, Wentz held the ball for far too long and was strip-sacked by Cowboys safety Donovan Wilson. The Cowboys, ahead 3-0, were in position to extend the lead with the ball at the Eagles' 25-yard line until Brandon Graham forced quarterback Ben DiNucci to fumble the ball on a second-and-goal situation.
• On the Eagles' first drive of the second quarter, the Eagles went for it on fourth-and-3 from the Cowboys' 44-yard line. Cowboys linebacker Leighton Vander Esch blitzed and nailed Wentz, forcing a fumble.
• Late in the first half, following a roughing the passer penalty on defensive end Randy Gregory, Wentz took a shot in the end zone on a pass intended for rookie Jalen Reagor that was intercepted by another rookie corner Trevon Diggs along the sideline.
• On the first drive of the second half, Wentz went deep to rookie John Hightower and Diggs made another impressive catch over the shoulder. Wentz said that he and Hightower were not on the same page. The gusty winds also could have played a factor.
Fortunately, the Cowboys turned the four turnovers into just three points. The Cowboys entered the game with just three forced turnovers all season. They had no interceptions since Week 1.
"We've got to get better. We've got to fix it. We've got to fix it in a hurry," Head Coach Doug Pederson said. "We've got a chance to sit back and look at the first eight games and evaluate and try to come away with some 'whys.' But we just can't keep turning the ball over and shooting ourselves in the foot, things we've got to clean up in the second half of the season."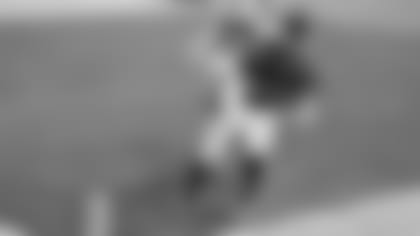 Postgame Show: Eagles maintain first place with 23-9 triumph over Dallas
Amy Campbell, Fran Duffy, Ike Reese, and Eagles Insider Dave Spadaro recap the defense's outstanding performance in the 23-9 win over the Cowboys.
2. Spadaro: Defense rises to the moment to stifle the Cowboys
Eagles Insider Dave Spadaro recapped how the team didn't allow rookie quarterback Ben DiNucci to thrive under the bright lights of Sunday Night Football.
When you see a rookie making his first NFL start on the other side of the line of scrimmage, you do what the Eagles did on Sunday night against Ben DiNucci and the Dallas Cowboys: You bring all kinds of pressure and you play relentless, attacking football. In a game that was as ugly as it comes at Lincoln Financial Field, the Eagles toppled Dallas 23-9, fueled by a defense that smothered DiNucci, took the football away twice and scored once, and dominated at the line of scrimmage.
But, boy, was it unsightly. Not that, truthfully, the Eagles really cared all that much. The win moved the team to 3-4-1 heading into the bye week, first place secured in the NFC East.
"It felt good, it felt good. It didn't look pretty," said defensive end Brandon Graham, who had a key strip-sack and fumble recovery deep in Eagles territory to stop a first-quarter Dallas drive after a Carson Wentz giveaway. "We knew it was gonna be a battle, of course. But we held strong when it came down to holding them in the red zone and I'm happy that we stuck together."
Graham said the Eagles wanted to "make sure that we stay in his face" up front and "play tight coverage" against the untested DiNucci and they did exactly that. The defense had four quarterback sacks, seven quarterback hits, and eight tackles for loss. DiNucci completed 21 of 40 passes for 180 yards, much of those yards coming on a meaningless final drive. Dallas converted only 4 of 16 third downs and averaged just 3.4 yards per offensive play.
3. Doug Pederson: Stability the key for Carson Wentz
On Monday morning, Head Coach Doug Pederson joined the SportsRadio 94WIP Morning Show and Carson Wentz's performance on Sunday night was the primary topic of discussion. Pederson made comparisons between now and 2017, when Wentz played at an MVP level.
"We go back and compare to '17 when he had an MVP-type season and I can honestly tell you if there's a common denominator, we had stability around Carson Wentz," Pederson said. "We had three receivers, three tight ends, and running backs, and we didn't have the moving parts that we've had last year, already in the first part of this season.
"We had stability and as an offense we had continuity, so that to me has probably been the biggest difference between then and now."
The Eagles welcome back tight end Dallas Goedert, tackle Jason Peters, and wide receiver Jalen Reagor on Sunday night, with the hopes of getting more pieces back after the bye.
4. Brandon Graham continues a Pro Bowl-worthy season
Due to the pandemic, there will not be a Pro Bowl played following the 2020 regular season.
That means there will be more validity in terms of who is selected to the Pro Bowl. Between injuries and playoffs and needed rest, several alternates replace the initially chosen starters. This year that won't be the case.
Brandon Graham has not been selected to a Pro Bowl. He hasn't had double-digit sacks since being the team's first-round pick in 2010. But the longest-tenured member of the defense is turning in his finest season yet through the first half of 2020. Graham leads all NFC edge rushers with seven sacks in 2020. Only two players in the league have more.
Graham's strip-sack of rookie quarterback Ben DiNucci ended a potential scoring drive with the Cowboys at the Eagles' 7-yard line leading 3-0 in the first quarter. Graham beat another rookie in tackle Terence Steele off the edge and got the ball out for the second week in a row.
Dallas scored just six points the rest of the way and the Eagles got the win.
"I really was just thinking about trying to make a play. They were marching down the field a little bit and we just needed a stop," Graham said. "I ended up getting the opportunity and I am glad I went for the ball. I am glad we recovered it because that was a kick-start of what we were trying to do and get going in the game."
5. Travis Fulgham, Jalen Reagor offer a glimpse of the future of the Eagles' offense
Believe it or not, Travis Fulgham's 57-yard performance in his Eagles debut against the 49ers in Week 4 was his lowest output of the season.
Ever since the breakout game the following week in Pittsburgh (10 catches, 152 yards, one touchdown), Fulgham has had at least five catches for 73 yards in each game. On Sunday night, Fulgham led the Eagles with six catches for 78 yards and a touchdown. He also drew a pass interference penalty. He's got 29 receptions for 435 yards and four touchdowns since coming off the practice squad.
"Travis has been a really a good bright spot for us on offense," Head Coach Doug Pederson said on the SportsRadio 94WIP Morning Show. "He's big. He's powerful. The touchdown catch, the early go ball to lead to the first touchdown was a thing of beauty. He's continuing to get better with the offense."
Rookie first-round pick Jalen Reagor made his return after a thumb injury sidelined him for five games. He caught his first NFL touchdown on a 2-yard reception and added a two-point conversion as well.
"It just felt good to be back. A lot of work to do, more reps to get and just try to build on this win," Reagor said.