Behind 22 fourth-quarter points and 28 total points in the second half, the Eagles rallied from a 17-point deficit for the second week in a row against a tough AFC North foe only to fall short 30-28 against the Baltimore Ravens. 
There are plenty of good things that the Eagles can take from this win:
• The last two losses were to teams that are a combined 10-1.
• The Eagles put up 57 points in the last two games against two of the league's best defenses.
• The Eagles don't quit even with an offense that has only two original starters remaining (quarterback Carson Wentz and center Jason Kelce) – three if you count slot wide receiver Greg Ward.
• The Eagles get to rebound quickly with a Thursday night home contest against the New York Giants, the first of three straight games against NFC East opponents.
Want some more? Check out our Morning Roundup, presented by Microsoft.
Microsoft Teams Top Connection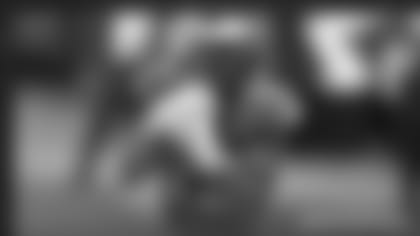 Wide receiver Travis Fulgham's fourth-quarter touchdown, all three of his touchdowns have come in the final 15 minutes, made it a one-possessions game. On fourth-and-9, quarterback Carson Wentz lofted a ball into the end zone and allowed the 6-2, 215-pound Fulgham to snare it away from cornerbacks Marlon Humphrey and Marcus Peters for the 18-yard score with 3:48 left in the game.
1. A gritty performance by Carson Wentz
This is a game where the stats don't tell the full story. Quarterback Carson Wentz only threw for 213 yards and barely completed over 50 percent of his pass attempts. But on an afternoon where he faced the most aggressive defense in the NFL from a blitzing perspective and played behind an offensive line that featured just one Week 1 starter by the end, Wentz was battered to the tune of six sacks and 16 quarterback hits, the quarterback fought and fought and fought. Eagles Insider Dave Spadaro with more:
Let Carson be Carson. Get off his back. Stop the criticism and appreciate the beauty of his game and his heart. That's the message here.
Quarterback Carson Wentz is a baller, as he again demonstrated on Sunday afternoon in a 30-28 loss to Baltimore in front of a lively and appreciative crowd of about 5,500 fans at Lincoln Financial Field. The Eagles, left for dead trailing 30-14 with 7:17 to go in the fourth quarter, came roaring back to score a pair of touchdowns and came within a two-point conversion of tying the powerful Ravens with less than two minutes to go.
"Carson is the type of guy who is going to put the team on his back, especially when we're faced with adversity," Head Coach Doug Pederson said. "Carson, playing as tough as he did, kept us in this game."
2. Doug Pederson: 'I'm proud of those guys in the locker room'
Wrote Eagles Insider Dave Spadaro: Head Coach Doug Pederson has his work cut out for him this week. His Eagles team is 1-4-1, an unsightly record for a team with high expectations. The injuries continue to pile up – the offense on Sunday against Baltimore finished with just two projected starters, quarterback Carson Wentz and center Jason Kelce, on the field. There isn't any time for pity, either, as the New York Giants, pumped up after their first win of the season against Washington, come to Lincoln Financial Field on Thursday night for a prime-time game, the first of three consecutive NFC East games for the Eagles.
So, yeah, this is a challenging time even for Pederson, who has guided the Eagles into the postseason the last two seasons after falling into a hole midway through the year.
"This group, every healthy body that we had, played in this football game," Pederson said. "I'm going to tell you, it's tough to win in the National Football League, OK. You guys know exactly where we're at health-wise and these guys battled their tails off today, and still had a chance to tie this football game, really had a chance to win this football game against a healthy, healthy football team.
"So as the head coach, I can stand here and I'm proud of those guys in the locker room. And I know they are going to get beat down this week and that's your (the media's) job. But my job is to encourage them ... I get it, there are no moral victories in the NFL. There are no moral victories at all and we are all graded on wins and losses. But for this team to hang together on the sideline, to not point fingers, to battle, to be in this position with all the mistakes that were made in the first half, really offensively, and then we missed the kick, the field goal at the end of the half, those are the differences in games. Those are things that we're going to learn from and we're going to get better from.' So I'm proud of the guys for the way they battled today."
3. Travis Fulgham continues to thrive
Travis Fulgham may have caught the Steelers by surprise last week, but there was no way that the Baltimore Ravens and their top-ranked scoring defense featuring two outstanding cornerbacks in Marlon Humphrey and Marcus Peters was going to sleep on the second-year wide receiver. After a relatively quiet first half, Fulgham helped spark the fourth-quarter really with an 18-yard touchdown reception and by drawing a 49-yard pass interference penalty. In all, he led the Eagles with six catches for 75 yards. Through his first three games as an Eagle, Fulgham has 284 receiving yards and three touchdowns on 18 receptions.
"He's a baller," quarterback Carson Wentz said. "I said last week, I see it in practice. It's good to just see these guys get their chance and make plays. ... There was zero blitz a handful of times today and I just looked to him."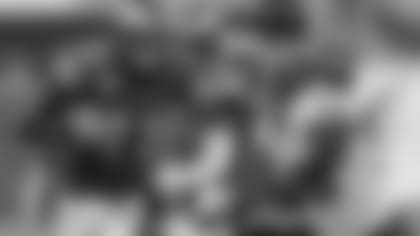 Postgame Show: Eagles' comeback falls just short
Amy Campbell, Fran Duffy, Ike Reese, and Eagles Insider Dave Spadaro recap the Ravens-Eagles game on The Postgame Show presented by Ricoh.
4. Brandon Graham leads the way on defense
The Eagles' defensive line made its fair share of plays on Ravens quarterback Lamar Jackson, but the 2019 MVP escaped – literally and figuratively – Lincoln Financial Field with the win.
Jackson paced the Ravens with 108 of the team's 182 rushing yards, following a week when he had his lowest total (3) since becoming a starter during the 2018 season. Although, 82 of those yards came on three runs. He was OK as a passer, completing 16 of 27 attempts for 186 yards and a touchdown. Mistake-free football from a turnover standpoint is a good formula for success.
Defensive end Brandon Graham recorded two sacks and upped his total to five for the season. Graham is tied for fourth in the league in sacks, as he looks to get at least 10 for the first time in his 11-year career.
"He's a great quarterback and we know that he's fast and you got to make sure that you stay in coverage with him. Let him go, let him run, get those little yards," Graham said. "Just make sure that he doesn't get – because he's an accurate thrower on the run – make sure he doesn't get those open receivers based off of him just running to the sideline to create different things. I think that's the biggest thing, just trying to contain him."
That's exactly what happened on the first touchdown of the game. Jackson bought time drifting to his right. The linebackers were zoned to keep him from escaping, but tight end Nick Boyle found a sliver of space and Jackson threw a dart for a 7-yard touchdown.
Jackson broke the game open with a 37-yard touchdown run when the linebackers were fooled by the fake handoff and the middle of the field was wide open.
"I made a read. The line did a great job. When my line was pulled, kicked the guy out, and I just had to do the rest and score," Jackson said. "It was a success for us."
Fellow defensive end Josh Sweat chipped in with three tackles for loss and flew to the football all game long. Defensive tackle Malik Jackson had a key third-down sack that knocked the Ravens out of field goal range and finished with two total tackles for loss.
Lamar Jackson, however, clinched the game with a 21-yard run to the left side after Sweat crashed in on the running back only for the quarterback to keep it.
5. Who will be available for Thursday night?
The Eagles host the New York Giants on Thursday night and there are several new injury question marks that the team must learn about. Eagles Insider Dave Spadaro offered a position-by-position breakdown:
Miles Sanders left Sunday's game with a knee injury and did not return. Obviously, his availability is crucial for an offense looking for every bit of offense it can find. Backups Boston Scott and Corey Clement have not been productive through six games.
Dallas Goedert remains out with an ankle injury and now Zach Ertz is a concern. He came limping off the field in the fourth quarter on Sunday with an ankle injury and did not return. Jason Croom, promoted from the practice squad, caught a 3-yard touchdown pass and Richard Rodgers had three receptions for 31 yards.
Rookie Jack Driscoll (ankle) started in place of the injured Lane Johnson and left the game with an injury in the fourth quarter and Brett Toth, who has been practicing for a week with the Eagles, finished the game. Right guard Jamon Brown started for Matt Pryor, who is on the Reserve/COVID-19 list, and Brown struggled. Will Johnson return on Thursday night? It would be fantastic. Maybe the Eagles can get left tackle Jason Peters back. Maybe not. Maybe Isaac Seumalo can play on Thursday. We will see. It would be such a boost to get Seumalo back at left guard and move Nate Herbig back to right guard. The offensive line is a mess.
It sounds like DeSean Jackson (hamstring) has a chance to play on Thursday night. Maybe Alshon Jeffery (foot) as well. We will see. Jalen Reagor (thumb) remains out.
Vinny Curry played for the first time since early in the season on Sunday, but the Eagles lost defensive tackle Malik Jackson during the game with a quad injury.
Two starters are out – T.J. Edwards, who is on Injured Reserve with a hamstring injury, and Duke Riley, who has a rib injury. Rookies Davion Taylor and Shaun Bradley had some significant snaps on Sunday for the first time.
Avonte Maddox has been out since suffering an ankle injury against Cincinnati. The hope is that he's back soon. He's been a limited participant in practice. Thursday would be a great time to return to the lineup.
Marcus Epps missed Sunday's game with a rib injury just as the Eagles welcomed back Will Parks to the secondary. One in, one out. That's the way it's been all season for the Eagles, although the "outs" have far outnumbered the "ins."
6. What's the blueprint for an Eagles turnaround?
Eagles Insider Dave Spadaro offered a five-point plan to help get the team back on track in his latest column. Here's No. 1, getting the offensive line straightened out:
Jamon Brown started at right guard and was ineffective all game as the Eagles – who started rookie Jack Driscoll at right tackle before he was injured and replaced by Brett Toth, who had been with the Eagles all of a week after being claimed off of waivers from Arizona – allowed six quarterback sacks and Wentz took a beating. Wentz just didn't quit. He doesn't quit. Baltimore kept coming with all-out blitzes and Wentz didn't blink.
A 74-yard Miles Sanders run led to the team's first touchdown – he fumbled the ball at the 2-yard line and wide receiver J.J. Arcega-Whiteside recovered in the end zone and the Eagles manufactured some yards from Wentz, he had 49 yards on five carries, and backup quarterback Jalen Hurts, who had two carries for 23 yards. If right tackle Lane Johnson can play Thursday, that would help a whole lot. Maybe Matt Pryor can play after spending Sunday on the Reserve/COVID-19 list. Hopefully, Isaac Seumalo and Jason Peters can play before too much longer. Seumalo is eligible to play now and Peters is eligible to come off of Injured Reserve this week.
7. Jalen Hurts provides a spark on offense
Rookie Jalen Hurts was on the field for seven snaps on Sunday and helped tremendously with 23 yards on two carries and another catch for 3 yards.
"He's part of the game plan every week. Just felt it was the right time to get him in the game. At the time we had been struggling a little bit offensively, especially running the football and gave us an opportunity to do that with him. It kind of calmed the defense down a little bit, too," Head Coach Doug Pederson said. "There wasn't as much pressure when he was in the game at quarterback. Just had to find a spark and got him in the football game."
The Eagles didn't have a first down on offense until they trailed 17-0 and there was 5:32 left in the first half. Hurts changed that with a keeper that gained 20 yards.
"I think Jalen's a playmaker," quarterback Carson Wentz said. "You bring him in off the bench and defenses have to be ready for him. He's at where I'm at and all of the above and I think it puts a little stress and a little pressure on the defense. There are some exciting plays potentially there to be had. It's something that we're going to keep repping, keep working on, and hopefully find ways to supplement our offense and find ways to get some big plays that way."
Pederson dug into his back of tricks as Hurts threw the ball to Wentz, who chucked it back to Hurts across the field, although it resulted in only a 3-yard gain. Still, it's something for defenses to think about moving forward.
Hurts was denied on a two-point conversion in the third quarter. Hurts was also on the field for Wentz's QB sneak for a touchdown in the fourth quarter as a decoy.
8. Missed opportunities highlight just how close this game truly was
The Eagles lost by two points on Sunday, but here are a slew of situations that could have changed the outcome:
• Wide receiver John Hightower dropped a wide-open pass from Wentz on the opening third-down of the game. Hightower was streaking down the field, the ball was perfectly placed, and the rookie just didn't make the play. That's potentially seven or three points off the board. Hightower did bounce back with a 50-yard reception later in the game, which is something that Eagles Hall of Fame wide receiver and radio analyst Mike Quick said the team must continue to do.
"They have to keep feeding him," Quick said on the postgame edition of the Eagles Insider Podcast. "If they want him to be what they think he can be, they have to keep playing him, keep feeding him the football so that he's able to put that behind him."
• The Ravens converted two third-and-long situations on their opening touchdown drive.
• No interceptions, but Carson Wentz fumbled the ball deep in Eagles territory in the first quarter. With a short field, the Ravens capitalized with a Gus Edwards 7-yard touchdown run to make it 14-0.
• The Eagles were denied on a fourth-and-1 at the Baltimore 20-yard line late in the first half. Can't blame the decision down 17-0.
• At the end of the first half, Miles Sanders' 26-yard run combined with a roughing the passer call on Calais Campbell (who had three sacks on the day) resulted in a 52-yard field goal attempt for Jake Elliott. He missed, wide right. Ravens All-Pro kicker Justin Tucker was 3-for-3, including a 55-yarder.
• Despite all of the early miscues, the Eagles had a two-point conversion to tie the game with 1:55 remaining. Sanders was out due to injury, so Boston Scott was in the game. Wentz took the shotgun snap and the play was blown up by linebackers Matt Judon and L.J. Fort. It didn't matter if Wentz kept it or handed it off to Scott. The play was going nowhere.
"I can do better as far as getting the play in and giving our guys a better opportunity play-call-wise in that situation," Head Coach Doug Pederson said. "But credit them. Made the stop and just a little bit short."
9. Giants win their first game of the season in dramatic fashion
Linebacker Tae Crowder, the final pick of the 2020 NFL Draft – otherwise known as Mr. Irrelevant, scored on a 43-yard fumble return for a touchdown with 3:29 left in the game, and the Giants denied a last-gasp two-point conversion from Washington for a 20-19 victory. It's the first win for new Giants Head Coach Joe Judge.
The Eagles (1-4-1) enter Thursday night's game in second place in the NFL East, a half-game ahead of both New York (1-5) and Washington (1-5). The Dallas Cowboys are in first place with a 2-3 record and host the Arizona Cardinals tonight.
Like Carson Wentz, Giants quarterback Daniel Jones is creating yards with his legs as well. Jones threw for just 112 yards, but gained 74 on the ground, including a 49-yard gain. He threw one touchdown to wide receiver Darius Slayton (so, yes, cornerback Darius Slay will cover wide receiver Darius Slayton on Thursday). Devonta Freeman, acquired after Saquon Barkley's season-ending knee injury, accounted for 61 rushing yards.
After Crowder's touchdown broke a 13-13 tie, Football Team quarterback Kyle Allen led his squad on a 10-play, 75-yard drive that ended with a beautiful 22-yard touchdown toss to Cam Sims. Washington Head Coach Ron Rivera decided to go for the win. Giants safety Jabrill Peppers spied Allen and great man-to-man coverage elsewhere left the quarterback with nowhere to go with the ball.