If you only watched the first half, the Eagles looked like the reigning NFC East Champions. They scored 10 points on their first two possessions and at one point led 17-0 in the second quarter. Five of the Football Team's first six drives ended with a punt. Three of them were three-and-outs.
If you only watched the second half, the Eagles couldn't muster anything on offense. Two turnovers. A total of seven first downs in eight possessions. No points. Quarterback Carson Wentz was sacked four times. And while the defense allowed 27 points (20 in the second half), all five of the scoring drives started in Eagles' territory.
The truth about this football team remains to be seen. The Eagles are 0-1 with the Los Angeles Rams coming to town. The Rams defeated the Cowboys on Sunday Night Football. The first half provided plenty of reasons for optimism for the Eagles. The Eagles also need to get some of their injured players back as soon as possible.
Let's dig into the Week 1 loss in our Morning Roundup, presented by Microsoft.
Microsoft Teams Top Connection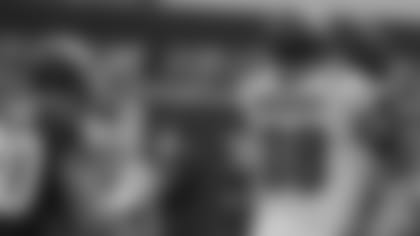 Quarterback Carson Wentz threw a picture-perfect ball over the shoulder to tight end Dallas Goedert for a 34-yard touchdown in the second quarter to make it 17-0, Eagles. Goedert finished with eight catches for 101 yards and the score.
1. Doug Pederson: 'We've got to eliminate the mistakes'
Head Coach Doug Pederson was 4-0 in season openers until Sunday. The Eagles' six-game win streak against Washington was snapped on a day when they led 17-0 in the second quarter before turnovers (3-0 edge for Washington), sacks (eight, the highest of Carson Wentz's career), and bad field position (Washington's average start was its own 40-yard line) undid the hot start. It was the biggest come-from-behind win by Washington in the history of the series, dating back to October 1934.
"We've got a lot of work to do. Today was not our best," Pederson said after the game. "We've got to eliminate the mistakes. We can't have the sacks. We can't have the turnovers that we had today and expect to win, especially against the division opponents. It's just one game. I told (the team) that we're going to go to work tomorrow and get ready for next week."
2. Spadaro: Eagles let big lead slip away in opening-day defeat
Momentum is everything, and as the Eagles packed up, stunned, and departed FedEx Field after losing the 2020 season opener 27-17 to Washington, they were reminded just how fragile momentum in the game of football can be.
As they forged a 17-0 lead in the first half, the Eagles did everything right.
They took some shots down the field in the passing game. Tight ends Zach Ertz and Dallas Goedert dominated, each scoring a touchdown. Quarterback Carson Wentz was nearly picture-perfect attacking Washington's defense. And until late in the first half, the Eagles were dominating Washington, leading and having their way with the Football Team. It was a dream start for a team playing minus a large handful of starters and with a thrown-together-for-the-week offensive line.
And then Wentz threw an interception.
3. Carson Wentz: 'I've got to be better'
After starting out hot, hot, hot against Washington on Sunday at FedEx Field – he completed 14 of his first 18 passes and threw two touchdowns in the process – Wentz went stone cold. So did the offense as the Eagles lost a 17-point lead and fell 27-17 to Washington, Doug Pederson's first loss in a season opener in his five seasons as the head coach.
It went from nearly perfect to lousy for the offense just like that. A Wentz pass intended for wide receiver Jalen Reagor was intercepted on the left sideline with under two minutes to go in the second quarter and Washington turned it into seven points and had new life. And the Football Team took advantage of it.
"I've got to be better, I know that," Wentz said. "We came out offensively feeling good. We moved the ball right down the field (the Eagles scored a touchdown on their first drive), put up points, got ahead in the game … I've gotta clean up the interceptions. I put our defense in a bad spot on a couple of occasions. We definitely lost some momentum and we didn't make the plays we needed to make.
"I've got to be better. It starts with me. I've got to protect the ball and lead these guys better and I'll own that."
4. Offensive line makes 'no excuses' for eight-sack performance
No Lane Johnson, a game-time decision who was declared inactive due to an ankle injury. Rookie Jack Driscoll made his NFL debut, starting at right tackle. Nate Herbig, a second-year rookie free agent, made his first start at right guard. Driscoll exited in the third quarter due to injury and was replaced by Jordan Mailata, making his NFL regular-season debut.
The inexperience combined with the talent of the Washington front seven (five former first-round picks along the defensive line) made for a long day for quarterback Carson Wentz, who was sacked a career-high eight times.
"I felt like we were never really able to establish the run game very well," center Jason Kelce said after the game. "That's a combination of guys not executing. Credit to Washington of throwing some well-timed blitzes, but we got to be better. We got to be better up front. No excuses."
"I think I've had plenty of work with the guys who were out there today and I don't think anybody in particular played an individually terrible game," he added. "That's probably not what you guys want to hear, but I think everybody kind of had their chances to screw this one up. I think myself included. I could have played better, and I think everybody across the board had their moments where they could have got the job done better."
But not all of the blame should be placed on the shoulders of the linemen. In fact, Head Coach Doug Pederson praised Driscoll's performance.
Looking at the snap counts from Sunday's game, it's interesting to wonder what happened to Matt Pryor who played four snaps on special teams. Pryor was working with the first-team offense throughout Training Camp at right guard and left tackle.
5. Rams will present another challenge for the offensive line
The Los Angeles Rams come to Philadelphia next week as the Eagles open up the home slate of the schedule (unfortunately without the advantage of the fans). Hopefully, the Rams will be affected by the 1 PM East Coast start.
On Sunday Night Football, the Rams' defense dominated by allowing just three points in the second half to beat the Dallas Cowboys 20-17, making the Eagles' loss sting just a little bit less.
Rams all-world defensive tackle Aaron Donald, a two-time Defensive Player of the Year, was a wrecking ball with four tackles, one for loss, four QB hits, and a sack. Former first-round pick Michael Brockers, a talented veteran defensive tackle in his own right, had a sack as well of quarterback Dak Prescott. Left guard Isaac Seumalo is the one who will be tasked with battling Donald.
It should be noted that the Eagles are 2-0 against the Rams in Head Coach Doug Pederson's tenure, but this is the first matchup in Philadelphia.
6. Other snap count notes
On offense, the Eagles relied on 12 personnel (two tight ends) often as Zach Ertz (58 snaps) and Dallas Goedert (54 snaps) were on the field more than any wide receiver. Rookie Jalen Reagor had 40 snaps in his debut to lead the wide receivers. With Miles Sanders out, Boston Scott was the lead back with 38 snaps.
Defensively, Rodney McLeod was the only Eagle who was on the field for all 70 snaps (he also added 10 more on special teams. Nathan Gerry was the true three-down linebackers playing all but one of the snaps. Safety Jalen Mills and cornerback Darius Slay were each on the field for 64 snaps apiece. Fletcher Cox led all defensive linemen with 57 snaps. Malik Jackson was right behind him with 55. Josh Sweat led the defensive ends with 49.