With as much as "The Greatest Show on Turf" has been scaled back quite a bit in the past few seasons, imagine what it would have been like if it lost its Human Cannonball, too.
The St. Louis Rams, purveyors of the prolific offense in the early 21st century, almost had to deal with the very real possibility of running back Steven Jackson holding out into the season, until the star signed a lucrative five-year contract just a few weeks ago. Though injuries mainly derailed the Rams' train into a 3-13 ditch in 2007, a healthy offense without Jackson would have found it quite difficult to back out of it.
That's why the bruising Jackson, known for his tendency to literally run defenders over and wear them down, should be featured in a full workload on Sunday at Lincoln Financial Field, despite a relative lack of practice time during the offseason.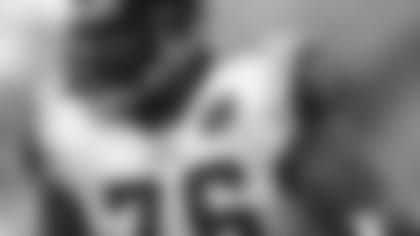 Pro Bowl OT Orlando Pace
Though the Rams' tracks are on a quick mend, the Eagles' defense shoulders the task of delaying the rebuilding for at least one more week.
"If a back gets a lot of yards after contact, it always puts the offense in a good situation. And once your offense is on the field a lot, and that leads to points, and that leads to wins," Jackson said. "A lot of it starts with the running back and that's something that we really pride ourselves on around here."
Few men should be happier about Jackson's reporting than beleaguered head coach Scott Linehan, who has stumbled to an 11-21 clip in his two seasons as ringmaster. With that line, it might be hard for Linehan to tame the St. Louis faithful, but the process could be eased. Linehan's armed to the teeth with Jackson, a healthy quarterback, Marc Bulger, and an offensive line that might finally be healthy enough to protect the both of them.
Legendary tackle Orlando Pace, who patrolled Kurt Warner's blindside in the team's two Super Bowl appearances earlier this decade, has played just nine games in two seasons, ailing from a variety of injuries. But he should see playing time, along with two young guards - free agent signee Jacob Bell and Richie Incognito.
"We've got our core starters back, and we're hopeful that we can stay a lot healthier than we did last year," Linehan said. "But, you know, it's the NFL. It's early in the year, and we'll probably have some kind of adversity there."
But the adversity staring Linehan down lies with the Eagles' offense, he said. Linehan said game planning for running back Brian Westbrook is virtually impossible, and the team has been using a mimic for rookie wide receiver DeSean Jackson. Interestingly, the team passed on Jackson in April's NFL Draft, to pick the similar - but bigger - Donnie Avery.
Linehan said he didn't foresee a singular focus his defense could zero in on to stop Philadelphia.
"You got all day? I don't know if I can describe that one for you," Linehan said. "I'd say it's the offense, and the system, and the great players within it (in general)."
As for Jackson, he might be rusty, but he's definitely fresh. Linehan said the snaps Jackson's backups took in training camp and preseason were vital, should another injury creep up on the Rams' bad luck.
Jackson said he expects to play a full game. But will he be affected?
"We'll definitely see. Like I said earlier, it depends on the individual. It depends on the person and if he wants to get in there and have the dog days of camp, or if he doesn't," Jackson said. "I guess y'all have to see Sunday."