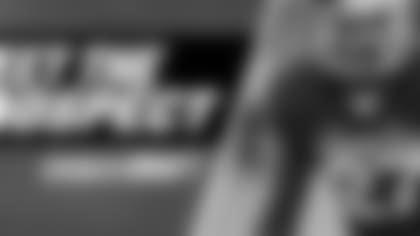 We are just 23 days away from the start of the 2015 NFL Draft. Our Meet the Prospect feature will introduce fans to the players projected to be this year's top selections. How will we select the players to spotlight? Easy. You, the fans, get to decide. Who did you pick for today's profile?
A few days ago, we met Samford safety Jaquiski Tartt, one of the many safeties in the upcoming draft class considered to be jockeying for position behind the consensus top safety, Alabama's Landon Collins. Today, we'll meet another of those second-tier safeties, Michigan State's Kurtis Drummond.
The Big Ten Defensive Back of the Year in 2014, Drummond is a versatile safety with experience playing in one of college football's best defenses. Drummond first earned time as a starter for the Spartans as a sophomore in 2012 before earning the job full time entering the 2013. As a junior that year, Drummond started every game and earned first-team All-Big Ten honors – something he repeated in 2014. In his four years at Michigan State, he recorded 12 interceptions and one sack while forcing three fumbles.
As an athlete, the 6-1, 208-pound Drummond has NFL size, if not necessarily ideal athleticism. He ran a 4.65-second 40-yard dash at the NFL Scouting Combine, though he did rank among the top five safeties in Indianapolis with a 39.5-inch vertical jump. His instincts are his best calling card.
In the aforementioned jockeying for position among non-Landon Collins safeties, beauty will be in the eye of the beholder. If a team is looking for a safety with NFL size and speed who will probably need some time to develop, Tartt could be the choice. If the goal is an instinctive player who needs to get in an NFL weight room, Arizona State's Damarious Randall or Fresno State's Derron Smith could be the safety for you. If the goal is to find a player comfortable in leading a high-quality defense who has instincts of his own, Drummond will be on the short list.
Big and good looking on the hoof. Is a very fluid mover in space and has NFL-caliber play speed. Used in off coverage on slot receivers. Can click and close on throws in his vicinity and his ball skills are outstanding for the position. Has 25 passes defensed and 8 interceptions over the last two seasons. Has hips and closing speed to recover when beaten. -- Lance Zierlein