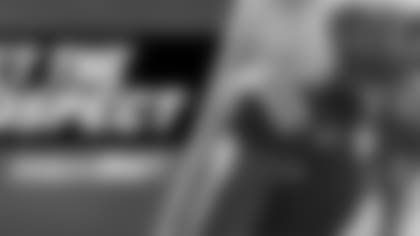 We are just 14 days away from the start of the 2015 NFL Draft. Our Meet the Prospect feature will introduce fans to the players projected to be this year's top selections. How will we select the players to spotlight? Easy. You, the fans, get to decide. Who did you pick for today's profile?
At what point will the risk be worth the potential reward with edge rusher Randy Gregory?
In a draft class blessed with a bounty of edge rusher talent, Randy Gregory might be the best of them all. The 6-5, 235-pound Gregory played just two seasons at Nebraska after transferring from Arizona Western Community College and finished ninth in school history with 17.5 sacks.
Gregory has 34-inch arms to wrap up ballcarriers and quarterbacks. He displayed an explosive lower body with a 125-inch broad jump at the NFL Scouting Combine. Gregory's 6.79-second three-cone drill showcased his agility and fluid movement skills. Despite his weight, Gregory plays well against the run.
Multiple draft experts have Gregory ranked as not just one of the top edge rushers, but one of the top overall prospects in this year's draft class.
Gregory failed a drug screening at the NFL Scouting Combine, testing positive for marijuana. He will be in the NFL's Substance Abuse Program upon being drafted.
It's a significant red flag.
Gregory was unable to start his college football career at a Division I program because he didn't qualify academically. In fact, he originally was going to attend Nebraska's conference-rival Purdue before going the JUCO route.
Then, at what essentially is a job interview, he fails a drug test.
With other talent at the edge rusher position, teams may choose to take a Vic Beasley, Bud Dupree or Dante Fowler instead of rolling the dice on Gregory. The question that every team must answer is whether or not this was a mistake that Gregory will learn from or is it a sign of things to come?
Tall with long levers and a lean, sinewy build. Batted down four passes in 2014. Stronger than expected at point of attack. Able to lock out and stay square against big offensive tackles and can whip most tight ends. Unhinges and gets tentacles on running backs bursting through gap. Room for more thickness on long frame. Competitive and shows toughness against run. Can chase and limit outside runs with speed. Secondary motor to stay in hunt downfield as tackler. Explosive hips. Gets instant change of direction to hound quarterbacks in play-action. Played standing up and with hand in ground.
Rushed occasionally from ILB spot. Stride and second gear for quick close. Has bend and hips to convert speed to power. Showed improved timing and understanding of how to set up inside pass-rush move as season progressed. Hands are a blur. Explosive play traits to overwhelm technically deficient tackles. Can counter and recover from cut blocks. Flashes plus hand-feet coordination. As blitzer from ILB, will coil and explode into guard on contact step. More than tough enough. Willing to take on pulling guards with low pad level and aggressive pop. -- Lance Zierlein