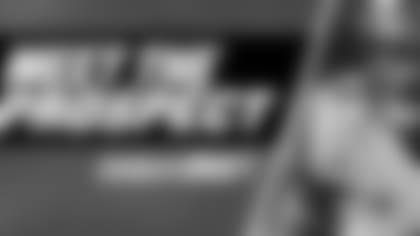 Now that the free agency frenzy has calmed down, the Eagles' main focus begins to turn toward the NFL Draft which is just 48 days away. Our Meet the Prospect feature will introduce fans to the players projected to be the top selections in this year's draft. How will we select the players to spotlight? Easy. You, the fans, get to decide. Tag #EaglesDraft with the name of the draft hopeful you want to learn more about. Who did you pick for today's profile?
Is he a linebacker? A safety? A running back?
Versatility is a buzzword placed in the discussion with a lot of Eagles players, but there is arguably no one in this year's draft class who embodies that notion more than the former Washington Husky.
Thompson was the winner of the Paul Hornung Award as college football's most versatile player (cornerback Brandon Boykin is a former recipient as well). He had 51 tackles and an interception as a linebacker. As a ballcarrier, Thompson had 456 yards rushing and a pair of touchdowns.
One prominent draft analyst, NFL Network's Mike Mayock, believes that Thompson could be a safety in the pros. In fact, Thompson is Mayock's No. 2-ranked safety in this year's draft class.
Thompson said at the NFL Scouting Combine that he has no interest in the safety position, but a creative defensive coordinator like Bill Davis could scheme a variety of ways to use him (inside linebacker in base, dime linebacker). Thompson compared his playing style to that of Tampa Bay outside linebacker Lavonte David.
He is projected by NFL.com's team of analysts as a second-round pick. Could he pique the Eagles' interest with the 52nd overall pick?
Unmatched diversity in this year's draft. Played outside and inside as a linebacker and took snaps at safety against Stanford. Gained 456 yards rushing, averaging 7.5 yards per carry. Long, with athleticism and movement of running back playing linebacker. Like a magnet to the ball while pursuing in space. Second gear to finish the chase. Wins over top of second-level linemen. Can sink and search for cutback lanes as back-side defender against stretch plays. Glides laterally from gap to gap when playing inside. Reads the quarterback's eyes and shades the throwing lane as zone defender.
Transitions easily from pursuit to coverage against play-action. Can cover running backs out of backfield. Instinctive with plus vision and twitch to make the big play. Scored four defensive touchdowns and forced three fumbles in 2014. Frequently attempts to strip ball. Fluid enough in space that safety could be a position consideration for the right team. Can be used as emergency No. 3 running back on game day. Had 19 tackles on special teams over last two seasons in kick and punt coverage. Football intelligence to process offensive and defensive playbooks. Strong work ethic and team-oriented player. -- Lance Zierlein