(Editor's note: This piece was originally posted in December just after it was announced that Kayla was selected.)
Kayla's secret talent is not so secret anymore.
As a kindergarten teacher in suburban Philadelphia, Kayla's "secret talent" is that she's an Eagles Cheerleader. Well, she has been named as the Philadelphia Eagles Cheerleaders representative for the 2019 Pro Bowl in Orlando, Florida.
"Kayla was selected by her teammates to be this year's Pro Bowl Cheerleader which illustrates the great rapport she has with the squad," says Barbara Zaun, Eagles director of entertainment groups. "She is respected for her leadership and always creates a sense of camaraderie and inclusiveness with her enthusiastic and warm personality. Kayla embodies all the attributes of a Pro Bowl Cheerleader and will be an excellent representative of the Philadelphia Eagles while in Orlando.
"She is a fan favorite on the field and off the field and she has dedicated herself to being an ambassador in the community. She is passionate about making a difference in the lives of others and her genuine caring nature allows shines through."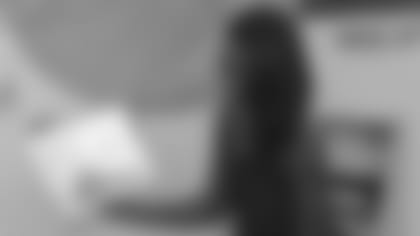 Kayla is not going to be alone at the Pro Bowl. Her parents, Ken and Michele, bought their plane tickets the day after they learned that their daughter was chosen to represent the squad. And Kayla will be sure to represent her parents and teammates, whether it's at community events leading up to the all-star game or in the exhibition at Camping World Stadium.
"I don't want to prove them wrong," says Kayla, who was overcome with emotion when she learned of the recognition. "When I head down to Orlando, I'm going to do them justice because they supported me, and I will continue to support them. It's honestly such a true honor to represent this organization and my teammates. I've been on the squad for five years and going to Pro Bowl was always that one thing that I wanted to accomplish. It was really an end goal of mine. Being selected means the world to me and to know that my fellow teammates and peers felt that I was deserving of this is a tremendous honor. I can't wait to meet my fellow Pro Bowl Cheerleaders and just show them how we do things here in Philly."
A native of New Rochelle, New York, Kayla graduated from La Salle University in Philadelphia, but almost didn't end up going to school there. Kayla was set to attend Clemson University in South Carolina when her dad made an off-the-cuff comment.
"Well, see you for New Year's," he said.
Kayla suddenly realized how she wouldn't be able to see her family at a moment's notice and decided to attend school somewhere closer to home.
"I go back home probably every other week because I need that sense of my mother's hug or just relaxing with my dad," Kayla says. "When he said that, I said, 'I can't do this.'"
Kayla's parents are her inspiration. Michele is an account manager for Verizon in New York City, while Ken is a former Coney Island firefighter. He suffered a significant back injury during the cleanup following the 9/11 attacks when a rock from a building landed on him. He underwent surgery and was forced to retire. He now works for the Department of Environmental Protection in New York City.
"Both of my parents are my heroes just because nothing ever stops them," Kayla says. "They love to rise to the occasion and they instilled that in my sisters and me. As a result, that's why I feel that I'm this strong individual. If you put a task in front of me, I'm going to challenge it, no ifs, ands, or buts. I might struggle and ask for help, but I don't have a problem asking for help just to get the job done.
"I will say being on this team has really enhanced my leadership ability to where it's not about me but about those next to me. It's putting others first. It's lending that extra hand. It's showing that I care. I'm the youngest of three girls and I've watched my older sisters become successful. Kendra is a veterinarian and Kellie is in college to be a lawyer. I've always seen that in them and wanted to strive and rise to the occasion."
Before she started performing in front of nearly 70,000 fans at Eagles home games, she traveled around the world as a singer in a traveling chorale and was featured at the 2010 World Expo in Beijing, China, and the 2012 London Olympics. She joined the cheerleader squad at La Salle where she was coached by Jennifer Kaiser, a former Eagles Cheerleader. Kaiser shared her incredible experiences of being a Philadelphia Eagles Cheerleader and it made Kayla want to try out. Back in February, Kayla got to do something that Kaiser never did and that's cheer at the Super Bowl.
"This year has been nothing short of magical and a dream come true. You know that saying, 'A lot can happen in one year.' I feel that I am a true testament to that because 2018 was the best year yet and I've had many first-time experiences. Going to the Pro Bowl just adds to my list of firsts and I just can't wait to make those everlasting memories."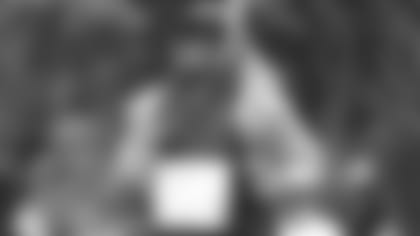 "I am not a runner. Never have been. Never will be. But I just had to participate because it is for such a great cause," Kayla says.
Going from the football field to the classroom is a relatively smooth transition. As a captain, she helps to bring the best out of her teammates. With her students, she introduces so many different topics to find what each child likes the most.
"No day is ever the same and that's why I chose to teach at the elementary level," Kayla says. "It's kind of like gameday. The noise level is 100 percent high and my students keep me alert and on my toes all the time. And like on gamedays, I'm constantly on the go and in the classroom that is about the same, nonstop."
Kayla hasn't told her students yet that she's going to the Pro Bowl. One of them dressed up as an Eagles Cheerleader for Halloween. They do E-A-G-L-E-S, EAGLES chants to get ready for each game, and this one will be no different. Her students will need to cherish Kayla's "secret talent" as the Pro Bowl will kick off what will be her final year as an Eagles Cheerleader.
"I'm coming back next year to relive it all and truly appreciate each and every moment," Kayla says. "When there's an appearance, I'm going to do it because I'm never going to be able to do it again."