At one point near the beginning of the third quarter in Sunday evening's 15-6 win over the Pittsburgh Steelers at Lincoln Financial Field, quarterback Donovan McNabb and running back Brian Westbrook were both sitting in the trainer's room having their respective injuries evaluated.
Westbrook had left earlier in the contest with an ankle injury, while McNabb mysteriously didn't appear from the locker room at halftime.
At some point during their conversation, McNabb looked over at Westbrook and told him that he had to go back out there.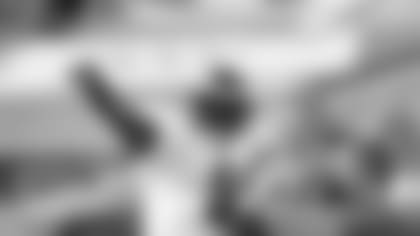 "It affected me a lot," McNabb said. "We did a couple different things at halftime and a lot more when the second half started. I just felt I had to go back out and try to help the team. I was willing to just kind of sacrifice my body and do that.
"You are playing with guys out there that are giving it their all; you just have to do the same. A couple throws obviously I would want back. I thought our rhythm was a little off early on. We did what we had to do to win the game. That's the most important thing."
If the offense's rhythm was off early on, it certainly didn't affect McNabb's performance. McNabb started the game with a team-record 15 consecutive completions, breaking the old mark of 14 that McNabb set during the 2004 season against Green Bay.
With his second-quarter touchdown pass to running back Correll Buckhalter, McNabb also eclipsed former quarterback Ron Jaworski as the new record holder for most touchdown passes in Eagles' history with 176.
But on a flea-flicker midway through the second quarter, McNabb was drilled by three Steelers just as he let go of the ball. Apparently the hit was hard enough where McNabb had to have his chest X-rayed at halftime.
"It felt like when Bruce Lee got kicked in the chest by Kareem (Abdul-Jabbar in the movies)," McNabb said. "Some of you don't remember that. But it was a tough hit. I just felt like my chest kind of caved in, my head hit the ground. I just felt like I couldn't open up. We did some different things at halftime which gave me the opportunity to kind of be mobile in the chest and shoulders.
"I just kind of absorbed the hit and I guess I got the negative benefit out of it. It'll be good (to) rehab this week and get back ready to go next week."
Backup quarterback Kevin Kolb came in for McNabb to start the third quarter, but Kolb threw an interception on his first pass. Kolb seemed to settle down on the Eagles' second possession of the stanza, completing a nice slant route to wide receiver Hank Baskett.
But midway through the drive, McNabb felt good enough to take back the reigns from Kolb. Head coach Andy Reid said after the game that perhaps he became too conventional in his play-calling because of McNabb's injury.
"I was a bit too conservative in the second half," Reid said. "Our defense was playing very well and (the Steelers) were playing very deep on us with a Cover-2 look. I tried to run the ball a little more and bank on our offensive line a little bit."
McNabb said that this injury was somewhat similar to the injury he suffered on Opening Night against the Atlanta Falcons in 2005. McNabb, however, played quite well the next week, going 23-of-29 for 342 yards and five touchdowns in a 42-3 rout of the San Francisco 49ers.
"It's a different location, but it's something just like it," McNabb said. "I guess that explains what happened on that particular injury. Now I know how to bounce back from it and get ready to go."
Against Pittsburgh, McNabb finished the game 24-of-35 for 196 yards with a touchdown and an interception.
"We knew coming into a game against a Steelers team that is very physical, a team that has been rolling the last couple of weeks, this is something they felt was another stepping stone toward their goal," McNabb said. "We knew Ben was coming in a little banged up, but other than that, I felt that offensively and defensively, they were doing a lot of great things. We had to step up to the challenge and I think we did that.
"I thought it was a total team effort today. This team really stepped up to the challenge and really did what we had to do put ourselves in a good position."