If Donovan McNabb was left on an island last Sunday, then he was aboard a rescue ship Thursday.
McNabb's 260-yard, four-touchdown performance against the Cardinals in a 48-20 on Thanksgiving night was, finally, the team effort his offense needed to get going. What was most extraordinary about it was that it came just four days after the franchise quarterback, in the midst of an awful stretch of games, was benched for the first time in his career.
So the Eagles rallied around their quarterback, sparing him another week of quarterback controversy questions. Instead, the questions will be about just how improbably far this team can go down the stretch – with McNabb at the helm.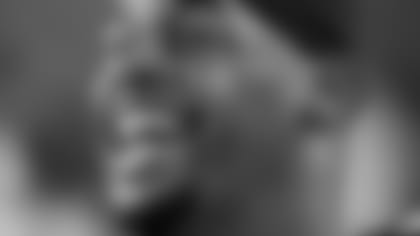 The Eagles will go as far as QB Donovan McNabb will take them
"We wanted to go out there and let (McNabb) know we had his back," left tackle Tra Thomas said. "We just all stuck together. We had a great team win out there (Thursday)."
From strictly a domination standpoint, it was the players around McNabb that were the most impressive. Running back Brian Westbrook ran for 110 yards, scored two rushing touchdowns and two receiving touchdowns, the first player in the NFL since 1975 to do so, when Baltimore's Lydell Mitchell accomplished the rare feat.
The offensive line surrendered just one sack of McNabb, while paving the way for Westbrook, Lorenzo Booker and Kyle Eckel to carry the run game. Booker and Eckel stepped up for a combined 48 yards rushing and three elusive third-down conversions – pretty impressive for two guys who haven't been active for a month.
And, as head coach Andy Reid said after the game, McNabb's receivers actually caught the ball. Seven players had a catch, six had at least three and three players had at least 40 yards receiving.
"People don't think about the great things that (McNabb) has done, the records and everything. It doesn't matter," said wide receiver DeSean Jackson, who led the team with 76 receiving yards and a touchdown. "He has to play well and (on Thursday) he did that. I am not going to say that it's going to erase everything else that has been happening, but if he keeps playing like that, that is what we need."
And defensively, the Eagles kept the league's second-ranked passing attack off of the field. A dangerous trio of wide receivers was contained, and the consensus favorite for NFL MVP, quarterback Kurt Warner, was flustered. With the Cardinals' run game completely shut down (25 yards on 10 carries), the Eagles controlled the flow.
The Eagles dominated time of possession, a statistic they've struggled with in recent weeks. The Cardinals held the ball for only 20:27, partly because of a great defensive performance and partly because of a Philadelphia commitment to an established running attack.
So, was it just McNabb? Of course not. But he took advantage of the opportunities his teammates gave him.
"I believe in this game, that we went out and I think we did a pretty good job defensively, but Donovan controlled that offense," free safety Brian Dawkins said. "I had it in my head and my mind that that's what he was going to do. He was going to step up to the challenge of all the scrutiny, and he's done it time and time again, there's no question about it."