Not since Hank Fraley left has an Eagles offensive lineman had a better nickname.
Move over, "Honeybuns." "The Big Greezy" is in town.
With Todd Herremans questionable for Sunday's game against the Redskins with a shoulder and an ankle injury, rookie Mike McGlynn may see some significant time at left guard.
"The Big Greezy" is ready for the challenge.
"That's my nickname," the 6-foot-4, 311-pound McGlynn said. "It's been like that since high school. One of my good buddies started calling me 'Big Greezy.' I don't know where it came from but it's definitely stuck. I don't know what it means."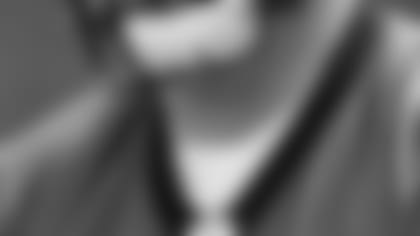 OL Mike McGlynn
According to urbandictionary.com, "Greezy" means wicked or something that is good.
Being that McGlynn has modeled his game after players like Jon Runyan, "Big Greezy" might be a fitting moniker.
"I've watched him a long time and I definitely patterned myself a little bit after him," McGlynn said. "Playing hard but being smart about it, too. Learn when to take your shots and when it's appropriate."
The fourth-round draft choice out of Pittsburgh saw action for the first time last Monday night against Cleveland. He went up against former Pro Bowl defensive lineman Shaun Rodgers for 15 snaps and he held his own.
"It definitely helps a lot," McGlynn said. "I was going against a pretty good player, Shaun Rodgers, a Pro Bowler. I'm pretty excited about this weekend. Hopefully (I'll) just get out there and get some experience. You can't substitute for experience."
"Big Greezy" said it was good to finally get his feet wet.
"I think it was real valuable," McGlynn said. "After that first series, I came to the sidelines and said, 'This is football.' You get so caught up in the NFL, the big stars and all that, you got to realize when you slow down its just football."
Of course, all of this hinges on whether or not Herremans can play. Herremans didn't practice Wednesday because of a shoulder injury and after he tweaked his ankle in practice on Thursday he sat out Friday's workout. He injured his shoulder against the Browns.
McGlynn is prepared in case he gets the call.
"It's a great opportunity for me," McGlynn said. "Injuries happen in the league and when your opportunity comes, you need to make the best of it. If Todd can't go this weekend, I'll make sure I make the most of the opportunity I have.
"I've made a lot of progress this year even though I've only played in one game. I think I've gotten a lot better throughout the year, so much more than where I was at the beginning of the season, training camp. I'm excited, if Todd can't go this weekend, to see where I'm at because obviously Sundays are a lot different than practice."
Having Tra Thomas on one side and center Jamaal Jackson on the other can only help.
"I'm playing left guard and there's a center that's been here for five or six years then there's the left tackle that's been here for 12 years," McGlynn said. "So it's not easy; nothing's easy. But that definitely helps."
McGlynn realizes what's at stake in Washington.
"I know what's riding on this game," McGlynn said. "I want to get to the playoffs just as much as anybody else."