Now in its 21st year, the 40 Under 40 program celebrates the region's best young (under 40 years old) business talent. It is an extremely competitive award that routinely attracts top-flight nominations from some of the most prestigious firms and ambitious startups in the region. More than 300 nominations were submitted this year and the winners were selected by the Philadelphia Business Journal's editorial team.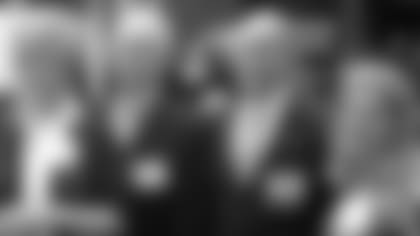 Eagles Senior VP/Chief Marketing Officer Tim McDermott (second from right) with his wife, Sheree (far right), and his parents
McDermott returned to the Eagles in 2010 for his second stint with the organization. The Lansdale, Pa. native grew up a die-hard Eagles fan and is now responsible for strategizing and managing all marketing, advertising, merchandising, digital media, broadcasting and brand extension efforts. Since his return, the Eagles have connected with their fans in unique ways including featuring them on the season tickets last year and creating a Season Ticket Advisory Board to let the team know how it can improve. The Eagles have also re-launched their website and successfully implemented social media tools with the team's official Facebook page nearing 1 million likes.
In his first stay with the Eagles, McDermott was instrumental in the team's "One" campaign during the run to the Super Bowl in the 2004 season. From 2004-06, McDermott was also responsible for the development, communication and implementation of the team's marketing strategy. He directed the team's branding efforts which garnered 13 Philadelphia ADDY Awards for the "You Can't Script This Stuff" campaign. As part of the improving the team's brand, McDermott managed the launch of the Tackling Breast Cancer campaign and conceptualized a youth strategy that included the Eagles Kids Club, a kids' website and a kids' TV show.
McDermott left the Eagles to become the Senior Vice President/Chief Marketing Officer of the Washington Capitals. McDermott oversaw the development of a new brand identity as well as dramatic increases in attendance, TV ratings, merchandise sales and website traffic. In the 2009-10 season, the Capitals sold out all of their home games for the first time in franchise history and ranked first in home attendance among all U.S.-based teams.
For more on the 40 Under 40 Awards and to see who else was honored, click here.