The Eagles officially named Sean McDermott defensive coordinator on Friday morning. Head coach Andy Reid will introduce McDermott at a press conference at 1 PM on Saturday which you can see live on PhiladelphiaEagles.com.
McDermott had served as the team's defensive coordinator on an interim basis during Jim Johnson's leave of absence this past offseason. Johnson continues his treatments for cancer after being granted a leave of absence by the Eagles on May 18.
"First and foremost, our thoughts and prayers are with Jim Johnson and his family as they battle through this difficult time in his cancer treatments," said Reid. "I have been in constant communication with Jim and his wife throughout this offseason and they are thankful for all the support they have received from the Eagles organization, the fans and the entire NFL community.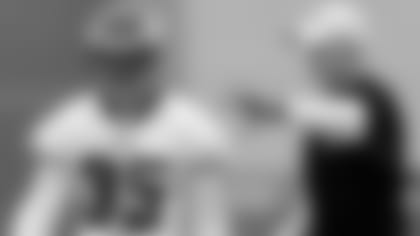 Sean McDermott worked with Macho Harris during the spring practices
"As far as Sean McDermott, we have full confidence he can continue to lead this defense in his new role. He showed great command and presence in the offseason camps and has had an opportunity to learn from the best in the business. He's very smart, works very hard, and has a good rapport with the players and the assistant coaches. He's ready for this and I'm confident he'll do a great job."
McDermott, 35, was one of the few NFL assistants to have successfully mentored two different position groups, after stints as a linebackers coach and a secondary coach. He worked closely with Jim Johnson in all phases of the defensive game plan and was the longest tenured defensive assistant coach under Johnson.
As the secondary coach in 2008, two of his troops - FS Brian Dawkins and CB Asante Samuel - garnered Pro Bowl honors, as the defense ranked second in the NFL in net yards allowed per pass play (5.08).
The linebacking group flourished under McDermott in 2007 as Stewart Bradley, Chris Gocong, and rookie free agent Akeem Jordan all received their first taste of NFL action.
From 2004-06, he served as the Eagles secondary/safeties coach. In 2004, he saw both of his starting safeties (Dawkins and Michael Lewis) earn Pro Bowl berths for the first time in team history. Additionally, McDermott has been credited with the development of All-Pro S Quintin Mikell, an undrafted free agent in 2003.
McDermott worked as the Eagles assistant secondary coach in 2003 and as the club's defensive assistant/quality control coach from 2001-02, working with the linebacker position. He originally joined the Eagles in 1998 as a scouting administrative coordinator, working primarily with the CBA, salary cap, and personnel matters. It was a position he held until being promoted to assistant to the head coach in 1999.
A 1993 graduate of LaSalle High School, McDermott went on to play safety at the College of William and Mary, where he earned all-conference honors in 1997. In 1998, he was the recipient of the prestigious Benjamin Ewell Award for his tremendous leadership and excellence on campus and in the community. He began his coaching career at William Mary as a graduate assistant in the spring of 1998.