With their second-round selection in the 2009 Draft, the Eagles took someone quite familiar with the team.
Pittsburgh running back LeSean McCoy, who not only grew up in nearby Harrisburg but also went to the same high school as former Eagle Ricky Watters, fell into Philadelphia's lap at No. 53.
For McCoy, patience paid off.
"It was so crazy man, just sitting here waiting, waiting, waiting, being patient," McCoy said during a conference call Saturday night. "Being drafted by the Eagles, the wait was worth it. I knew they were very interested in me. I knew that I fit their system pretty well.
"I can't wait to get there, man."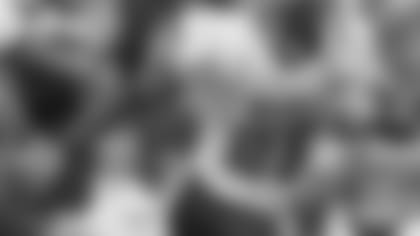 RB LeSean McCoy
The Eagles can't wait either.
McCoy, who reached the end zone 36 times in just 25 games as a Panther, provides depth at the running back position that was depleted with the departure of Correll Buckhalter to the Broncos via free agency. That total was a new NCAA record for most touchdowns produced by a player as a freshman and sophomore, topping the old mark of 34 set by Pittsburgh's Larry Fitzgerald.
McCoy's 35 rushing touchdowns also broke the freshman/sophomore combined record of 24 set by Pittsburgh running back Tony Dorsett during the 1973-74 campaigns.
Head coach Andy Reid said that McCoy impressed him on his visit prior to the draft.
"LeSean he had a little bit of a taste of this in college, so it won't be foreign to him," Reid said. "We brought him up here for his visit and we were able to do an install with him, teach him and then see what he retained after we did that and he seemed to do a nice job with that. I think he can handle this."
McCoy, a Bishop McDevitt High School product, gained over 1,000 yards in each of his two seasons at Pittsburgh, joining Dorsett and Curvin Richards as the only two Panthers running backs to accomplish the feat.
Not only does McCoy know Dorsett, but he's good friends with Watters as well.
"I talk to Ricky all the time," McCoy said. "I can't wait to call him and tell him the news. … I've called him for advice. Ricky had a nice career in Philly. I talk to Ricky a lot. I called him when I was on my visit there. He said all positive things. He said he loved it there."
However, the Eagles have told McCoy that he has to improve his blocking skills.
"That's something Coach Reid told me when I met with them weeks earlier and actually when he just called in for me," McCoy said. "He told me I had to work on my blocking. He said that was the biggest thing I had to work on, which is fine I think everyone has something to work on. With me, it's my blocking."
Not that he's bad at it; he just needs to improve.
"He'll need to work on that," Reid said. "He was adequate; he needs to get better. So he'll work on that when he gets in. They asked him to cut block more than what we cut block, that's part of their scheme. We'll ask him to stand up."