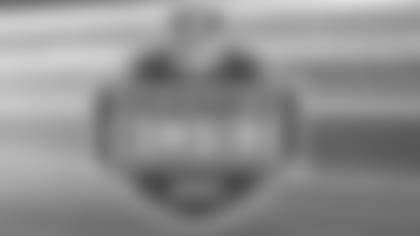 Here's an interesting point regarding the contract situation with Donovan McNabb. What would the fallout be regarding backup quarterback Kevin Kolb?
Kolb is under contract through the 2010 season, but a contract extension for McNabb would likely mean that Kolb is not going to take a meaningful snap before he's scheduled to hit the free agent market. What would the Eagles do? Re-sign him and keep him as the insurance policy? Would Kolb want to leave for a chance to start elsewhere?
You may not think this is all that important, but during draft weekend don't be surprised if the Eagles take a late-round flier on a quarterback to develop. I'm trying to think of the moves that the Eagles could make that don't necessarily make sense for the here and now but could down the road - think back to the Lito Sheppard and Sheldon Brown draft of 2002.
The next important day on the NFL calendar after the Combine isn't Feb. 27 which is the start of free agency. It's Feb. 26, the deadline for submitting qualifying offers to restricted free agents. The Eagles have two restricted free agents - wide receiver Hank Baskett and guard/center Nick Cole. There are four levels of qualifying offers. The lowest one would net the Eagles a draft pick that corresponds with where that player was drafted as compensation if another team signs the player. The problem with this for the Eagles is Baskett and Cole were both rookie free agents. I don't think the low tender will keep teams from trying to go after either player. Baskett's size, youth and production combined with the lack of talent available in free agency will pique the interest of a team who is in need of a receiver. Cole played very well as the starter at right guard during the run to the playoffs after Max Jean-Gilles was lost for the season with a broken leg. Cole will be in the mix for a starting job this season, especially if Todd Herremans or Shawn Andrews are moved out to tackle. The other tender levels, by the way, are a second-round pick as compensation, a first-round pick as compensation and the top level is a first- and a third-round pick as compensation.
NFL Network draft expert Mike Mayock just wrapped up a press conference and had some interesting tidbits regarding potential positions of interest for the Eagles ...
It's obvious that the spread offense is making it hard to see how some players will translate to the next level. Two of the positions it is affecting the most are tackle and tight end. Jason Smith of Baylor is Mayock's top-rated offensive lineman and he has heard personnel execs frustrated over the fact that they don't get to see Smith run block a whole lot on film. If you are a team with a top 10 pick, are you going to sink a lot of guaranteed money into a player who may be excellent at pass blocking, but a mystery in run blocking? Talking about Michael Oher, Mayock said that despite possessing all of the immense physical gifts his inconsistent play will hurt a team at the NFL level. Leave it to Les Bowen to provide a cynical view of Oher's touching background story. He pontificated whether the family that adopted him only did so to guide him towards Ole Miss to play football. That would be as sad as babies being recruited by colleges to play sports. I'm sure it's not that far away.
At tight end, you see a bevy of tight ends who are excellent pass catchers but you don't know if they can run block. Again, this is due in large part to the implementation of the spread offense. That's why it's hard to see Brandon Pettigrew falling to the Eagles at No. 21. The team that could snatch him up is the Buffalo Bills at No. 11 who are in dire need of a dynamic playmaker on offense. It's too bad that the Titans used the franchise tag on Bo Scaife to dwindle the already dearth talent on the free agent market.
At running back, Mayock is excited to see what Chris "Beanie" Wells runs in the 40-yard dash. At 6-1 and 237 pounds, Wells has a rare blend of physical gifts that will make him a first-round pick. The question is how high will he go? Could he be around at No. 21 for the Eagles? Highly unlikely. Would the Eagles tab him with their first-round pick even if he is there? If Wells is still there, one reason could be Knowshon Moreno, who has the best lateral quickness Mayock has seen in years. Moreno's ability to catch the ball out of the backfield would be ideal for the Eagles' style of offense.