Eighty six days ago, the Eagles moved up to the top of the fourth round to select quarterback Matt Barkley, one of the most prolific quarterbacks in USC and Pac-12 conference history. Since then, Barkley has inserted himself into the battle for the Eagles starting quarterback position. He has adjusted to life on the East Coast, even taking in the recent U.S. Open at Merion along with teammates Connor Barwin and Jason Kelce. Earlier this month, Barkley married his longtime girlfriend.
Even with all of the change since Barkley was drafted, he arrived at the NovaCare Complex on Monday for the start of his first Training Camp feeling as if he was "at home" ready for what head coach Chip Kelly has deemed an "open competition" for the starting quarterback position.
"It feels the way it should be. It doesn't feel like I'm in a new situation at all," Barkley said. "I think from the time that we've been here since minicamps and OTAs this feels like almost a new home to me. It feels right. It feels like it's the right thing to be doing to come back and getting ready for the season.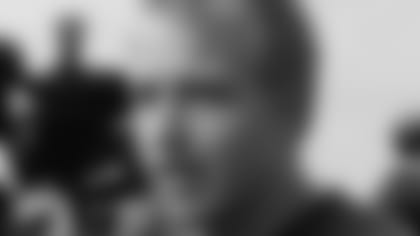 "There is an open competition so whether you feel like it or not, it's there. I absolutely feel like you've got to be a part of it. You've got to challenge yourself just like any other guy on the team that you're a part of this competition. Regardless of what they're going to say, your mindset has to be that you're in the race to start."
General manager Howie Roseman affirmed on Monday that Barkley has a chance to beat out returning veterans Nick Foles and Michael Vick along with Dennis Dixon and G.J. Kinne for the top spot.
"We try to keep an open mind about everyone on our roster. You have to be open to surprises. You can't just watch the tape looking for certain guys because you may miss something. You may miss a guy who's really performing at a high level, who steps up to the competition, so I think those are things you have to be aware of - how everyone's playing, not just the guys who are perceived to just be in the competition," Roseman said.
Roseman's scouting report of Barkley's spring tape was that he displayed the same traits that made him a successful quarterback at USC.
"He gets the ball out very quickly. He's a distributor. He's like a really good point guard in basketball. He knows where to go with the football. He makes good decisions and then he's going to continue to grow and get better," Roseman said. "You forget that the guy hasn't had a lot of practices, he hasn't had his pads on, he hasn't gone against live defenses. (It's) exciting to see him and really all the rookies get their experience."
Barkley was fine with the "point guard" comparison since it was a good one. Praised by coaches for his intangibles and work ethic in the spring, Barkley understands that the team needs someone to step up and be the captain of the team.
"There needs to be someone like that and it's my goal to be that guy," Barkley said.
Barkley has had no issue coming in and starting from day one in the past whether it was at the powerhouse prep school Mater Dei or at USC with its history of Heisman Trophy-winning signal-callers. He is also well aware of how rookie quarterbacks took the NFL by storm in 2012 with three of them - Andrew Luck in Indianapolis, Robert Griffin III in Washington and Russell Wilson in Seattle guiding their respective teams to the playoffs. Barkley realizes, however, that his situation in Philadelphia now is much different than any of those aforementioned quarterbacks.
"You've got to do it on your own," Barkley said.
Barkley reiterated that he is fully healed from a shoulder injury that prematurely ended his senior season. He anticipates doing less throwing in Training Camp compared to college because of the fact that there are five quarterbacks on the roster, so he is not concerned about having a tired arm. No matter if Barkley is working with the first-team offense or the third-team unit, he wants to utilize every snap to prove that he should be the quarterback seven weeks from Monday when the Eagles travel to take on Griffin III and the Redskins.
"I've got to do everything to prove to the coaches that it's mine," Barkley said.