Every year it seems like there's one potential draftee that is rated in the Top 10 that falls through the cracks beyond the middle of the first round.
Missouri wide receiver Jeremy Maclin was that guy in 2009 and the Eagles were the benefactors.
"I think it worked out for the best," Maclin said during a conference call on Saturday. "I'm a firm believer that everything happens for a reason. I can't complain going to this organization. I think everything happened for the best."
Philadelphia made a deal with Cleveland to move up two spots in the first round to select Maclin, who scored 32 touchdowns in 28 career games at Missouri, even though the team never had him for an official visit.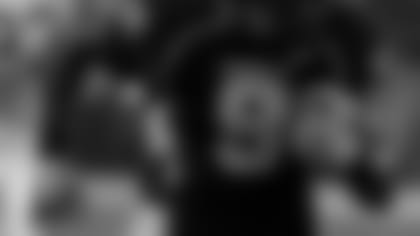 WR Jeremy Maclin
"Actually, we thought he was going to go a little bit higher than what he did," head coach Andy Reid said. "This is not who we had targeted. He just happened to be one of those guys that fell a little bit, kind of fell in our lap there, so we wanted to take advantage of it. (We) strictly trusted our evaluation of him as a football player."
The Eagles had to be intrigued with Maclin's versatility; he's lined up in the slot, at split end, flanker and has come out of the backfield while with the Tigers. He's also just the third player in NCAA history to average more than 200 all-purpose yards per game for an entire collegiate career (202.36 ypg).
So when the Eagles watched him drop to the No. 19 selection, they made a deal with Cleveland to swap places in the first round even though the only time Reid met with Maclin was at the Scouting Combine.
"I got to talk to him down at the Combine," Reid said. "I didn't bring him in. Again, I thought he would be gone long before it got to us."
The Eagles gave up the 21st selection and the 195th overall pick, their second of two sixth-round draft choices, to acquire Maclin's rights. It's the third straight year that the Eagles made a trade in the first round.
Once selected, Maclin began thinking about the prospects of playing alongside quarterback Donovan McNabb, running back Brian Westbrook and fellow receivers Kevin Curtis and DeSean Jackson.
"Obviously, nobody likes losing," Maclin said. "This organization has a great track record of winning games. They got all the guys in the right spots to be continuous every year. (They have) one of the best quarterbacks in the league. You got Westbrook. You got Curtis. You got DeSean. I couldn't ask for a better situation."
Reid said that as the draft shook out there were three or four players the Eagles were considering at No. 21, but that Maclin was "the best of the bunch."
"I think he's just a heckuva football player," Reid said. "On top of that, a quality kid; very intelligent, very fast, great hands and has return ability. Honestly, I thought he was the best player that was available. I just completely trusted the board on that, so that's why I went with that."