The rookie camp begins next week and one of the questions that everyone will want answered is how is first-round draft pick Jeremy Maclin progressing.
The 6-foot, 198-pound wide receiver showed tremendous speed at the post-draft mini-camp. You might argue that it was without pads, which was true, but the freedom that wide receivers get after the initial five yards should mean that if Maclin can get into open space he should be able to get the ball. And the fact he showed great hands means that if he can get off the line of scrimmage that he should be able to haul the ball in once Donovan McNabb delivers it.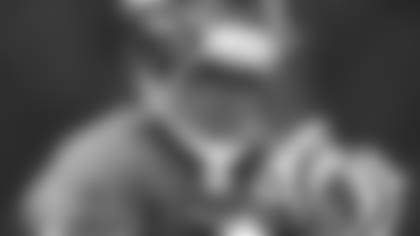 WR Jeremy Maclin
But what is fair to expect of a rookie wide receiver? DeSean Jackson raised the bar tremendously with his 62 catches, 912 yards and two touchdowns in the regular season. Jackson was thrust into the lineup when injuries plagued the receiving corps and he delivered. He played so well that he had to remain on the field once everyone returned healthy.
The slew of injuries is, hopefully, unlikely to happen again. Yet, while Jackson was graded by the Eagles at a first-round level when they drafted him one year ago, Maclin was one of the top 10 players in the entire draft regardless of position. And the fact that he has two inches and over 20 pounds on Jackson should mean something? But Jackson played in a pro style offense unlike Maclin so the transition was easier. However, Maclin didn't seem to have any problems with the routes in the Eagles' West Coast Offense.
Let's take a quick look at how rookie receivers have done under Andy Reid. In 2000, Todd Pinkston contributed a marginal 10 catches for 181 yards. A nice yards per catch average, but not much else. Freddie Mitchell, the only other wide receiver to be drafted in the first round under Reid, had 21 catches for 283 yards and a touchdown. Greg Lewis had six catches in 2003. Even L.J. Smith contributed 27 receptions for 321 yards and a score.
Starting in 2005, rookie receivers became more prominent. Reggie Brown had 43 receptions for 571 yards and four touchdowns in 2005. Hank Baskett nabbed 22 balls for 464 yards and a pair of touchdowns - an average of 21.1 yards per grab in 2006. And in 2008, Jackson shattered all the franchise rookie wide receiver records.
Maclin has the talent, but he still has a lot to learn between now and September. Plus, he'll need the opportunity. As good as Brown and Jackson were in their rookie seasons, if it wasn't for injuries and other factors their numbers wouldn't have been that high. Maclin will get plenty of reps at his X receiver spot at rookie camp. We'll see how far he's come along.