In the final preseason game before the start of the 2008 season, quarterback Kevin Kolb showed why he earned the No. 2 spot.
Besides demonstrating effective fakes on play-action passes, Kolb displayed accuracy and elusiveness while leading the Eagles to scores, including a 63-yard touchdown drive, on their first three possessions in Thursday night's 27-20 loss to the New York Jets.
"I feel very confident," Kolb said. "Definitely as confident as I have ever have been here in Philadelphia. The offense is coming smoothly, things are coming great and the coaches are doing a great job playcalling so far, too."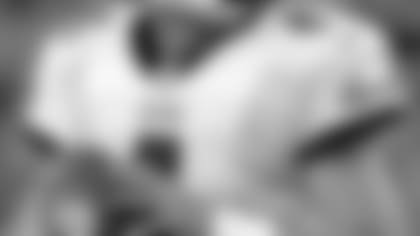 QB Kevin Kolb
Kolb was an effective 13-of-21 for 138 yards and no interceptions for an 81.1 quarterback rating before giving way to A.J. Feeley at the start of the second half. The Eagles led 13-10 at halftime.
He also spread the ball around, connecting with seven different receivers, including a 25-yard pass completion to Hank Baskett after he stepped up in the pocket to avoid the Jets' pass rush.
According to Kolb, making the first start of his NFL career was special, even if it came in the last preseason contest.
"It was huge," Kolb said. "Although it's just the preseason and the starters weren't out there with me, it's still big for me. It breaks me in slowly to hopefully what I'm going to be one day."
Kolb is pleased with how he's progressed from last season to now.
"It's tenfold," Kolb said. "Just the comfort level. The group we have out there right now, I really like. I don't know if it's the two's or what it is, but it seemed like everyone we had in there had great continuity. Everyone works hard and that's all you can ask out of those guys."
In case something happens to quarterback Donovan McNabb, Kolb thinks he has proved to the team that he's ready to step in and step up.
"I think (there's) no doubt I'm ready to go," Kolb said. "I think I have progressed every game throughout the preseason. That was my goal. If I can continue to do that, then hopefully I'll have a great career here."
Feeley started the third quarter with completions to Lorenzo Booker and Bam Childress, but on his second drive, an ill-advised throw on a roll out resulted in an interception.
After the pick, though, Feeley rebounded and on the next drive he connected with receiver Michael Gasperson on a 54-yard play to set up 1st-and-goal.
Furthermore, he seemed to learn from his earlier mistake, because when he rolled out after the big play, he tucked the ball under his arm and scampered for a minimal gain.
Two plays later, the Eagles scored to tie the game at 20-20.
"Well, we wanted to put (more) points on the board," Feeley said. "You want to come out injury free and get a chance to do better and work on things that you do during the week and translate them out onto the field."
Feeley finished the game 13-for-25 for 143 yards with a touchdown and two interceptions.
"I'm looking forward to getting things started and contributing as much as I possibly can," Feeley said. "When you're not the starter, you're in a reserve role, contribute your part and see where you go."