Win at the line of scrimmage. It's a tried-and-true mantra the Philadelphia Eagles follow, stay disciplined to, and pursue with vigor. And in the case of Round 1 of the 2023 NFL Draft, the Eagles used two selections to add rocket fuel to a team strength, bolstering the defense with the picks of Georgia defensive tackle Jalen Carter with the ninth overall selection and taking Georgia outside linebacker Nolan Smith at No. 30.
Wham! Bam! Philadelphia added two premier talents, two players coming from back-to-back National Championship teams that featured overwhelming defenses who played at the highest level of college football and dominated there.
Building from the trenches out, the Eagles restocked their defensive front with a pair of players who are going to have to earn their playing time, for sure, but who have the ability to help take this defense to new levels.
Carter, called by Eagles General Manager Howie Roseman "one of the most talented players in the draft and one of the most talented players to come out of college football in a long time," had his early-pick status damaged by some off-the-field incidents in the spring.
"They're coming into the league at a very young age," Roseman said. "They're not finished products. I think all of us when we were 21 and 22 hopefully have grown a lot from that time, and you just really want to get to know the person and what's in their heart. I think when we got to know Jalen, we just felt like here's a kid that he does love football. Obviously, he's a winner. He won in high school. He won in college.
"We feel like we have really good people in this building. We have really good support staff. We have really good players who are good people. We have really good coaches. We felt like it was a good fit for us."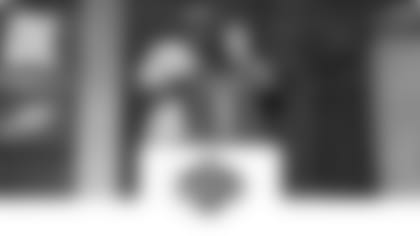 Eagles Draft Sweepstakes
Enter to win an autographed item from our 2023 NFL First Round Pick.
Smith, one of the leaders of the Georgia team the last two seasons, suffered a torn pectoral muscle late in the Bulldogs' 2022 season, but he's been cleared medically and he brings to the table tenaciousness, toughness on the edge against the run, blazing speed (he ran a 4.39 40-yard dash), and athletic ability.
"I think you've got to be flexible," Roseman said. "You go into the draft and you say, 'Hey, here are a couple of names at 30,' and then you see a couple of guys sitting up there like Nolan. Again, an incredible person who has unbelievable traits in his body, leader, and winner. So, for us, we're fielding calls at that time and I think Coach (Nick Sirianni) and I just looked at each other and said, 'Hey, this is the guy.' We didn't want to get too cute and we're excited to add him."
Bottom line: As the Eagles drew up their wish list for the 2023 first round, they didn't really think Carter would be available at 10, but when he was still on the board at nine, well, it was just way too much value to pass up. The Eagles had Carter way high on their draft list – right among the top players overall – and they figured Smith would be long gone before they were on the clock at No. 30.
Carter and Smith join former Georgia teammates defensive tackle Jordan Davis, last year's first-round draft pick, and linebacker Nakobe Dean, a 2022 third-round pick, as the Eagles build up their SEC contingent. And, just like every player who comes to this organization, they will be taught the Eagles Way and they will be accountable for their actions and they will have the benefit of working with a veteran defensive front – players like Fletcher Cox, Brandon Graham, and Haason Reddick – who are fresh off a Super Bowl appearance and hungry to take it a step further in 2023.
Night 1 of the NFL Draft was a home run for the Eagles. Philadelphia's defensive front led the NFL in quarterback sacks a year ago and now has a deep arsenal of firepower, versatility, and talent. Carter was, honestly, the dream pick for this defense and as the picks came off the board starting at No. 5 when Seattle selected cornerback Devon Witherspoon, it became apparent that Roseman would have an opening to move up and secure the explosive and disruptive defensive tackle, the best player on Georgia's best-in-the-country defense the last two seasons.
Roseman considered other players at 30 and he also had options to move down into Round 2 and pick up an extra draft pick, but he couldn't resist adding a high-character, very productive player in Smith with such a huge upside and an unmatched work ethic.
This was an impact first round for the Eagles, no doubt about it. Both Carter and Smith are young players who have a lot to learn about the way the NFL works, but they're coming to the right environment, one Roseman said would "throw our arms around" both (and everyone who joins the team, for that matter). This is an evolving defense, one that is going to go after offenses with blazing speed off the edges, power inside, and waves of players who are going to wear down blocking schemes.
You want to win in the NFL? Every team does, yes. The formula is to have a great quarterback, which the Eagles do in Jalen Hurts; dominate at the line of scrimmage, which the offensive line is set to do again and which the defensive front just gained two standout talents; and then play sound, disciplined football with a great coaching staff.
There is more to do here and the draft has a weekend ahead, but the Eagles are off to a great, great start.
"I think you've got to be prepared," Roseman said. "We didn't go into this draft thinking like there's only one player we had to get (at No. 10). I think that wouldn't have been good, just like at 30, there wasn't only one player we had to come out with. But we're just starting here. We just started. Obviously, we've got two days. Tomorrow is a big day for us, so we'll get back to work."