In discussing his surgically-repaired wrist, Victor Abiamiri prefers the term "setback" as opposed to "injury." That's indicative of the second-year end's optimistic outlook on his situation.
Abiamiri had expected to come in and make an impact this year. He put the time in during the offseason conditioning program and impressed coaches during the spring workouts. He was poised to push for a starting job at left end, and at the very least, was expected to be part of the rotation at left end along with Chris Clemons and Juqua Parker.
That is until two weeks ago, when he dislocated a bone in his right wrist while making a tackle on the first play of the final "team" period.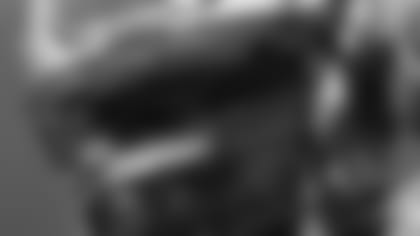 DE Victor Abiamiri
"Injuries are part of the game," said Abiamiri, who spoke with reporters following Saturday's practice at the NovaCare Complex. "In my situation, I was hoping to be able to maintain the momentum I had all through the OTAs (Organized Team Activities) and the winter workouts, going into training camp.
"It was one of those things where I was like, you know what, it's something you just fight through. I got it taped up and went back in there and finished up practice. Obviously it's a setback, but me looking on the bright side of things, it could have been a lot worse."
Indeed. The team could have elected to place the 6-4, 267-pound Abiamiri on injured reserve after he had two screws inserted during a surgical procedure.
Abiamiri remains on the active roster. The Eagles have said the worst-case scenario for his return would be four months. But they remain hopeful he will be able to make it back sooner than that, depending on how his wrist heals.
"It's kind of a week-to-week, day-to-day kind of progression. Things have gotten progressively a lot better since the first day it happened and after surgery," Abiamiri said. "It's an injury where it takes a little bit of time to heal, but it's not a season-ending injury."
Of course, when it comes time to trim the roster to the 53-man limit later this month, Andy Reid and his personnel staff will have a decision to make regarding Abiamiri.
Abiamiri is not ready to throw in the towel on the possibility of contributing in 2008. His focus now is staying sharp both mentally and physically. The mental aspect includes sitting in on all the defensive meetings. His physical regimen includes lifting and cardio work.
"They're not rushing me into things," he said. "They're seeing what I can handle and what I can do, and going on from there."
At this point, the key for Abiamiri is getting his strength back and getting his range of motion back.
Without Abiamiri, the Eagles are missing a stout, 270-pound player who made excellent progress from his rookie season to now. Abiamiri played in six games with one start (at Washington) and had seven tackles with two quarterback hurries. He played significant snaps in the season finale against Buffalo, a run-orientated offense that plays into Abiamiri's strength.
If Abiamiri shows significant progress in the next few weeks, the Eagles are likely to keep him active and hope he is on the field in the early fall.
For now, though, it's a wait-and-see situation.
"Obviously, it's really tough," Abiamiri said. "I just look on the bright side of things, take every day one day at a time as far as rehabbing and getting better. Things will take care of themselves."
Reid said wide receiver Reggie Brown would be out for "a couple days" due to hamstring strain suffered in Thursday's game against Carolina. Fortunately, the injury is not on the same leg as Brown's Achilles injury which forced the wideout to miss the preseason opener in Pittsburgh.
Defensive end Chris Clemons did not practice Saturday and is is day-to-day with a calf injury. He did not play against the Panthers.
"He's going to continue to rehab here and we'll see how he does," Reid said. "He can use every rep he can get. Obviously, when you're new in a system, you make sure that you practice. He can use the reps, but again, I want to make sure that he's healthy before he goes out there."
Reid said veteran defensive tackle Montae Reagor will have arthroscopic knee surgery on Monday. He did not practice on Saturday.
Also sidelined for Saturday's workout was wide receiver Jamal Jones (rib).