For Cary Williams, fresh off a Super Bowl win and an emerging cornerback who started the last two seasons in Baltimore, the Eagles represent a chance to take his game to an elite level. He played that way down the stretch for the Ravens in their championship season of 2012 and he stepped up to the responsibility in the playoffs.
Now he's squarely in the spotlight, a role he relishes.
"I know how to come in and be a professional each and every day, and I accept that," he said. "If I don't think I'm the top corner, I shouldn't be here. I'm excited about it, and once the pads go on, the cream will rise to the top."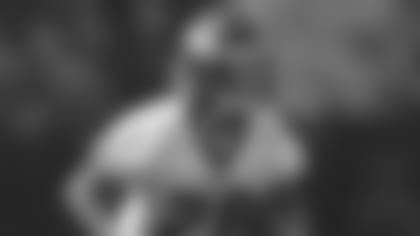 Williams does not lack for confidence, and the Eagles need that swagger in the overhauled secondary. There is no "No. 1" or "No. 2" cornerback, but both Williams and Bradley Fletcher are expected to play strong, physical, intelligent football leading a young group of players on the defensive island. Both were signed in free agency – Fletcher after an up-and-down four seasons with the Rams during which he started 26 games and overcame some injuries and Williams after his superb couple of seasons in Baltimore.
Defensive backs coach John Lovett wants his players to play tough, hard-nosed football. He wants players who are going to learn how to play within the entire defensive scheme.
"We need to have guys who can learn a system and play together and be able to communicate. Everybody here has talent," said Lovett. "We have to get everyone on the same page and they need to learn what we do as a group, the technique that we use and how it all fits together."
Lovett says both Williams and Fletcher will "fight and scrap to get it done" and that's precisely the attitude needed for the secondary. Should the Eagles ask their corners to play a lot of man coverage, Lovett thinks both have the skill set to do it well. Should there be more "off" coverage, both will have their ability to break quickly on the ball tested.
We aren't going to really have an idea of how Williams and Fletcher fit in until we see them in training camp with the pads on, or more likely, when the regular season begins and the entire defense is in place and the games are live.
Are both players ready to take the next steps in their careers as they lead a group that includes holdovers like Curtis Marsh, Brandon Hughes and Brandon Boykin as well as draft pick Jordan Poyer? Fletcher, after all, hasn't been a full-time starter since the 2010 campaign, after a 2009 season and before a 2011 year that were thrown off course by injuries. Is he up to the task of a full season?
As for Williams, his confidence is a huge plus. He has been through the pressure-packed moments and has come up big. He has been in the spotlight and hasn't flinched. In a sense, Williams is a player to whom the rest of the cornerbacks can watch as an example of how to handle the season ahead.
"You just approach it day by day and work hard to improve," he said. "Nobody is looking ahead to anything. We're all learning about each other and this defense and the important thing is that we play together, as a team."
The times have changed at the cornerback positions, again. The goal is to find some stability and to develop depth and excellence, to get this secondary and the cornerbacks among the upper echelon in the league. They cornerbacks here will do so as a group, and also they will do so individually with the spotlight on each player, as is the nature of the position in the game of football.