How Ifeanyi Momah became an Eagle is a terrific story, one of perserverance from a player who had his promising collegiate career ruined by injuries, and by an Eagles organization that used a collaborative effort to sign Momah.
A standout high school player from New York, Momah attracted plenty of interest as a 6-7 defensive end from some schools, and as a 6-7 wide receiver at others. He chose Boston College, recruited there by defensive coordinator Bill McGovern, who is now the Eagles' outside linebackers coach.
Once he arrived at Boston College, Momah switched to the other side of the ball and showed plenty of promise when he wasn't sidelined. He played some as a freshman, in 2008, and then missed the 2009 campaign with a knee injury. In 2010, Momah caught 19 passes with three touchdowns as a redshirt sophomore, and he also played defensive end in third-and-long situations.
Big things were expected in 2011.
And Momah, named one of the team's captains, came out of the gates on fire. He caught 8 passes for 157 yards in Boston College's season-opening game against Northwestern, but he suffered a knee injury -- it happened, according to reports, on the seventh catch Momah made that day, and he continued playing for some time, The injury was devastating: He suffered a torn anterior cruciate ligament and was lost for the season.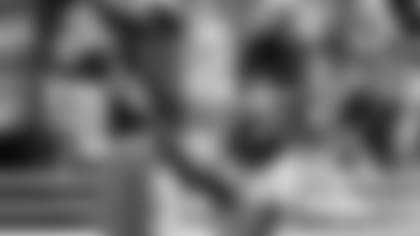 An appeal for a medical redshirt and a sixth season at Boston College was denied, and Momah spent all of 2012 rehabbing his knee in Florida and studying in Boston College's Carroll School of Management.
And then he took part in Boston College's Pro Day on March 20 and wowed the NFL scouts in attendance, running in the area of a 4.4 in the 40, catching everything thrown his way and showing that his size does matter: Momah went up and caught the ball above traffic.
"He was off the charts," said Eagles general manager Howie Roseman, who credits the entire chain of command for making a deal with Momah. "He turned in a great performance and certainly attracted a lot of attention."
The Eagles -- and other teams, including New Orleans -- were impressed enough by Momah's performance to invite him for a workout. He came to Philadelphia and worked out recently at the NovaCare Complex and again did well enough to convince Roseman and head coach Chip Kelly to keep around for a longer look.
"He ran a 4.40 in the 40 and then he ran some pass routes," said Roseman. "He ran a slant, and he nailed it, and I said 'I'm good.' I'll say this: He is a pleasant surprise. He's on his way. He is healthy now, and that's the big thing.
"I'm also realistic here. He hasn't played in two seasons. He has a lot to learn, but he's a great character guy, an extremely hard worker and he deserves to get a chance to see what he can do on the field."
Roseman termed Momah "intriguing," and clearly any man his size who runs like Momah runs deserves more study. Momah agreed to terms with the Eagles on a contract on Saturday and he will be part of the team's offseason conditioning program when it begins this week.
Nobody is jumping too far ahead here. This isn't the next Harold Carmichael who wasn't the next Harold Carmichael himself until two seasons into his NFL career after the Eagles made him a seventh-round draft pick in 1971. Momah has to get his timing back and learn the NFL game. He is playing against men at this level and the scale of precision is far different than anything Momah has experienced.
But he has his shot. He is heralded as an intelligent young man who is a hard worker and who, clearly, will do whatever it takes to play in the NFL. It is a great story for Momah and one for the Eagles as well. They went to a Pro Day at Boston College maybe not knowing what to expect, but certainly going in with open minds.
It paid off. Momah had his shining moment and the Eagles jumped on the chance. Roseman read the report from his scout who attended the Pro Day, Brad Obee, and furthered the research to include McGovern and Kelly, who took it a step beyond and talked to more of those who know Momah well.
"He's a really interesting kid," said Roseman. "It's like having an extra draft pick. Now he has more hard work in front of him and we'll see how he responds."
No promises. No guarantees. Only a shot. And a testament to the process of believing what you see, doing your homework and adding a player who was never even on the team's radar just one month ago.