With a roster that has transitioned significantly since the conclusion of the 2012 season and still has a long way to go before it is finalized for 2013, the Eagles have a lot of pieces that need to be put in the right places.
Many of those pieces are young. The Eagles have a promising mix of veterans, young veterans and flat-out kids, and make no mistake that they are relying on some of these younger players to step up and play important roles this season.
Who are those who will mature their games and become part of the next generation of Eagles core players? The Eagles have players like DeSean Jackson, LeSean McCoy, Jeremy Maclin and Michael Vick in leading roles, along with veterans like Evan Mathis and DeMeco Ryans and some established NFL talent acquired in the offseason.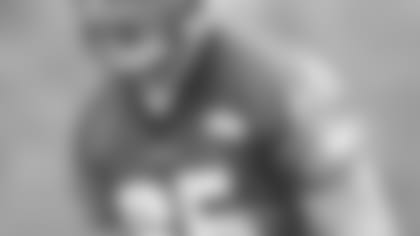 Who is next in line? Here are some candidates from this perspective ...
The Eagles aren't handing the starting right tackle job to their first-round draft pick, but it was sure exciting to see him taking reps there as the spring practices and the minicamp progressed. The Eagles rave about Lane Johnson not only for his athletic ability and his natural talent, but for his mental retention and his willingness to be coached.
Johnson has a lot to improve, as do all rookies. He needs to continue to get stronger and master the nuances of the position. Veterans are going to try to take advantage of his inexperience and get him off balance early in his career.
The Eagles think Johnson has a chance to be something special. He's been a hard worker and very eager to improve in his time in the NFL, and the athletic skills are evident. Will Johnson start when the season begins? It all depends, of course, on how he performs in training camp and in the preseason, but Johnson is off to a strong beginning to his NFL career.
It's going to be really interesting to see how Chip Kelly uses Bryce Brown, who appears far advanced from his rookie season. Brown seemed to almost get by last year on raw talent rather than advanced instincts for the game or the offensive scheme. Now he's a year into the NFL, very dedicated at his craft, and he has added more definition to his game.
The sky, then, seems to be the limit for Brown, who will work in some kind of tandem with LeSean McCoy in a very strong 1-2 punch of a backfield for the Eagles. Brown is capable of being a bruising running back who also has moves and great speed. How will his skills translate to a scheme that emphasizes spacing and precision? The possibilities are truly exciting for Brown, for McCoy, for Chris Polk and for Felix Jones. The Eagles have never been better stocked at the running back position.
A very strong rookie season leads to large expectations for Fletcher Cox, the team's first-round draft pick in 2012. Cox has had a strong offseason and the Eagles think he can be very productive inside in a 4-3 and as an end in a 3-4. He's got the burst to get off and help rush the quarterback, and Cox should occupy some blockers. No doubt offensive lines will attempt to neutralize Cox as they game plan for the Eagles defense this season.
Long arms, a high level of athleticism and the want to be a great player aid Cox as he develops. Year 2 comes with a different set of performance goals for Cox, an early starter in his career who looks to take a big step up in 2013.
Another piece from the 2011 draft class that contributed a lot as a rookie, Mychal Kendricks played quite well last season and looks for more now. The Eagles are going to ask him to do a lot in a defense that wants to be multiple and aggressive. Kendricks fits that mold perfectly.
He played outside in the 4-3 last year and would likely slip inside when the Eagles show a 34 front in 2013. Kendricks in the kind of intense, dedicated and physical player that Bill Davis wants patrolling the core of his defense.
He isn't very big, and he isn't going to win a lot of 40-yard dash races, but Damaris Johnson showed in his rookie season that he can make plays in the NFL.
Short-area quickness is an important skill to have in an offense that hopefully will provide creases of daylight to move the football down the field, and Johnson has that kind of ability. He could be a huge weapon in the screen game and in instances when the Eagles are able to match him up in favorable situations. If they can scheme to get a linebacker chasing Johnson on a drag route, for example, that's a big play in the making for the offense.
All eyes have been on Nick Foles since last year and he has grown rapidly. The Foles who performed in the spring seemed so much faster and confident than the rookie from 2012. Foles appeared to have great command of the offense and threw the ball confidently and accurately.
Will Foles do enough to earn a starting job in September? That remains to be seen. What's really important is that Foles improves every day and that he displays to the coaching staff that he can thrive in the scheme. The big picture is more important for Foles than is the short-term view.
Foles is on the case. He seems to have come a long, long way in this system in a short period of time. It's obvious that he is working hard and has a clear goal in mind. Is he the quarterback of the present? Is Foles the quarterback of the future?
Just as with all of these young players, the developing core of the roster, a critical period of time awaits in their development.