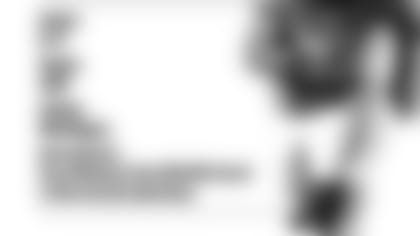 Contract Status:Linebacker Brandon Graham was re-signed to a four-year contract earlier this month that runs through the 2018 season.
2014 Season In Review:It wasn't about quantity, it was all about quality when it came to Graham's 2014 season. The team's No. 3 outside linebacker, the primary backup at the Predator position, Graham tied a career high with 5.5 sacks and chipped in 18 quarterback hurries. Graham was extremely productive despite playing fewer than half of the defensive snaps, 499 total (43 percent). Graham saw more action on defense as the season wore on. He played 30 or more snaps in just two of the first 12 games, but did so in each of the final four games. In his one start, his first since becoming a 3-4 outside linebacker, Graham had a season-high six tackles and four quarterback hurries at Washington in Week 16. Graham was also key player on the league's best special teams unit with eight tackles.
What's On The Horizon:As an unrestricted free agent this offseason, Graham wanted an opportunity to start. After the Eagles released Trent Cole, Graham was presented with the chance to take over the Predator spot for the 2015 season. Graham cited comfort in the Eagles' scheme and a desire to stay with the organization that made him a first-round pick in 2010 as additional reasons why he decided to re-sign with the Eagles. Graham believes that he will reach his full potential as an outside linebacker with another year in the scheme. Graham has been praised for his pass rush, but he's also been stout against the run in his time with the Eagles.
"Just give me a year of opportunity to just go out there like I did in my rookie year. Just give me the opportunity to show you that I can be the starter for this organization and be pretty good at it too," Graham said. "I can't wait to show what I've been doing this offseason. I know we're going to work hard and Coach (Bill) Davis has a plan for us here and I'm just excited to see what's going to happen."
All About Graham:"His approach, his demeanor and his conditioning this season has helped him contribute so much to our defense. You see now a player who bought into what we are doing in every way and who has played well not only on defense but on special teams. He plays both linebacker spots for us, he plays with his hand on the ground and he plays away from the ball and he fits what we're doing." - Outside linebackers coach Bill McGovern
On Monday, the Eagles agreed to terms on a four-year contract with LB Brandon Graham. Look at some of his top moments as an Eagle ...