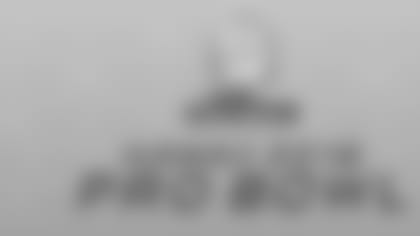 Fletcher Cox, a man of good nature, is in a particularly good mood these days.
He's in Hawaii enjoying his first Pro Bowl experience. He's an All-Pro player on the heels of his dominating 2015 season. And he's excited about the possibility of moving to a 4-3 front under new defensive coordinator Jim Schwartz after three seasons of playing end in the 3-4 alignment with Bill Davis as defensive coordinator.
To top things off on a glorious Thursday for Cox, he spoke enthusiastically by telephone about the addition of Chris Wilson as the team's defensive line coach. A 23-year coaching veteran, 19 of those years in college football along the defensive line, Wilson coached Cox at Mississippi State in the 2010 and 2011 seasons. Cox then became the Eagles' first-round draft pick in 2012.
As a sophomore in 2010 under Wilson, Cox had 29 total tackles, 6 1/2 tackles for loss and 2 1/2 quarterback sacks. In 2011, Cox recorded 56 tackles, 14 1/2 tackles for loss and five quarterback sacks. Cox also blocked four kicks in those two seasons.
"He helped me tremendously. He helped me a whole lot," Cox said. "He made me a better man, first of all. He's real big on that part of it. He wants everyone to be accountable and he wants everyone to be the best they can be on gameday. He will push us every day. When I was in college, he pushed every player in the room every day and we saw the benefits.
"I know what type of guy he is and I have no doubt that it's going to work out for us. We're going to be a better defensive line with him here. He loves the game of football and he loves working with guys and helping them grow on and off the field. Whatever the Eagles ask him to do, he will do it. I know that he's been waiting for this moment to come to the NFL and he's going to be ready for it."
Cox said that Wilson is a demanding, caring coach who will be equally effective no matter what the Eagles determine their front will be. Under Davis, Cox was a two-gapping end. In a 4-3, he would be more of a penetrating inside pass rusher. The objective is to get to the football, something Cox does extremely well.
"I would be pumped, so excited, if we go back to a 4-3," Cox said. "That's what the Eagles drafted me to do. I love rushing the quarterback, getting off the ball and messing up offenses."
As for the Pro Bowl, Cox will play for Team Rice on Sunday (safety Malcolm Jenkins and running back/return man Darren Sproles will play on Team Irvin). For now, Cox is enjoying the opportunity to meet some of the other great players around the league and make new friendships.
"It's a great experience. I love it," he said. "My family is coming today and we're going to have a great weekend. I'm really enjoying being around all of the guys, relaxing and getting to know them. I love it here."