It was like any other Friday, but, of course, it wasn't. On this Friday, as the players dressed and had their lunch and scurried off to their down time, they knew that they were one of only 12 teams still alive in the NFL, and that the feeling was special. The intensity was different. The adrenaline was pumping.
In a trip around the locker room, I visited all corners and came away with this: The Eagles understand where they are, what they are and, most important, what waits on Sunday afternoon. There is nothing but respect for the Minnesota Vikings, and for the incredible fortune this team had last Sunday. All eyes are on the Vikings ...
**STEWART BRADLEY, linebacker
A package is waiting for Stewart Bradley as he sits at his locker in the NovaCare Complex. Inside there are all kinds of goodies, from health-food bars to candies to some energy munchies. Bradley tears open a wrapper and he considers the season he has had as a first-time starting middle linebacker.
"My season went well. I progressed as the season went along. It's not like I feel I was playing poorly at the beginning of the season, but I felt that when I watched film each week I looked more comfortable and I was seeing things better," said Bradley. "I pushed myself to get better and improve. I'm always going to be that way. Playing this position for an extended time for the first time in my life, I think I made good strides and I also think I can get a lot better."
This *is *a different week, Bradley admits. He is one of the Eagles' first-time playoff participants, and he has heard all the advice about how the "game is faster" in the postseason.
Bradley is ready to go. He played last week with a fractured rib and has been used judiciously in practice the past few days. There is no doubt, though, about Bradley's status. He is going to play in the biggest game of his life.
"There's a lot of energy here. There is always a lot of energy, but this week is definitely increased," he said. "I think it's going to be a faster game, sure, but we're going to be playing faster, too. It's a product of having so much energy. Teams know that if they win four games, and in the case of those teams that have bye weeks, three games, they win the Super Bowl.
"The Super Bowl seems so far away when you start the season. There are so many teams and everybody is vying for the same thing. Now there are 12 teams playing. It's exciting, for sure. You have to guard against not playing the game on Tuesday or Wednesday, and you have to make sure you don't get too hyped on game day because you don't want to be tired for the game. For me, I'm usually in pretty good control. I think I'll be fine with it."
**TODD HERREMANS, offensive guard
Surrounded by a pack of reporters, Todd Herremans spoke of the line's season, of how the Eagles did such a superb job of protecting quarterback Donovan McNabb and how the maturity of the group helped in a season when three players lined up as starters at right guard.
But more than anything, Herremans spoke of the battle he and his mates will see on Sunday when the Vikings line up on defense. With Jared Allen along with Pat (listed as questionable with a shoulder injury) and Kevin Williams, the Vikings have a formidable group.
And Herremans will be right there in the middle of the action.
"There is no beating around the bush. They are both (Pat and Kevin Williams) good players. They are both Pro Bowlers," said Herremans. "Pat has been banged up, but I'm going into this game focusing on him playing the whole game and being 100 percent. They complement each other very well, both in the run and in the pass. They're good players and we have to play well to come out on top. We have good players on the line, too.
"They flip flop the players. Pat usually plays inside over (center) Jamaal (Jackson) and Kevin plays the "3" technique on both sides (of the center). They run a lot of 'over' fronts ... and so I expect to see Kevin quite a bit. Me and Nick (Cole, right guard) will have to handle it."
Of course, Herremans and the line have a lot more to think about. There is the noise factor, the pressure factor, the need-to-convert-third down deals. Fun stuff. The line played well during a long season, and now the group heads into a game in which many of the experts figure the Eagles don't have much of a chance to run the ball against the stout Vikings defensive wall.
Don't tell that to the offensive linemen. The fellas up front want the coaching staff to have confidence in the running game, no matter the opponent.
"I think we're going to go out and play a good game," said Herremans. "We know how good they are. We know it's going to be loud. I think it's going to be a lot of fun. Being in the playoffs isn't a bonus for us. We aren't looking at it that way. We're going out there to win the game."
**CHRIS CLEMONS, defensive end
His big day on Sunday sparked a lot of "Chris Clemons has arrived" stories, but Clemons doesn't see it that way. Signed as a free agent two days into the spending spree, Clemons came into Philadelphia expecting to make big plays, to use his speed off the edge and to contribute to the depth at defensive end.
It worked out that way, actually, after an exercise in patience.
"The Eagles brought me in because they knew I could do the things I did on Sunday," said Clemons. "Unfortunately, as I've said before, I got off to a slow start. And I knew the situation at defensive end. I could see that right away, that we had players like Trent (Cole), Juqua (Parker), Darren (Howard) and Vic (Abiamiri). That's a good group, a lot of good players. It's a great group of guys who have played in this league. Sometimes, you have to wait your turn.
"My approach was to just keep working at it and keep getting better. I never got down on myself or on the situation. I just kept working. Getting out there and making plays last week was great. I want to keep it going."
Clemons was on a Washington Redskins team that played in the post-season in 2005, but he was out for the game with a knee injury. At least he had a taste of it then, so that when Sunday rolls around Clemons will have a full gulp.
"The playoffs are great. You see how much the game tempo increases. I'm so excited. This will be my first time actually playing in the playoffs, so to have the opportunity to go out and play and to perform, it's a blessing to me," said Clemons. "Every game brings that feeling for me. I'm not a hoo-rah, hoo-rah guy. I just like to go out and do it."
Clemons will rotate with Parker at left end and maybe, possibly will line up as a Joker in certain situations. The Eagles want his energy and his speed and his production.
Clemons says he is ready to keep the roll going.
"Confidence has never been a problem with me. I believe in myself," said Clemons. " I've done that since I started playing football when I was 9 years old. I'm never going to be over-confident, but I believe in myself and I believe in this team. This is why I came here."
**DeSEAN JACKSON, wide receiver
Huge crowd of reporters around DeSean Jackson. He is always a big draw for reporters who have already talked with Reggie Brown and Kevin Curtis and Jason Avant this week. Jackson had two big catches against Dallas and drew a pass-interference penalty in the end zone to set up a touchdown.
A rookie, Jackson carries a large responsibility. He led the team in pass receptions this season and was the Eagles' punt-return man. McNabb will look Jackson's way often in the passing game. And Jackson hopes to break a return against a Minnesota coverage group that gave up four punt returns for scores this season.
"We have to play an 'A' game in all three phases and do what we do best," said Jackson, who said he has never caught punts in a dome before. "When we've got everything going and we have everything flowing, I think we play great."
Jackson has been accommodating with the media all season, and the coaches have been thrilled with his focus and work ethic. He said his rookie season was a "great year to learn what I could learn" and to know that he is "happy with where it went" and that now is the time when every detail matters.
Physically, the long haul of a rookie season is something that every first-year player feels, no matter what.
"The grind has been tough. For a rookie, it can be a little overwhelming, but you have to stay strong and have a strong mind, even though your body is hurting," he said. "I made it through there and I'll be prepared for it next year."
When asked if he felt "re-energized" now that the playoffs are here, Jackson pulled no punches.
"No," he said, "but you have to tell your mind that. I'll be alright."
We're walking. Quintin Mikell is dressed and headed out of the locker room, down past the studio where Donovan McNabb, Brian Westbrook, Brian Dawkins, Sheldon Brown, David Akers and Sean Considine have posed for their group shot as the playoff captains. Mikell is headed toward the cafeteria for lunch.
He is talking about his season and about the Vikings and about this defense.
"This season has gone pretty well so far. I want to have some plays back, of course, but I don't think I put the defense in bad positions throughout the year," said Mikell. "Our defense is jelling. I think we all feel that. We're communicating and working well together. I think there is a high level of confidence here."
Of course there is. The defense is ranked third in the NFL and has performed very well, extremely well, in the last half of the season. Mikell is a rock here, a starter at strong safety who is on the verge of gaining some Pro Bowl notice. He deserves it. Mikell was terrific from the start of the regular season to the finish, and now the playoffs wait.
"They have a running game that is extremely effective, as everybody knows," said Mikell. "They have a young quarterback who is coming into his own. Bernard Berrian is a big-play threat. The Vikings are very capable of doing great things offensively.
"Everybody talks about Adrian Peterson for a reason. He's big and fast and he runs hard on every play. You have to make sure you get a lot of guys around him when he has the ball, every time he has the ball. Great player and a challenge for us."
Peterson also has a league-high nine fumbles this year. The second-year running back has been carrying around a football all week, a reminder to hold on against the Eagles. Mikell would love nothing more than to help take the football away.
"Yeah, he's been having a little bit of trouble with that," said Mikell, "and we want to go out there and get some turnovers. We thrive on that. That's what we want -- take the football away."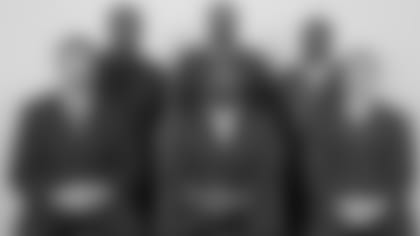 **Playoff captains had their photo taken Friday. Representing offense are Donovan McNabb and Brian Westbrook; defense: Brian Dawkins and Sheldon Brown; and special teams: David Akers and Sean Considine