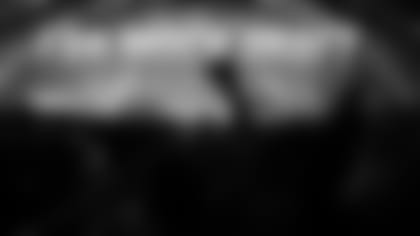 The NFL Scouting Combine ends Monday and NFL Draft season is officially underway. Mock drafts are all the rage right now. Who do you want the Eagles to select in April with the 13th overall pick? Fran Duffy has scripted picks one through 12. It's up to you to make the final call. Consider yourself on the clock ...
1. Tennessee Titans - OT Laremy Tunsil
In my opinion, the best player in the draft is the mammoth offensive tackle, Tunsil from Ole Miss. Tennessee just spent a first-round pick on Taylor Lewan two years ago, but with quarterback Marcus Mariota looking to take the next step, it would help to have another talented lineman protect him. Whether Tunsil steps in at right tackle or left tackle, having him paired with Lewan will provide two great cornerstones on the offensive line for years to come.
2. Cleveland Browns - QB Carson Wentz
With all the reports pointing in the direction of the Johnny Manziel era coming to an end in Cleveland, the Browns will once again be looking for a quarterback. New head coach Hue Jackson is a creative offensive playcaller, and his utilization of packaged play concepts asks for a quarterback to get the ball out quickly, something Wentz can do. Whether it's Wentz, Jared Goff or Paxton Lynch, I would expect this slot to be filled with a quarterback, and executive vice president of football operations Sashi Brown isn't afraid to take a chance on an FCS prospect in the top five.
3. San Diego Chargers - DB Jalen Ramsey
The Chargers are in major need of help on both sides of the ball, and taking the best player on the board regardless of position would be their best option. Some may view that player as Ohio State's Joey Bosa, and he could very well be the selection, but don't discount Jalen Ramsey's potential impact in the secondary. The former Seminole can line up all over the field on the back end, and with Eric Weddle likely on the way out in San Diego, at the very least Ramsey would have a spot at safety if he can't cut it at cornerback.
4. Dallas Cowboys - DE Joey Bosa
Veteran pass rusher Greg Hardy is a free agent and may have worn out his welcome in Dallas. Last year's second-round pick, defensive end Randy Gregory, has a four-game suspension looming. There is certainly a need for more pass rush help on that defense, and they'll welcome Joey Bosa with open arms. A physical player who many in the media believe to be one of the top-two players in the draft class, Dallas would hope for Bosa to step right in and make a huge impact opposite Gregory if he can stay on the field.
5. Jacksonville Jaguars - DL DeForest Buckner
Jacksonville lost last year's first-round pick Dante Fowler to injury in the spring, but they expect him back and look to add another big piece on the defensive line with Buckner. A physical marvel at 6-7, 291 pounds, Buckner will fit in perfectly with the Jaguars' defensive front as the strongside defensive end in the 4-3 under front.
6. Baltimore Ravens - LB Myles Jack
General Manager Ozzie Newsome has always been good at plucking the best players available and he may have a gem in Myles Jack, a top-five talent who could fall a bit thanks to a torn meniscus injury that ended his 2015 season. Jack is the epitome of the new age linebacker with his ability to play in space, and he should form a great tandem with new teammate C.J. Mosley inside.
7. San Francisco 49ers - QB Jared Goff
San Francisco made a mistake by passing on the last great Cal quarterback in the draft, Aaron Rodgers. Would they dare do it again? Goff isn't what mainstream media would call a perfect fit in the perceived new offense in San Francisco, but his quick decision-making skills could make him a perfect fit to drive that scheme moving forward.
8. Miami Dolphins - CB Eli Apple
Ohio State's talented redshirt sophomore cornerback is exactly what teams are looking for at the position in this day and age with his combination of length and athleticism. The Dolphins need all the help they can get in the secondary, and the former Buckeye could be the apple of their eye.
9. Tampa Bay Bucs - DE Kevin Dodd
Kevin Dodd stole the show in the National Championship against Alabama in a losing effort for his Tigers, but he may have emerged as the biggest winner from that night. His combination of size and athleticism led him to being nearly unblockable for much of the night, and he should be able to fill a pass rush need for Tampa Bay sooner rather than later.
10. New York Giants - WR Laquon Treadwell
The Giants have spent a good amount of draft capital on the wide receiver position in the last five years. However, Rueben Randle is a free agent and Victor Cruz's status up in the air moving forward with a knee injury that kept him out for all of 2015. It's still a position they could address early, and Treadwell may be too much to pass up on. With the physically imposing Treadwell on one side and the dynamic Odell Beckham on the other, that could be a lot to handle for the NFC East.
11. Chicago Bears - OT Ronnie Stanley
Chicago has tried multiple times to fix the offensive line, and while the unit has made strides they may view Ronnie Stanley from nearby Notre Dame to be too good to pass up on. Whether it's at tackle or guard, Stanley could make an impact right away and the "boom-or-bust" prospect has the ability to be a stud left tackle down the road.
12. New Orleans Saints - DL A'Shawn Robinson
New Orleans is in need of defensive playmakers, so this pick could go in a number of directions. Whether they feel comfortable with a cornerback like Mackensie Alexander or a pass rusher like Leonard Floyd, it doesn't matter, they need to pick up as much help as they can. I went with Alabama's A'Shawn Robinson here because his size/speed combination makes him a very intriguing interior pass rush threat entering the league, and he will draw comparisons to Fletcher Cox throughout the process, a player who wreaked havoc on the Saints' offense when they came to Lincoln Financial Field this past fall.
Who do you want the Eagles to select at No. 13? Either submit your answer in the form below or click here to enter the pick. You are on the clock!
// <!CDATA[ !function(a,b,c,d,e,f,g,h,i,j,k){h=a[d]=a[d]||{},h.ui=h.ui||[],i=a[e]=a[e]||{},i[f]||(j=b.getElementsByTagName(c)[0],k=b.createElement(c),k.src="//platform.massrelevance.com/js/massrel.js",j.parentNode.insertBefore(k,j),i[f]=function(){h.ui.push([].slice.call(arguments))}),i[f})}(window,document,"script","massrel","spredfast","exp","mr-space_draft-central-mock-draft"); // ]]>
// <!CDATA[ !function(a,b,c,d,e,f,g,h,i,j,k){h=a[d]=a[d]||{},h.ui=h.ui||[],i=a[e]=a[e]||{},i[f]||(j=b.getElementsByTagName(c)[0],k=b.createElement(c),k.src="//platform.massrelevance.com/js/massrel.js",j.parentNode.insertBefore(k,j),i[f]=function(){h.ui.push([].slice.call(arguments))}),i[f})}(window,document,"script","massrel","spredfast","exp","mr-space_mock-draft-timeline-for-moderation"); // ]]>