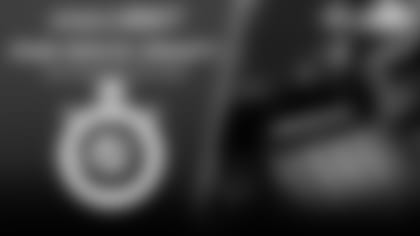 Are the Miami Dolphins ready to make a run in the AFC East? For the second straight season, the Dolphins finished with an 8-8 record in 2014.
If there is reason for optimism that the sun will shine in Miami, it's the emergence of Ryan Tannehill at the quarterback position. This past season, Tannehill completed over 66 percent of his pass attempts for 4,045 yards with 27 touchdowns against 12 interceptions. He had a career-high 6.9 yards per attempt and a personal-low interception rate of 2.0 percent.
Offensive coordinator Bill Lazor, who spent the 2013 season as the Eagles' quarterbacks coach, wants a run-focused attack. Lamar Miller rushed for 1,099 yards and eight touchdowns last season as the feature back. Tannehill was the second-leading rusher last season and some analysts rank Melvin Gordon ahead of Todd Gurley, who has already been selected in this Fan Mock Draft. If Lazor really wants to focus on the run game, Gordon would provide nice insurance just in case anything was to happen to Miller.
Tannehill's pass catching corps has been upgraded with Kenny Stills acquired in a trade from the Saints and tight end Jordan Cameron signing in free agency. Those two along with Jarvis Landry, who had a much underrated rookie season leading the team with 84 catches, will make Tannehill's job much easier in 2015.
The Dolphins' pick here could very well be used on the offensive line. Tackle Branden Albert is on the mend after tearing his ACL and MCL in November. Last year's center, Samson Satele, struggled and is now a free agent. The Dolphins are moving Mike Pouncey from right guard back to center and rewarded him with a lucrative contract extension. Ju'Wuan James, the team's first-round pick in 2014, was settling in at right tackle when he had to move over to the left side after Albert's injury. Billy Turner is expected to start at right guard, but there is a definite hole on the left side.
Defensively, the Dolphins fished for one of the largest catches in all of free agency and snagged All-Pro defensive tackle Ndamukong Suh with a reported $114 million ($60 million guaranteed) contract. Suh collapsing the pocket with Cam Wake and Olivier Vernon rushing from the end spots will make last year's 12th-ranked defense in terms of yards that much more stout.
The one area of the defense that the team's first-round pick could be used on is in the secondary where 2013 second-round pick Jamar Taylor has struggled at cornerback. Taylor is also currently recovering from a torn labrum that ended his 2014 campaign.
The pieces are in place for the Dolphins to make the AFC East much more interesting. Hey, they are the only team not named New England to win the division since 2003. However, that was back in 2008 and the Dolphins were unceremoniously dumped in the Wild Card round of the playoffs.
With a key addition here, the Dolphins could finally snap the 8-8 malaise. Who they pick, though, is up to you. !