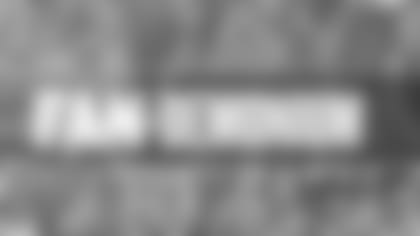 Back in 2013, the Eagles' offensive line had a great season. The five starters stayed healthy all year and played at a very high level. That helped LeSean McCoy lead the league in rushing. It helped Nick Foles have one of the best quarterback ratings in league history. It helped DeSean Jackson and Riley Cooper have career best seasons. The skill players thrived because the men up front played so well.
Injuries hit the offensive line in 2014 and there was a trickle-down effect. McCoy wasn't as productive. Foles came crashing back down to earth. The offense was still good, but it wasn't as consistent or explosive as 2013.
This past season, there were personnel changes up front with Chip Kelly letting go of Evan Mathis and Todd Herremans. There were also injuries, which forced backups to play and returning starters to switch positions at times. The line had some good moments, but the overall play declined and that affected the whole offense.
New head coach Doug Pederson has to get better play from the offensive line in 2016.
The first order of business for Pederson was deciding what to do from a coaching standpoint. He retained offensive line coach Jeff Stoutland, which I think was a smart move. The line struggles of 2015 were due to talent and injury issues, not coaching. I think Pederson showed good confidence in keeping Stoutland around. Too many new coaches clean house. They only want new assistants. I think a smart coach will see the value in continuity and keep some staff members if they do a good job. Stoutland was worth keeping.
Next up for Pederson is deciding what to do with the current players. There was some question about the future of Jason Peters. He has been a stalwart left tackle since coming to Philly in 2009. From the way Pederson has talked about Peters, it sounds like the Eagles are planning to leave him at left tackle for 2016.
The team signed Lane Johnson to an extension, showing how strongly they feel about him and his future. Johnson will stay at right tackle for at least one more year, but will slide to the left side in the future. The Eagles hoped Johnson would become a dominant player last year. He was more up and down than expected, but did dominate at times. The potential is there. Stoutland and Pederson will work hard to bring out the best in Johnson.
Jason Kelce had some struggles in 2015. There were a lot of theories as to why this happened, but the bottom line is that he didn't play as well as he had in past seasons. Kelce remains a great athlete and very skilled blocker. He needs to get fully healthy and bounce back to his previous form, when he was among the best centers in the league.
Allen Barbre, Andrew Gardner, Matt Tobin and Dennis Kelly all started at times in 2015. Pederson has to study the tape on these players and decide how they fit into future plans. Barbre started all 16 games at left guard last season. He was a valuable backup in the past, but was inconsistent as a starter.
Gardner played right guard for part of the 2014 season due to injuries. He then had a strong showing last summer and won the right guard spot. He started the first three games of the year and played pretty well, but unfortunately got hurt and missed the rest of the season. Evaluating Gardner is tough. He started 11 games over the past two seasons and played better than people realize. There is definite logic to wanting him back as the right guard. At the same time, Gardner has never been a full-time starter for a season. He's now coming off a foot injury. Will he be completely heathy? Can you count on him to be your starter?
I think the coaches should look at Gardner as part of the solution at right guard. They do need to challenge him, though. Gardner won the job last summer and if he does that again, that's great. With his foot situation, you do need someone behind him who can play well if needed. That brings us to Tobin, who did take over when Gardner got hurt. Tobin had his moments, but was also inconsistent. He's worth bringing back to compete for a roster spot as a restricted free agent. You always want to be patient with young linemen. It can take them a few seasons to figure out what they're doing and become good players. Tobin is just 25. Gardner didn't do anything until he was 28 years old.
Dennis Kelly is another young guy with some potential, but also some questions. He just turned 26 a month ago and Kelly has terrific size. After showing potential as a rookie in 2012, Kelly was limited by injuries in 2013 and then shuffled between guard and tackle in 2014. He played mostly tackle in 2015, getting on the field at both left and right tackle. I thought Kelly played well when he practiced with the starters during the week and was prepared to play. I thought he struggled when coming off the bench and not having as much practice time. Kelly could be the No. 3 tackle for the Eagles this year or he might not even make the roster. He'll be competing for a spot.
Tanner Hawkinson and Barrett Jones were on the roster last year. Hawkinson played tackle in college and that's where the Eagles currently list him. Jones played guard, center and tackle in college. The Eagles list him as a center-guard. They will be given a chance to compete. Malcolm Bunche and Brett Boyko were undrafted rookies last year. They were good enough to earn spots on the practice squad. They will compete for spots again this year, but cannot be counted on for anything beyond that.
More than anything, the Eagles need better guard play in 2016. I don't know if Pederson, Stoutland and Howie Roseman prefer to add help in free agency or to focus on adding young talent in the NFL Draft. There is something to be said for signing a veteran who can step in right away and play at a high level. The Eagles signed Jon Runyan in 2000 and he played well for years. Evan Mathis was signed in 2011 and did a good job at left guard for four seasons. If you find the right guy, adding a veteran can be a huge help.
There are some massive guards on the free agent market. Kelechi Osemele, Alex Boone and Brandon Brooks are all in the 330-pound range. If the Eagles want more size and power on the inside, they could go for any one of that trio. Jeff Allen played for the Chiefs for the past four years. Pederson will know him well and has spent most of his career at left guard. He would be a good fit. The Eagles could also look at someone like J.R. Sweezy as a target. He is long, athletic and a good run blocker. He started 46 of the past 48 games for Seattle and his best football is still in front of him.
There are lots of good options in the draft. Cody Whitehair from Kansas State might be an option in the first round. He played left tackle for the Wildcats, but could step in at left guard right away. He has a good combination of size, skill and athleticism. Joe Dahl showed a lot of potential down at the Senior Bowl. He could be a good mid-round target. Josh Garnett is a big guy who was a terrific left guard at Stanford. There are quite a few prospects who could be of interest as the Eagles look to add young talent to the offensive line.
I'm curious to see how the Eagles go about improving the offensive line. There are some talented pieces already in place. There are some young players ready to compete for spot. There still needs to be more talent added, especially on the inside. If the Eagles want better production from their skill players, they need better play from the line. The biggies up front need to win more battles and play more consistently.
It doesn't matter whether we're talking about Ray Rhodes, Andy Reid or Chip Kelly. Those coaches had their best teams when the offensive line played well. The Eagles must fix their line if Pederson is going to get off to a good start in his coaching career.
Tommy Lawlor, goeagles99 on the Discussion Boards, is an amateur football scout and devoted Eagles fan. He is the Editor of IgglesBlitz.com and was a contributor to the Eagles Almanac.