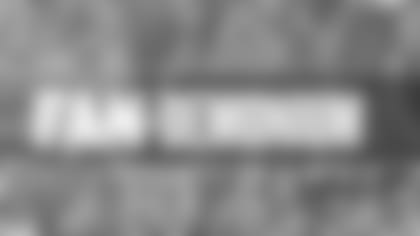 The Eagles and Giants tend to play interesting games. Some are 16-13 defensive struggles. Others are 45-38 shootouts. Some even end in miracles, although those tend to take place in The Meadowlands. Monday night's game was not an all-time classic. Honestly, it was a very sloppy game. But the Eagles 27-7 win got the team back to .500 and put the team atop the NFC East. That made it a thing of beauty. 
I predicted before the game that this would be a high scoring contest. Both teams came in hot offensively. Eli Manning was playing the best football of his career. The Eagles defense had played well this year, but I just didn't think they would be able to shut down the Giants.
The Eagles gave up seven points on the opening drive and that was it. The defense did not look good on that drive. The Giants seemed to have them on their heels and marched right down the field. A lot of fans were panicking. They just knew this was the beginning of a very long night. I tried to tell people to be patient. I thought the defense would settle down and tighten up. 
I didn't expect them to completely stifle the Giants, though. That caught me by surprise. You have to be careful when watching some offenses early in games. A lot of teams script their opening 10 to 20 plays. They practice those plays over and over during the week. That helps them to come out and execute the plays well. Teams also do a lot of creative things early in games. They use personnel, formations and motion to try to confuse a defense. Once a defense has gotten a look at what an offense is doing, things slow down. The defense can then play with more confidence and less doubt. Players think less and attack more. 
The Eagles started attacking after that opening drive and things changed quickly. The guys up front took over the game. The back seven covered pretty well. They did a great job of tackling receivers and limiting yards after the catch. Everybody did their part. 
You have to start up front. Connor Barwin was disruptive all game long. He lined up all over the place, but his favorite spot was out wide against right tackle Marshall Newhouse. Barwin would then explode off the ball and drive Newhouse into Manning's lap. Barwin didn't have a sack in the game, but had a big hand in pressuring Manning. As the pocket collapsed, Manning had nowhere to go. The Eagles did sack him three times and also forced three intentional grounding penalties. 
Brandon Graham was in on one of the sacks. He also got regular pressure on Manning. Graham played linebacker, end and even lined up at nose tackle in some passing situations. Graham's highlight moment came on a fourth down play. The Giants ran to his side. Graham took on the fullback, shed his block and then stuffed the runner for a loss. That was great run defense. 
The defensive line had a great night as well. Vinny Curry brought regular pressure up the middle. There were a couple of plays where I thought he was offside, but he just timed the snap count perfectly. Curry had 1.5 sacks and hit Manning a couple of other times. Fletcher Cox and Bennie Logan shut down the Giants' run game. They ate up blocks on some plays and other times were there to stuff the runners themselves. Cox also had a sack and forced fumble. 
Manning had only been sacked four times all year. He was getting the ball out very quickly and helping his offensive line to play better. The Eagles dominated the line of scrimmage and made them look like the group from last year. Manning started 10 for 10 and was red hot, but that changed in a hurry. As he started to get hit, he suddenly wasn't as confident. Manning held the ball longer and his throws started to be off-target. Amazing what a difference pressure makes. 
As Bill Davis regularly points out, pressure and coverage go hand in hand. The defensive backs tightened up their coverage, making life tougher for Manning and his receivers. The defenders tried to jam receivers when they could. They played press coverage to take away free releases with underneath space. Nolan Carroll played his best game of the year and made a game-changing play. With the score tied at 7-7, Carroll picked off a pass from Manning and ran it back for a touchdown. The Eagles had complete control of the game from that point on. 
DeMeco Ryans played his best game of the year. He started slow and that had me a bit worried. The Giants attacked him in coverage early on. While he lacks ideal athleticism these days, Ryans is smart and you have to be careful when going after him. Manning threw a short pass to tight end Larry Donnell that Ryans broke on quickly and made a good tackle. Manning tried the same play later, and this time Ryans jumped the route and stole the ball from Donnell, who was trying to secure the pass. That ended a drive that was in scoring territory. Later, Ryans broke up a downfield pass to Donnell. Ryans also recovered a fumble. 
Beyond making big plays, Ryans was good against the run. He and Jordan Hicks worked very well together. Early in the game, Hicks was taking on blockers and Ryans was making the tackles. He had five solo stops and wasn't just tackling players. Ryans was popping them. He was physical. Ryans remains a good inside run defender. Hicks ended up making 10 solo tackles and had another strong outing. He has been tremendous for the team this year. 
This game wasn't all about defense. The Eagles offense scored 20 points and gained 425 yards. They should have had more points, but Sam Bradford threw some costly interceptions that ended potential scoring drives. The Eagles easily could have scored 40 or more points if Bradford made better throws. He did connect with Riley Cooper for a 32-yard touchdown. How many people expected Cooper to have more receiving yards (76) than Odell Beckham, Jr. (61)? 
DeMarco Murray had another good game, rushing for 109 yards and a touchdown. Murray looks more and more comfortable in the offense. He ran aggressively and broke tackles. The touchdown was a thing of beauty. The offensive line got good push, leaving only a free safety in Murray's way. Murray used a stiff-arm to put Brandon Meriweather on the ground and then he had a free run to the end zone for a 12-yard touchdown. That's the kind of red zone physicality Chip Kelly had in mind when he signed Murray in the offseason. 
The Eagles ran for 155 yards in the game. That's all the more impressive when you consider the Giants had the second ranked run defense in the league coming into the game. They have a stout, physical defensive line. The Eagles offensive line really came alive in this game and controlled the line of scrimmage. There was a drive in the fourth quarter where the Eagles ran 10 plays and ate up more than five minutes. They got a field goal to extend the lead to 27-7, but I loved the physical, methodical style of the drive. Kelly knew that the offense needed to work the clock and that's exactly what they did.
It was great to see the Eagles come up big in an important game. The win gets the team back to 3-3. It kept them from going 0-3 in the division, which would have been tough to overcome. The Eagles have now won three of the past four games and easily could have won all four. The 0-2 start is quickly fading into the past.
The big question for me now is whether the defense can continue to play at such a high level. The last time the Eagles had an outstanding defense was 2008 and that team almost made it to the Super Bowl. I'm not making any predictions, but if the defense plays like they did on Monday night, this team has a chance to win a lot of games.