We've seen the Eagles do a lot of things this year. There have been blowout victories. The offense has lit people up. There have been huge plays in the air and on the ground. The defense has shut people down. They've had games with lots of sacks and others with lots of takeaways. Prior to Sunday night, the one thing we hadn't seen was the Eagles making clutch play after clutch play to win a tight game. As much fun as 20-point blowouts are, we needed to win a tight game.
The Eagles entered the fourth quarter down 20-17 to the Bears. Both teams had gained a similar amount of yards. Both teams had made key mistakes. We stepped up our game at that point. There was one big mistake - LeSean McCoy's fumble. Even then, he tried to protect the ball. Charles Tillman just made a great play to knock it out. The defense and special teams wiped out that mistake. The defense didn't let Chicago move the ball. We were then able to block the field goal. Antonio Dixon, with some pushing from Joe Mays, got penetration and knocked the ball down. That's good teamwork.
Our offense has been known to struggle in fourth quarter situations. That didn't happen this time out. After the blocked field goal, the Eagles drove 62 yards for the go-ahead touchdown. The beauty of that drive is that it was workmanlike. The longest play was 11 yards. There were no fluke plays or generous defensive penalties. We marched the ball down the field for the go-ahead TD with a mixture of runs and short passes.
The offensive line was terrific on that drive. They gave Donovan McNabb time to throw the ball. They opened holes for McCoy and Leonard Weaver to run through. I thought the line played arguably their best game of the year. That could be a huge development for the final six games of the season. All the skill players in the world won't do you any good without the guys up front doing their jobs.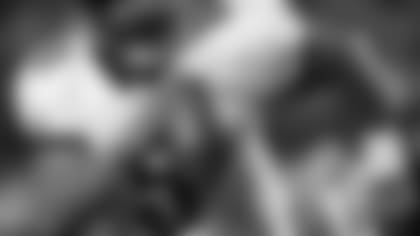 QB Donovan McNabb was 5-of-6 on the game-winning drive Sunday night
I was really encouraged by their run blocking. Winston Justice had a couple of great down blocks, where he caved in defensive tackles and gave runners a huge lane to work with. Nick Cole and Todd Herremans did a really good job of getting to the second level and blocking linebackers. Jamaal Jackson got excellent push on a couple of run plays. Jason Peters had a key block on McCoy's touchdown run. He had to control defensive end Alex Brown without holding him. Peters did that and let McCoy get to the outside cleanly.
We also have to give credit to the other blockers. Weaver had some good run blocks from the fullback position. Tight end Brent Celek and Alex Smith did a good job. Celek had a great block on McCoy's run. Celek was able to seal the linebacker to the outside and that gave McCoy a clear path to the end zone. The receivers did their part. Jason Avant had the best block of the night. He got one defensive back so frustrated that the guy actually spun himself to the ground trying to get away from Avant.
McCoy also impressed me. This was the best he's run all season. The coaches ran several times from a three-receiver set. They took out the fullback. We would run wide on these plays. McCoy was able to get going before he had the ball. He could then read the blocks and make a quick decision on where to go. It was similar to the stretch plays that are run by the Colts, only not as far outside. McCoy showed better vision in reading his blocks than he had in previous games. He ran hard, but still had enough wiggle to get away from some initial defenders.
McNabb came up big on the game-winning touchdown drive. He was 5-of-6 throwing the ball and also sneaked for a first down on a third-and-short situation. He threw the ball with confidence and made accurate passes. It had been a long time since McNabb led the team from behind late in the game. It was very important for him to do that. No one questioned whether he had the physical ability to do it. McNabb simply had to show everyone that he could do it. He did and that should help the team to feel better the next time they face a deficit in the fourth quarter.
The receivers did their part on the go-ahead drive. They did a good job of getting open and catching the ball. DeSean Jackson, Jeremy Maclin and Avant all caught passes on the drive. Jackson made a key grab on third down that moved the chains and set up McCoy's touchdown run.
The defense also played really well in the fourth quarter. Once the Eagles had the lead, they held the Bears to 21 yards on nine plays in the final 5:31 of the game. We also got an interception to seal the game. Dimitri Patterson and a hobbled Sheldon Brown were the cornerbacks on that final drive. They covered tightly and tackled well. I admit that I was nervous about whether we could stop the Bears with all the injuries in the secondary. Patterson really came through.
The defense played a pretty good game overall. I know there were some coverage breakdowns that got a lot of attention. Some people have talked about how the Bears should have had an extra 21 points if Jay Cutler made decent throws. Not exactly. Two of the poor throws were consecutive plays on the same drive. A good pass would have meant one touchdown in that case. Also, the Bears did kick a field goal. They really only lost four points in that situation. Cutler missed receiver Johnny Knox in the fourth quarter. That should have been a touchdown. Good throws would have given Chicago 11 points. That is big in a tight game, but it's not the 21 that so many people are mentioning. You also don't know how the Eagles might have responded if the Bears had scored on those plays.
Two of the blown coverages were simply a case of our defenders getting caught with their hands in the cookie jar. Asante Samuel and Brown both jumped routes based on down and distance. The Bears used good pump fakes to bait them. Their receivers were then wide open. If you teach your corners to jump routes, they are going to get burned at times. Thankfully, neither mistake cost us. Linebacker Chris Gocong got burned when he fell for a play fake and left tight end Greg Olsen wide open. Again, we got lucky due to a poor throw. </td>
     </tr>
     <tr>
         <td>Tommy Lawlor, goeagles99 on the Discussion Boards, is an amateur football scout and devoted Eagles fan. He's followed the team for almost 20 years. Tommy has been trained by an NFL scout in the art of scouting and player evaluation and runs www.scoutsnotebook.com.</td>
     </tr>
 </tbody>

The middle linebacker job was shared by Joe Mays and Jeremiah Trotter. Mays did OK. He had some good moments. He also had some plays where he wasn't able to get to the ball and make the tackle. Mays showed NFL ability, which was encouraging. He still needs work. Trotter played well. I was surprised by what I saw. He stuffed inside run plays, but also showed some speed and range. He tackled running back Matt Forte out in space. He chased Devin Hester out of bounds on a play where he caught a pass on the edge.
Will Witherspoon played a good game. He had five solo tackles, which was second only to Quintin Mikell's seven. He had a tackle-for-loss and deflected a pass. Most importantly, he did a good job in coverage on Olsen. Witherspoon had him on several plays where it looked like Cutler wanted to throw to Olsen, but couldn't because he was covered tightly. On one play in the red zone, Cutler wanted to go to Olsen, but had to just throw the ball away.
Trent Cole had his usual stellar game. He notched a sack, blew up a running play and drew several holding calls. The overall pass rush was disappointing, though. Cutler had too much time to throw.
Macho Harris saw his most playing time in a while. I was very impressed with him. He played a lot in the slot. Harris tackled and covered well. He played fast. Harris looked very confident and aggressive. He also had a good day as the kickoff returner.
This was a big win for the Eagles. It was great to win a Sunday night game and a close contest. We needed to end those streaks. More importantly, it had big playoff implications. The team is now 6-4 and right in the middle of the playoff chase. The Bears were a potential competitor for a wild card spot. They're in trouble now. We still have a good chance to win the NFC East. There is a round robin-type of thing coming up with the Eagles, Giants, and Cowboys. Any of the three could emerge with the title.