It's been a really interesting approach in its simplicity, this 2013 Eagles draft. They haven't moved in any of the three rounds and have come away with offensive tackle Lane Johnson, tight end Zach Ertz and defensive tackle Bennie Logan. All three are highly rated players and all three will come in and compete for playing time.
Naturally, the Eagles are thrilled to have all three players join their roster, and time will tell how each young man assimilates to the NFL.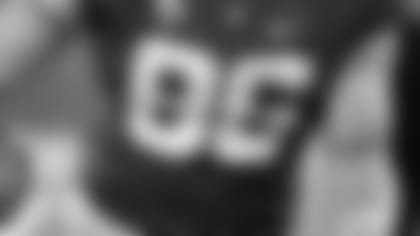 The true catch of these first two days, beyond the approach, is the characterization of what the Eagles are hoping to accomplish as they make over the roster and head back into the playoff picture in the NFC. The Eagles are adding athleticism and versatility and flexibility to their schemes by bringing in players like Johnson, the most athletic offensive tackle in the draft, Ertz, a wide receiver in a tight end's body who could be part of some fun-to-watch three-tight-end sets, and Logan, a hustling, hard-working defensive lineman who can play tackle in a 4-3 scheme and slide to end in a three-man front.
This is one quote from head coach Chip Kelly on Ertz after the Eagles made the Stanford tight end the 35th selection in the draft, and it speaks to what this mission is all about:
"He's a mismatch nightmare," said Kelly. "If you get him isolated on a defensive back, he's very, very difficult to cover because of his size. But he's also too athletic to put linebackers on him."
And so there are times when the Eagles could put Ertz on the field with Brent Celek and James Casey and force defenses to counter with an extra safety or two, and if that's the case Kelly may just dial up the running game and have his "big guys" beat up on their "little guys." And if the defense goes to a larger package and uses linebackers to cover the tight ends, the Eagles think their tight ends can find openings against slower, bigger cover defenders.
You get the idea. Kelly is all about creating great matchups and then directing his offense toward those favorable areas. It isn't as easy as that, naturally, but the Eagles want to out-athlete the team on the other side of the ball, and they want to exploit the matchups that they think favor them the most.
Johnson played in a no-huddle situation at Oklahoma and understands the demands Kelly's up-tempo scheme offers. He is a raw prospect who is extremely talented who has a long way to go to reach his ceiling. The Eagles may not make Johnson an immediate starter, but he's going to compete for time and challenge the depth chart.
Ertz adds to a deep tight end roster that has seven players -- I'm including Brent Celek, James Casey, Brent Harbor, Ertz, Evan Moore, Derek Carrier and Emil Igwenagu -- and all kinds of possibilities.
Logan is maybe more workmanlike than spectacular, and coordinator Bill Davis gets himself a tough guy who plays with a lot of effort and who was productive at LSU.
Through three rounds the Eagles have been true to their pre-draft convictions. After Miami traded up to No. 3 in the first round and selected linebacker Dion Jordan, the Eagles quickly gobbled up Johnson, whom they believe has more "upside" than any tackle in the draft. Let's see what line coach Jeff Stoutland does with that kind of talent.
Then it was Ertz in round two, a player the Eagles had as their best player available after the first day of the draft was finished. In the third round, the Eagles offered some competition for a defensive line that has some questions to answer.
With six picks in the final four rounds, the Eagles will add more depth across the board. There are a lot of good players still out there -- a quarterback? I guess I would be surprised -- and the Eagles are going to challenge the roster.
So far, so great. The Eagles haven't moved up or down with trades. They haven't had to get fancy to get help. They instead focused on players who best fit what they want to do, and that is to become more athletic, more matchup-friendly and more explosive.
They've done that through two days of this draft.