Even after 18 years of being on the sideline, he still gets butterflies when those Friday Night Lights switch on and the whistle blows. When he puts his headset on, he is in the zone. No stranger to Perkiomen Valley High School, Head Coach Rob Heist has spent years doing what he loves at his alma mater.
Coach Heist is being honored as the first Eagles High School Coach of the Week for the 2021 season, presented by Hyundai.
"I'm very grateful. The Eagles organization has been wonderful to our program during my time as the head coach," said Heist. "I think it's amazing the outreach the Eagles have done and how they try to incorporate youth sports as best as possible at the professional level. This is a great honor for me."
The Vikings' home opener on Friday, September 10, had fans crowding the stands and the Perkiomen Valley football team fed off their energy. Heist and his Vikings showed how destructive they can be with a 55-20 win over Downingtown West High School.
"Our opponent has an excellent football program, they have an outstanding coaching staff. I was very proud of how we played. I thought our kids played a very complete game for all four quarters." Heist said. "We showed what we're capable of. I hope it's a sign of continuing to get better."
Heist is in his sixth year as head coach, but before he was making the big decisions, he was an assistant for the team (since 2007) and coached the freshman football team prior to that. A recognizable face to the Eagles High School Coach of the Week program, Heist was named the Eagles High School Coach of the Year in 2016. The 1997 Perk Valley alum says the Eagles High School Coach of the Week program means a lot to schools around the Philadelphia area.
Every week, the Eagles select a new high school football matchup throughout the Delaware Valley area. The winning coach from the game receives the Eagles High School Head Coach of the Week honor and $1,500 that goes towards their program. For the other team, their program will receive $500. Throughout the high school football season, the coaches who win Coach of the Week are nominated for the Eagles High School Coach of the Year award and whoever is selected for that honor will then be one of 32 league-wide nominees for the Don Shula High School Coach of the Year.
"To receive financial help from an organization like the Eagles, it can help your program get a competitive edge. You try to have equipment and have resources that maybe others aren't as fortunate to have. I'm very grateful for the financial contribution," Heist said.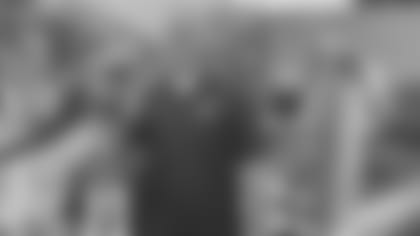 When Coach Heist is not on the sidelines coaching or in his office preparing for a game, he is a social studies teacher, a Class of 2022 advisor, a Big Brother/Big Sister advisor, a father, and a husband. There is one person who helps him do it all. 
"I'm very blessed to have an amazingly understanding wife (Jill), who is very supportive. I have three little boys, in seventh grade, fifth grade, and kindergarten. During football season she handles everything and allows me the flexibility to do what I need to do to run our program, and I couldn't do it without her." Heist continued, "I'm very lucky."
Heist can list off several reasons why he appreciates his job, but the best reason is being able to build those connections with his players and coaches. 
"We're a very tight-knit program and a very tight-knit community. I just love being around the kids, they keep me young. We laugh a lot. We work hard, but we try to have fun as best we can. I just love those relationships," said Heist. 
With no plans on leaving his favorite job anytime soon, Heist's devotion to coaching goes beyond what people see on the field. 
"I find it intrinsically rewarding to help young men achieve what they're capable of and to help them physically and mentally compete in a sport that is the ultimate team sport, in my opinion," Heist said. "I just think that football teaches so many life lessons, and to be a part of that for them and to see them grow into being good human beings, good dads, and good husbands themselves one day, I find that to be very rewarding. I plan on doing it (coaching) for a long time as long as my school will have me."